What is IPL?
The Indian Premier League (IPL) is an annual T20 tournament hosted by India since 2008, which the best players from around the world, who are divided into eight franchises play T20 games, which are divided into group stages, playoffs and final.
What are the current teams and what are their best finishes?
There are eight teams in the IPL. They are: 
Chennai Super Kings – Winners 2010, 2011, 2018
Delhi Capitals – Playoffs 2008, 2009, 2012, 2019
Kings XI Punjab – Runners-up 2014
Kolkata Knight Riders – Winners 2012, 2014
Mumbai Indians – Winners 2013, 2015, 2017, 2019
Rajasthan Royals – Winners 2008
Royal Challengers Bangalore – Runners-up 2009, 2011, 2016 
Sunrisers Hyderabad – Winners 2016
The now defunct Deccan Chargers won the title in 2009
Where and when will the auction be held?
For the very first time, the IPL auction will be held in Kolkata on December 19, 2019.
How many players will be auctioned?
The IPL had released the names of 332 players who will be going under the hammer, with base price ranging from INR 20 Lakh to INR 2 Crore. However, it has now gone up to 338, with six new players - Vinay Kumar, Ashok Dinda, Mathew Wade, Jake Weatherald, Robin Bist and Sanjay Yadav - added to the original list. 
What is the break down of base prices of capped players?
How many uncapped players will take part in this auction and what is their base price?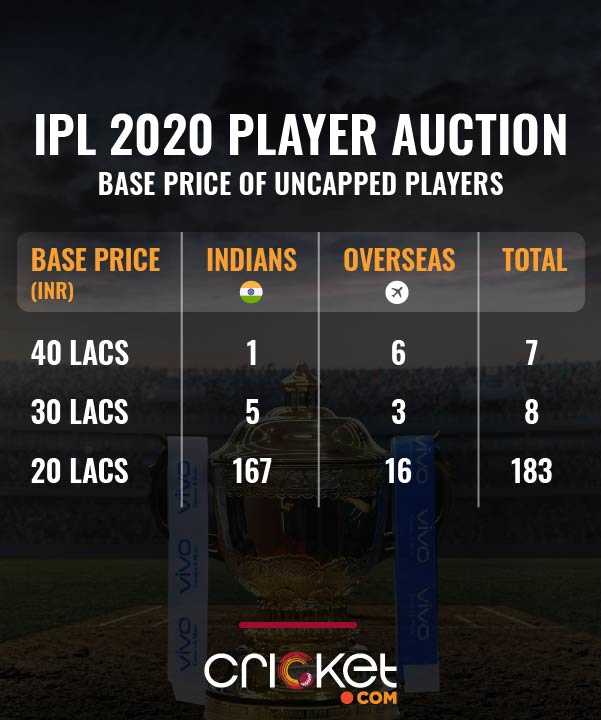 Players from how many countries will be part of this year's IPL auction?
Players from 12 countries will go under the hammer. They are:
Afghanistan (7), Australia (35), Bangladesh (5), England (22), UAE (1), India (186), New Zealand (18), Scotland (1), South Africa (23), Sri Lanka (14), USA (1), West Indies (19)
Who will be the auctioneer?
From 2008 to 2018, it was Richard Madley, who conducted the IPL auctions. However, in 2019, Hugh Edmeades took over and will continue in his role this time as well.
Who has received the highest bid in the history of IPL auctions?
Yuvraj Singh was purchased by the Delhi Daredevils (now Delhi Capitals) for INR 16 crore in 2015, from a base price of INR 2 crore which till date is the highest money a player has ever been bid for in the IPL auction. 
Which players were traded to other franchises ahead of the 2020 IPL auction?
All franchises had up to November 15 to trade players in and out. Here is the full list:
What is the base price of players in the auction pool?
What are the other base prices in the auction?
Other than those under the INR 2 crore and 1.5 crore brackets there are six other base price values - 1 crore, 75 Lakh, 50 Lakh 40 Lakh, 30 Lakh and 20 Lakh. 
How many players can each franchise have in their squad?
Each team is entitled to have a maximum of 25 players, which includes an upper limit of eight overseas players.
Who are the players that have been retained and released ahead of the 2020 IPL auction?
As many as 71 players have been released by franchises while 127 have been retained - Full Details
How many players can each franchise buy in the 2010 IPL auction and how much money can each of them spend?
Kings XI Punjab have the highest purse value at INR 42.7 crore. They can buy a maximum of nine players out of which four can be overseas players.
With a purse value of INR 35.65 crore, Kolkata Knight Riders can buy as many as 11 players, but only four of them can be foreign.
Rajasthan Royals can also buy the same combination as KKR, but they have to do so with only INR 28.90 crore of funds.
Royal Challengers Bangalore will hope that they can turn things around this time around. They can buy 12 players (6 overseas) within their budget of INR 27.90 crore.
Delhi Capitals have reached the playoffs multiple times, but a final has always eluded them. They have a chance of making some sensible buys with a budget of INR 27.85 crore. They can buy 11 players, five of whom can be foreign.
Sunrisers Hyderabad have not added to their trophy cabinet since 2016 and the Kane Williamson-led side will be one of the favourites this time. However, they can further boost their squad with a budget of INR 17 crore in which they can buy seven players (two overseas)
MS Dhoni-led Chennai Super Kings have just five slots left (two overseas) and will have do their best with their remaining budget of INR 14.60 crore.
Defending champions and four-time winners Mumbai Indians have the least purse value with INR 13.05 crore. They can buy seven players out of which two can be overseas. With core players retained, MI perhaps do not need to spend a lot.