The prologue
It was difficult to comprehend the arithmetic behind The World Test Championship (WTC) from day one. There were only two aspects that were common for all nine teams – each team will play six series in the cycle (3 home and 3 away) and the maximum number of points possible to achieve in a series are 120. To not tamper with the FTP and to behold the significance of some series like the Ashes, the decision on the number of Tests in a series between two teams was left to the individual Board's discretion. The byproduct of this decision gave birth to a point system that allotted different points for different Test matches based on the number of Tests in the series-
For a 2-Test series – Win: Tie: Draw – 60: 30: 20
For a 3-Test series – Win: Tie: Draw – 40:20:13
For a 4-Test series – Win: Tie: Draw – 30:15:10
For a 5-Test series – Win: Tie: Draw – 24:12:8
By the time England and Australia were neck-deep in the Ashes battle with the teams tied at 1-1 after the third Test and with 32-points each, India had whitewashed the Caribbean in a 2-Test series and were already at 120 points. In the interim, New Zealand squared up their 2-Test away series in Sri Lanka that earned the teams 60 points each.
Australia and England ended up with 56 points each after a hard-fought and a taxing Ashes series, with not much thought given to the WTC amid the perceived battle of superiority. It then took India five victories across two series to swiftly move to 360 points. 
Such drastic uptake in points among sides primarily playing 2 Test series grabbed eyeballs especially among the teams like England who were due to play 4 or more Tests with as many as three teams in the WTC. As India steamrolled the opposition team with three consecutive clean sweeps, there seemed a common consensus that they have booked a place for themselves in the final at Lord's before the championship had even begun for many of the nations.
Even after the other teams got involved with Australia winning all their Tests against Pakistan and New Zealand at home – collecting 240 points - and England winning 3-1 in South Africa collecting 90 points, their lag with respect to India was considerably large.
Before the 2-Test series against New Zealand, Virat Kohli had made it perfectly clear that the WTC creates a tangible target for him while the revival of India's Test side under him continues. With a David vs Goliath scenario, it was the Blackcaps that exited India during the 50-over World Cup in 2019 and after easily beating them 2-0 in the Test series, have now raised realistic doubts over how comfortable India actually are placed to reach the final of the WTC. 
The scenario
With 360 points already in the bag and two series still to play, India chances seem swell. The issue is that India now enter the toughest phase of their campaign and might very well rely on other teams to ensure that they reach the final.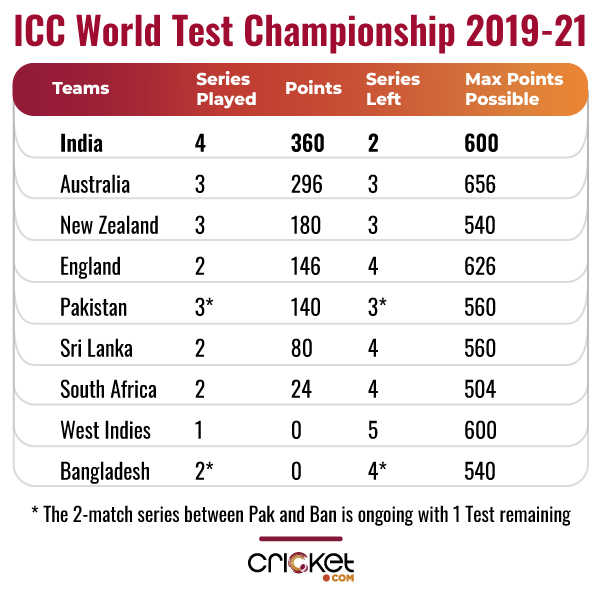 India are due to play Australia in their backyard later in the year, followed by hosting England. These are the only two teams that have not lost a series in WTC yet. To make it tougher from India's perspective, these will be a four and a five-Test series respectively. 
Australia are well placed at 296 points with three series still to play. Apart from India, they are due to face Bangladesh and South Africa away from home. Even after losing to India at home in 2018-19, they will fancy themselves this time around due to a re-enforced batting line-up after the return of Smith - Warner and the rise of Marnus Labuschagne. Pitted against mercurial Bangladesh and a depleted South Africa to round up their league stage, Australia might end up without losing a single series. 
To add spice into what seemed like a three-way hustle for the championship, New Zealand with a string of two and three-Test series against relatively weaker sides are realistically in the contest.
Finishing the tougher part of their campaign with an annihilation against Australia on their turf and obliteration of India at home, New Zealand are to face Bangladesh in a two-match away series and Pakistan and West Indies in a two and three-match series respectively. Judging by how strong New Zealand are in their own backyard, the toughest assignment among these is the series against Bangladesh. 
It will not be surprising if New Zealand comes on top in these seven Tests. If they do, they will end up at 540 points in the WTC table, 180 more than where India are at right now. There are 17 different scenarios that enable India to not be dependent on how New Zealand fare in their own matches and qualify on the basis of their own performance. 
Considering the home series against England the easier of the two tasks, India still need to win a minimum two Tests in Australia even if they win 4-0 or 5-0 against England. While the latter is still on the cards the former seems an uphill task given the renewed strength of the Aussies.
The chances for England depend a lot on their series against India. Even if they win all their Tests against Pakistan and West Indies at home and Sri Lanka away, they need to earn more than 36 points in the series against India. For this, they need to win at least one Test and draw two others.
All this might just ease out if New Zealand fail to register wins in their remaining Tests. Owing to the WTC, Bangladesh have a chance to hurt the prospects of two big teams – New Zealand and Australia. If they manage to not let New Zealand win in both Tests, the series between India and England becomes a semi-final to a large extent.
As bizarre as it seems, the WTC does seem to put performances in perspective as we enter the middle stage of the championship. Though far from a finished product, it imparts just the kind of spark needed for the revival of Test cricket.
Note- All analysis exclude the possibility of a tied Test