Sachin Tendulkar scores first-ever ODI double century (2010): India batting great Sachin Tendulkar marked the start of the decade becoming the first-ever player to score a double century in ODIs against South Africa at Gwalior. In a near perfect innings, Tendulkar's knock had as many as 25 fours and three sixes punctuating his innings.
For a man who had achieved everything there is to achieve by then in the game, this was certainly another feather in the cap for him. Since then, seven other cricketers have gone on to hit double tons in the 50-over format. 
Sprinkler dance (2010): It had been over two decades since England had retained The Ashes in Australia and they celebrated winning it in the most iconic fashion – with Graeme Swann – who finished with 15 wickets at 39.80 - leading the way with the sprinkler dance. It was a moment to savour for England as they would go on to lose The Ashes in 2013-14 in an embarrassing 5-0 whitewash. 
The series belonged to Alastair Cook, who top-scored with 766 runs, which included a monumental 235 not out in the first Test in Brisbane. 
Dhoni's winning shot (2011): After being under-par with the bat throughout the tournament, MS Dhoni shocked the world when he promoted himself ahead of Yuvraj Singh – the man in form – in the 2011 World Cup final against Sri Lanka. However, what followed was a calm and calculated knock under pressure which handed India the World Cup title for the first time since 1983. 
Known to be the best finisher in limited-overs cricket, Dhoni smashed Nuwan Kulasekara over long-on when four runs were required to send the entire Wankhede Stadium and the nation into a frenzy.
Tendulkar's final international innings (2013): Sachin Tendulkar's retirement brought an end to an era, which saw the Little Master dominate for 24 years. His final two Tests – 199th and 200th – against West Indies were played in Kolkata and his home city of Mumbai respectively. In his final innings at Wankhede, the crowd rose to welcome their hero for one final time and he did not disappoint as he struck 74, bringing curtains to a career spanning more than two decades in which he scored close to 35,000 runs for India.
He then went on to give an emotional speech after the match, leaving everyone watching in tears.
Headingley thriller (2014): Sri Lanka had a fruitful tour of England in which they had won the one-off T20I, won the five-match ODI series 3-2 and narrowly escaped a loss in the first Test at Lord's. While it was Sri Lanka who had to bat it out to save the Test at Lord's, it was England's turn to do so in the next game at Headingley. With 350 to chase, Moeen Ali fought a lone battle with an unbeaten 108. But it was No. 11 batsman James Anderson, who played a pivotal role in taking England closer to a draw. But with just two more balls left in the Test, Shaminda Eranga bowled a short ball to Anderson who lobbed it to backward gully and amidst the wild Sri Lankan celebrations, Anderson was left shattered. 
Anderson had played 55 deliveries without scoring. Had he kept one more out, England would have escaped with one of the most thrilling draws in Tests. 
Phillip Hughes' death (2014): The entire cricketing fraternity was left stunned when 25-year-old Phillip Hughes collapsed in a Sheffield Shield game after being struck by a bouncer. He passed away few days later, leaving the world in shock with what had unfolded. David Warner, who was on the field when Hughes was hit on the head at SCG, made a special gesture during the Test series against India that followed along with fellow Australian players by touching the plaque which was made in honour of Hughes.
 It was an emotional series, which saw Australia edge India. 
Sangakkara completes 12,000 Test runs (2015): One of the most elegant batsmen in the world Kumar Sangakkara was on the verge of hanging up his boots, but while on tour in New Zealand, he became the fastest to reach the 12,000-run mark in Tests. He also stood tall in that innings in Wellington, negotiating Trent Boult, Tim Southee and Doug Bracewell quite well,  scoring a valiant 203 – his 11th and final double century – just one behind Don Bradman. 
New Zealand are known to be one of the most sporting teams in the world and as a mark of respect, they applauded Sangakkara off the field when he had reached his landmark. Sangakkara took just 224 innings to reach 12,000 runs, 23 innings lesser than Tendulkar. 
Grant Elliott consoles Dale Steyn (2015): In a match that was worthy of any final, New Zealand trumped over South Africa in the semi-final stage of the 2015 World Cup to make it to their maiden World Cup final. Being set a target of 299 from 43 overs in a rain-interrupted match, the South African bowlers gave it their all, but it was a South Africa-born Grant Elliott that broke their hearts with a well compiled unbeaten 73-ball 84. 
After smashing Dale Steyn for a six off the penultimate ball of the match, Elliott gave the distraught pacer a helping hand as the Proteas had once again failed to make it past the last four of a World Cup. 
'Remember the name' (2016): West Indies and England were no strangers to winning the World T20. They faced each other in the final in 2016 at Eden Gardens and until the final over of the match, England were ahead and were primed to win their second title. However, with 19 more required in the 20th over of the chase, Carlos Brathwaite hit Ben Stokes for sixes off the first four deliveries, handing Windies their second title and Stokes was on his knees with disbelief.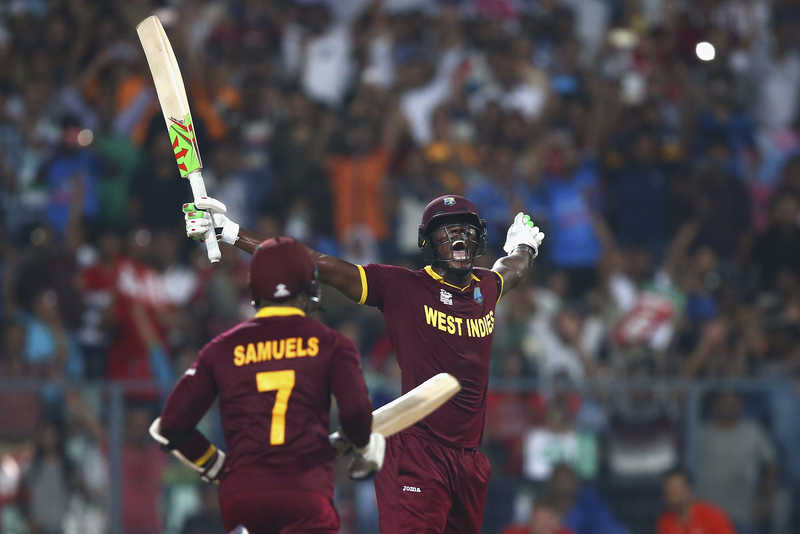 What made it more special was Ian Bishop's commentary in which he captures the moment saying, 'Carlos Brathwaite, remember the name!" – Perhaps the most iconic phrase of the entire decade. 
ICC World Cup final (2019): In a match where both England and New Zealand could not be separated after 50 overs and in the super over, the host nation were eventually crowned champions as they had scored more boundaries than their opponents. Jos Buttler planted the final nail in the coffin by removing the bails to run Martin Guptill out when he attempted to complete the run that would have led to New Zealand winning the title.
However, it was England's day and after making it to the World Cup final on three previous occasions, they finally went one step ahead and were crowned world champions.