During India's last tour of New Zealand in 2019, the New Zealand coach, Gary Stead, was not thrifty in his praise for discipline and professionalism of the team India. He compared them to the All-Blacks due to the aura they create. 
The comparisons with the New Zealand Rugby team surfaced again after a thorough 5-0 victory for India in T20Is. Akin to the All-Blacks, for the Indian cricket team, no match is ever a dead rubber. The expectation is to win every time they take the field. Analysis and opinions are thrown in after every loss. The constant improvement of the team under successive captains over the past two decades has driven these expectations. 
Such has been the dominance of India in ODIs in the past few years that a loss has been rare – 67% wins since January 2017. A series loss has been rarer - 13 wins in 16 ODI series in this period. But a whitewash, as happened against New Zealand, is such a big anomaly that the last time this happened for India was back in 1997.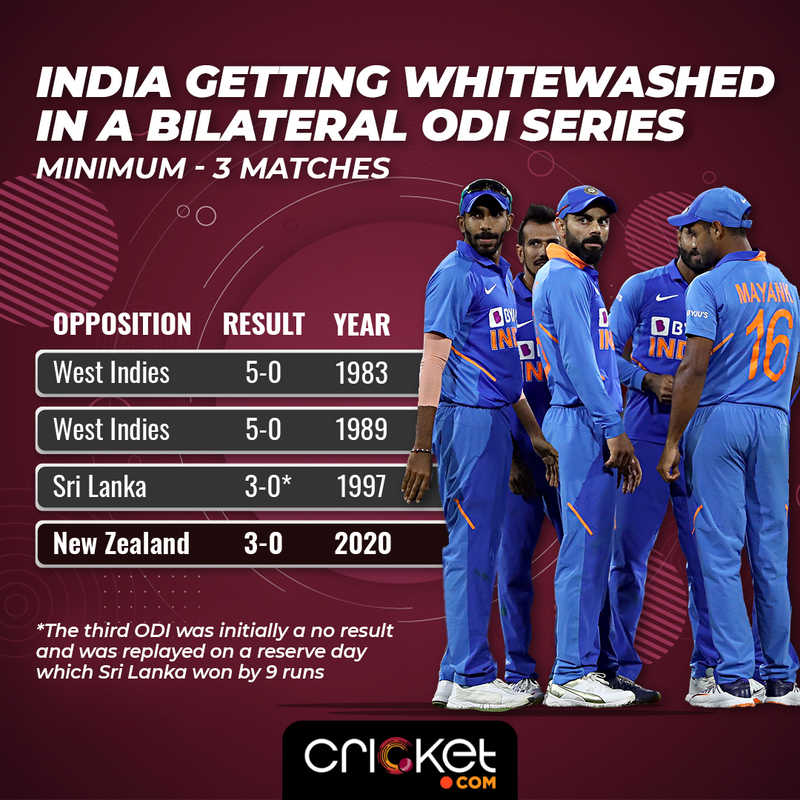 While pressing a panic-button will be an overreaction, a mild reflection on the outcome can help smoothen the rough edges going forward. 
Underperforming youngsters
It is a human tendency to overlook the value of what we have until it ceases to exist. In the season prior to the 2019 World Cup, the focus of the entire nation was on the fragile middle-order. The two ODI series now – against Australia and New Zealand have all but ended that debate. The only positive of the whitewash against New Zealand is the rise of Shreyas Iyer and flexibility of KL Rahul. But, the absence of two stalwarts in Rohit Sharma and Shikhar Dhawan, while providing an opportunity to a young pair, exposed the void that they left behind. 
In what has been a template for India in ODIs, the team looks to save wickets upfront and continuously increase the tempo as the innings progresses. In the current series, however, while India scored at the exact rate as New Zealand in the first 10-overs – 5.7 – they lost seven wickets as compared to none by the hosts. By laying down the platform, unlike the visitors, the Black Caps were able to accelerate in the middle overs going at 6 runs per over as compared to 5.4 for India. The middle-overs proved to be the only point of difference between the two sides while batting as in the last 10-overs again the teams scored at an equal run-rate of 8.3.
Rohit and Dhawan will be 35 and 37 by the time next 50-over World Cup commences in 2023, hence it is a blessing in disguise that India got to test the youngsters. However, while Prithvi Shaw (84 runs at 28) showed signs of belonging at the top level in white-ball game, Mayank Agarwal (36 runs at 12) was found wanting. Aggression and fitness – something that he really has to work on – brought the downfall of Shaw, Mayank was not as clear in his approach to the new ball around his off-stump similar to what he usually displays in the red-ball game. 
Coming to bowling front, with a career ODI economy rate of 7, Shardul Thakur has the worst economy rate for India among bowlers that have bowled in 5 or more innings. He ended the series at an economy rate of 8.1, the second worst among pacers was 6.9 for Hamish Bennett. In a competitive cricket circuit like India's, it is fair to say that such mediocrity should not prevail.
Grabbing eye-balls with his rhythm, pace and accurate toe-crushers, Navdeep Saini too fail to impress as he ended wicket-less and with an economy rate of 6.4. It is fair to say that none of the four youngsters managed to leave a mark against New Zealand.
An overworked bunch
Since the start of 2019, India have played 58 white-ball games – 34 ODIs and 24 T20Is. This is 12 more than the second placed West Indies. Team India have played almost one white-ball every week since last year, 26% more matches than the next team. If we take into account the 2-month long IPL that involves the entire bunch, Indian players are subjected to a severely high workload as compared to their counterparts. This has not only resulted in frequent injuries to key players but also to performance fatigue among other players. Quality and quantity rarely go hand-in-hand. It is imperative for the BCCI under its new president to realize this before India loses a big player to fatigue before a major tournament.  
An anomaly for match-winners
It is not often that Kohli and Jasprit Bumrah have a bad series, what hurt India was that the time for them to have a bad series overlapped. It became severely destructive for the team that were without their key players already. 
While Kohli averaged 25, his worst since in a series since against Bangladesh in June 2015, Bumrah has had his two worst ODI series back to back now. While he picked only one wicket in 3-matches against Australia earlier last month, he failed to pick a wicket in 3-matches against New Zealand. While his economy rate was still impressive 4.6 against Australia, against New Zealand even that swell up to 5.6. Returning after an injury, all eyes were on him but now we will have to wait till the Test series to put any weight behind the correlation between his injury lay-off and his performance. We can only hope that he was just warming up in the ODIs.