Winning a T20I without an individual fifty
In the recent T20I encounter at East London on Feb 12, 2020, South Africa just managed to pip visitors England by one run. But what was remarkable in that game was that none of the South African batsmen were able to manage an individual fifty, while the losing side could muster two fifties. This is the only sixth time in T20I cricket history such a lopsided feat had occurred. The table below lists all such instances. 
Huge T20I totals without an individual fifty
In the second T20I match of the series at Durban, England, after losing the 1st game at East London by 1 run, managed to beat the home side, South Africa, by 2 runs. England's total of 200-plus (204/7) was without a single fifty (Ben Stokes 47* was the highest). This provided the only sixth instance in T20I cricket history where a side despite reaching a 200+ total were unable to register a single individual 50-plus score. England has now done it on three occasions, while the rest have done it just once!  
Note: Shankar's and Solanki's efforts came in losing causes. Solanki's knock came in a World T20 match
Six blasters, without fours!
England captain Eoin Morgan's match-winning unbeaten knock of 57 in the third and final T20I match of the series at Centurion was embellished with seven sixes, but yet he could not manage any fours. In all T20I cricket history, he thus became the only third batsman to hit seven sixes, without any fours. The two others being PNG's Norman Vanua and Austria's Razmal Shigiwal.  No other batsmen from the top cricketing nations have managed to do this, not even with six sixes. The two tables below provide the details.
Frequent six-hitters
Morgan's seven sixes in the final match at Centurion means that this is the fourth time in his T20I career he has managed to hit seven sixes in a match. Only two other batsmen Chris Gayle and Colin Munro have done on more occasions – five times. The tables below have the details.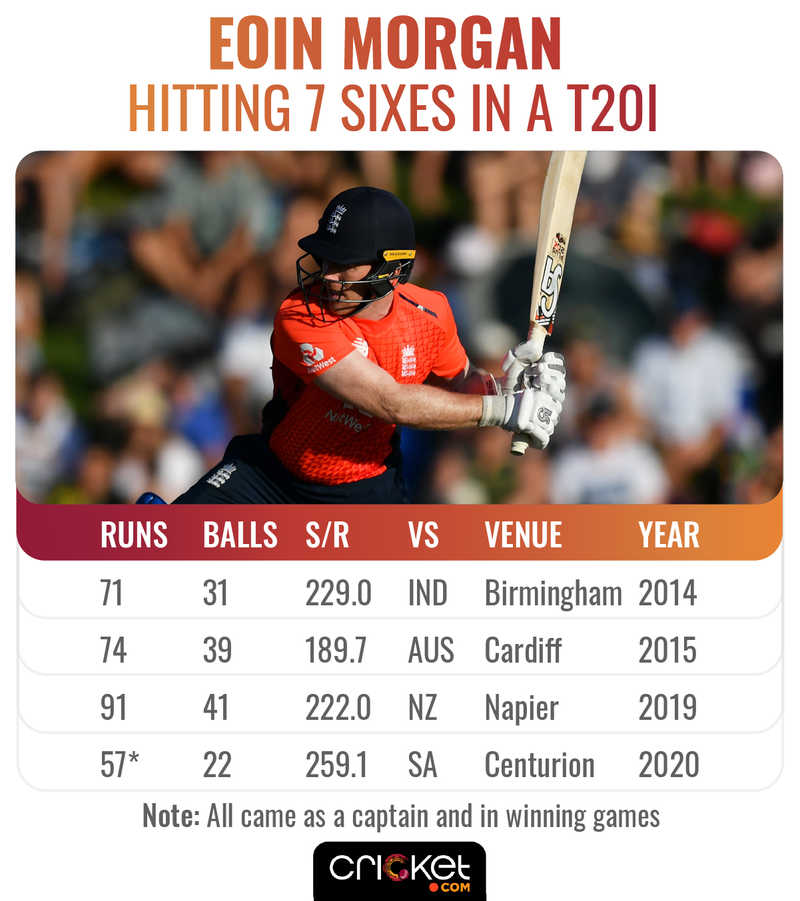 Quickfire captains
Although his side lost the three-match T20I series, rather narrowly to England, South African captain Quinton de Kock has been in blistering form. His knock of 65 in 22 balls at Durban in the second match of the series is now the quickest 50-plus by a T20I captain. His batting strike-rate of 295.45 obliterates the previous quickest 50+ score by a captain held by Rohit Sharma (S/R 274.41) during his 118 in 43 balls against Sri Lanka at Indore in December 2017.  
Note: Q de Kock (above) is now the quickest to reach a fifty in fewest balls - in just 17 balls - by a T20I captain
Captain's sixes in a series
De Kock set a new South African record in a T20I series by belting 14 sixes in the recently concluded three-match series at home. He went past the previous record of 10 sixes held Graeme Smith 10 years ago also against England – for the most sixes by a South African captain in a T20I bilateral series. De Kock's 14 sixes, however, fell just short of the record 15 sixes by a captain in a series. The table below has the details.
Sixes galore by both captains in series
The 23 sixes hit in the recent South Africa-England series equals the record number of sixes hit by both captains in a T20I bilateral series.  
Note: All records mentioned above are complete and updated until 18 Feb 2020