Rahul as a keeper-batsman
KL Rahul, while keeping wickets for the first time for India in a T20I match, registered a fifty as a batsman. His 56 is now the highest (among players from a Test nation) by a debutant keeper in T20Is. For the record, the highest score in all T20Is is the 104 not out by Serbia's Leslie Dunbar against Bulgaria in Corfu on 14 October 2019. 
Super consistent Rahul
Before the third T20I against New Zealand in Hamilton, Rahul's last five scores in T20Is since 11 December 2019 - in chronological order - were: 91, 45, 54, 56, 57*. By missing a fifty by five runs against Sri Lanka at Indore, he lost the opportunity to become the first batsman in T20Is to hit five successive scores of 50-plus. As of now, only two others have registered four 50+ scores in consecutive innings – New Zealand's Brendon McCullum in 2008-09 and West Indies' Chris Gayle in 2012. Rahul, however, has become only the third Indian batsman to make three fifties in a row for the fifth time.
Brilliant at chasing targets
India's successful chase of New Zealand's 203/5 in the first T20I in Auckland provided the 13th instance in this format where a side successfully chased a target of 200 or more. India now have the unique distinction of doing so on four occasions, which is by far the most by any side in T20Is. Both South Africa and Australia could manage this only on two occasions, while five others have done so just once! Interestingly, it is all the more remarkable that India have six totals of 200+ in successful run chases, but two of them have come when the targets set were just less than 200. The image below has the details.
Note: The Auckland victory is now India's highest successful run chase in an away T20I match.
Fifties galore
In the first T20I in Auckland, as many as five batsmen managed to score fifties: three for the home side and two for the away team - Colin Munro (59), Kane Williamson (51), Ross Taylor (54)*, Rahul (56) and Shreyas Iyer (58*). This match thus provided the first-ever such instance in T20I history. Before this, on 12 other occasions, four batsmen managed to make fifties in the same match. The New Zealand innings in Auckland also provided the eighth instance of one side registering three individual 50-plus scores in the same innings in a T20I. The two images below have all the details.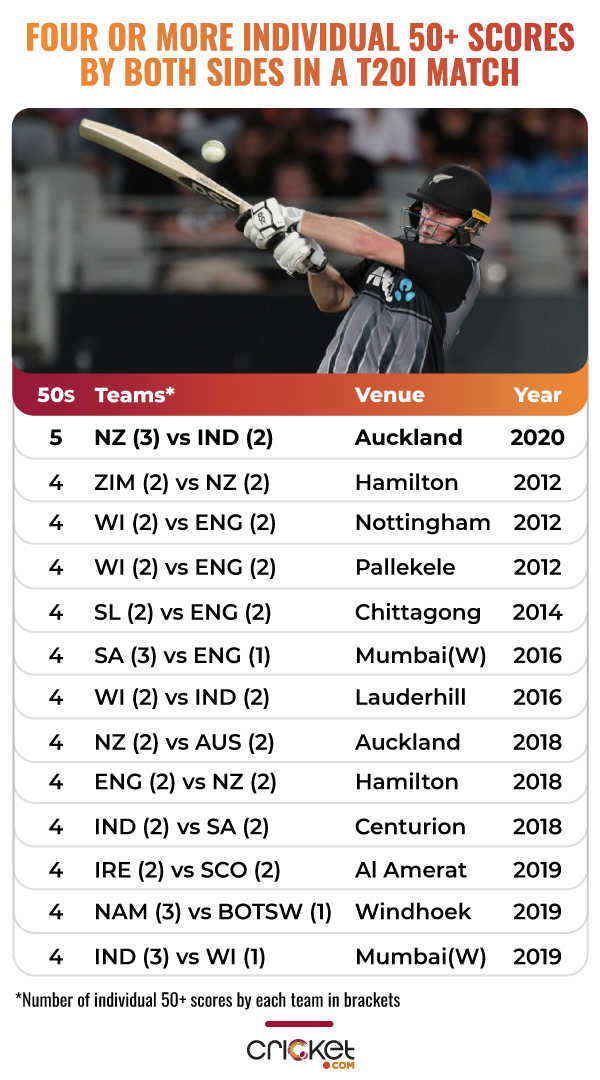 Notes 
- South Africa in Mumbai and New Zealand in Auckland are the only sides to lose despite three 50s in their innings
- England and now India are the only victorious sides in T20Is, after three 50s have been made against them
Domination in a country
Tim Southee's two wickets in the second T20I match in Auckland of the big two (Rohit Sharma and Virat Kohli) took his T20I tally of wickets to 43 on New Zealand soil. This is the most by any bowler in a particular country. He surpassed the previous record of 42 wickets by Afghanistan's Rashid Khan in India. The graph below lists bowlers with maximum wickets in a country.
Hunting in pairs
The opening partnership of 48 between Martin Guptill and Munro in the second T20I in Auckland took their tally of runs in a partnership for any wicket to over 1000 runs. They thus became the seventh pair in T20I history to reach this landmark. They are also the second Kiwi pair after Guptill and Kane Williamson. Ireland's Paul Stirling and now Guptill are the only players to achieve this with two different partners.
Six-hitting openers
First, it was Rohit whose three sixes surpassed Chris Gayle's and Guptill's tally of most sixes – 105 – by an opening batsman in T20Is. Then, the New Zealand opener made the record his own when he too hit three sixes in Hamilton.
Skippers against India
Williamson's near match-winning 95 in Hamilton is by far the highest by a Black Caps captain in T20Is. The previous best was the 74 by Brendon McCullum against England which also came in Hamilton back in 2013. It is also now the third highest by a captain against India in T20Is.
Maiden series win in New Zealand
India's win in Hamilton has given them an unassailable 3-0 lead in the five-match T20I series in New Zealand. This is the first time that the Men in Blue are winning a T20I series in New Zealand. India had lost the earlier two series in 2009 and 2019.
Postscript: India's wins in the first and second T20Is in Auckland was their first back-to-back victories over New Zealand in T20Is since the two sides first played each other in this format during the 2007 World T20. By winning the third T20I in Hamilton, via a Super over, India have now extended their winning sequence to three matches against this opponent!
(all records mentioned above are from men's cricket and are complete and updated until 29 January 2020)