Kiwis a tough customer at home
India's tenth tour of New Zealand has resulted in their sixth series loss. India toured the country for the first time in Feb-Mar 1968, when they won the four-match series 3-1, to register their first ever overseas series win against any opponent in their history. Since then the Indians have managed to win just one more series in Mar-April 2009, when they won at Hamilton by 10 wickets, while the two other Tests were drawn. Since winning three Test matches in the 1968 series, India has managed to win just two more Tests in New Zealand in their last 21 Tests spanning 51 years! India's record in SENA countries has been quite dismal. The table below provides the details.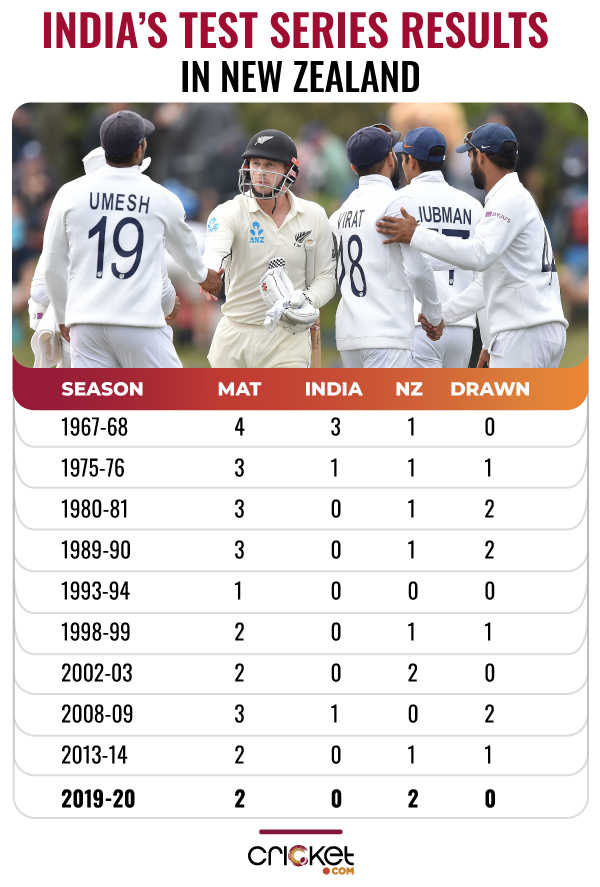 India's 85th Test venue
The Hagley Oval in Christchurch became India's 85th Test ground, since their first ever Test appearance at Lord's in London, way back in June 1932. This also means that India now have appeared in Test matches in 58 grounds away from home. The Hagley Oval, meanwhile, becomes the seventh ground in New Zealand to host a Test match against the Indians, while Christchurch is the only city in New Zealand that has the distinction of hosting a Test against India at two different grounds.
Catch them young!
Prithvi Shaw's 54 on the opening day of the second Test match in Christchurch made him the only second youngest Indian batsman to register a Test fifty on New Zealand soil. At 20 years, 112 days, he is the second youngest after Sachin Tendulkar who was 16 years, 293 days, when he made his 88 at Napier in Feb 1990. Incidentally, Tendulkar, still remains the youngest ever to register a Test fifty on New Zealand soil.
Shaw, meanwhile, became the fourth youngest to register a Test fifty score in New Zealand, while opening the innings.
Prithvi Shaw also became the fourth youngest Indian opener to make a fifty score in an away Test match.
Low totals despite three fifties
On the opening day of the Christchurch Test match, India were bundled out for a low total of 242 despite the three individual fifties from Prithvi Shaw, Cheteshwar Pujara, and Hanuma Vihari respectively. This incidentally is India's second lowest Test total and overall the joint fifth lowest all-out total in Test cricket history that also contained three fifties in the same innings. The table below lists all such instances.
Run-ruined captains
Virat Kohli's batting form during this series was one of the worst of his Test career. It was also one of the worst performances by an Indian batsman-captain in a Test series. The tables below have the details.
Skipper failures 
In the Christchurch Test match both the captains – Virat Kohli and Kane Williamson - could only aggregate 25 runs. This is now the joint fourth lowest aggregate by both captains in a Test match involving India. Incidentally, this is now also the lowest such occurrence in a Test match on New Zealand soil. The previous lowest also came at Christchurch, but at the Jade Stadium in March 1974, when Kiwi captain Bev Congdon (8 & 2) and the Aussie skipper Ian Chappell (20 & 1) aggregated 31 runs! 
   Note: (all records mentioned above are complete and updated until 4 March 2020)