It was on August 1st 2019, the inaugural World Test Championship took its baby steps. But, the whole world took a back step after the pandemic outbreak in the following March. After 117 days, international cricket was back on its track. Between Tests, the gap was much bigger (131 days).  Amidst all these calamities, nearly two years later, the event is holding its red-carpet event on June 18th. India and New Zealand will be the inaugural finalists of the WTC.
India in the WTC cycle played six series, three at home and three away. In those six they lost only one and that was against New Zealand in their backyard. As for New Zealand, they played five series, three at home and two away. In the three-home series, they won flawlessly and in the two away series they lost one and drew one. India with 72.2 per cent of points and New Zealand with 70 per cent lead the table. 
Before heading to the major event, let's look at how teams have fared statistically in the first WTC cycle. But before that, lets have a look at how the pitch has been in this period:
Captains face-off
The biggest debate of all would be about the two captains, the two greats of this era. The fiery aggressive intent of Virat Kohli against an ice-cool Kane Williamson, just the final to drool over. If we look at how the two have performed in this cycle, Williamson's record overpowers Kohli's. In the nine matches played by Williamson, he has scored runs at an average of 58.4 as compared to Kohli's 43.9 in 14 matches. The fortunes have gone in opposite directions since 2020. Williamson has averaged 105.1 in seven innings and Kohli averages 24 in 12 innings. All of Williamson's innings have been in home conditions. 
Though their overall record in this WTC cycle is contrasting, when it comes to home and away conditions, both have been dismal away, especially Williamson. In seven away innings, Williamson hasn't scored more than 100 runs. He averages 11.6 with the highest score of 36. Whereas, Kohli in 10 away innings has scored 252 runs at an average of 25.2. In those seven innings, Williamson has a balls/dismissal ratio of 22.4 as compared to Kohli's 57.2. Both have set such high standards that these numbers are hard to believe.    
India's middle and lower middle order (5-8) making a difference 
In recent wins for India, a lot of credit must go to the middle and lower middle-order batsmen. The biggest of those examples was the Australia tour in 2020-21. In fact, none of the team's 5-8 batsmen have bettered India. In this WTC cycle, Indian batsmen from number 5-8 have averaged 38.1, the best. In addition, their balls/dismissal ratio of 72.5 is also the best among all teams. More importantly, the runs they have scored has been the most vital of all. Indian middle and lower middle-order batsmen have scored 119.9 runs per innings, which is also the most among all teams. 
A duel between the best pace unit
There were times when both teams' batsmen have failed to make an impact, but their bowlers have never let them down. Mainly, the pacers have been their frontrunners. Indian pacers have bagged 165 wickets at an average of 21.5, the best among all teams in this WTC cycle. The Blackcaps pacers also aren't far off. They have bagged 168 wickets at an average of 23.7, the third best among all teams. The only factor variant from New Zealand to Indian pacers is their bowling strike-rate. Indian pacers have bagged wickets at 42.9, wherein, no other team has a strike-rate of less than 50.  
An X-factor in Jadeja
Since 2017 in Tests, we have seen a different Ravindra Jadeja, especially in the batting department. This WTC cycle as well, his performance has been exceptional with both bat and ball. He is one among the seven batsmen to score 300+ runs and bag 15+ wickets. In contrast, none of the New Zealand allrounder feature in this list. Their best has been Kyle Jamieson, scoring 228 runs and bagging 36 wickets. Coming back to Jadeja, his batting average of 58.6 in this WTC cycle is the fifth best among batsmen who played 10 matches and the third best bowling average for a spinner who bowled 100+ overs. 
Taylor and Pujara struggling to get along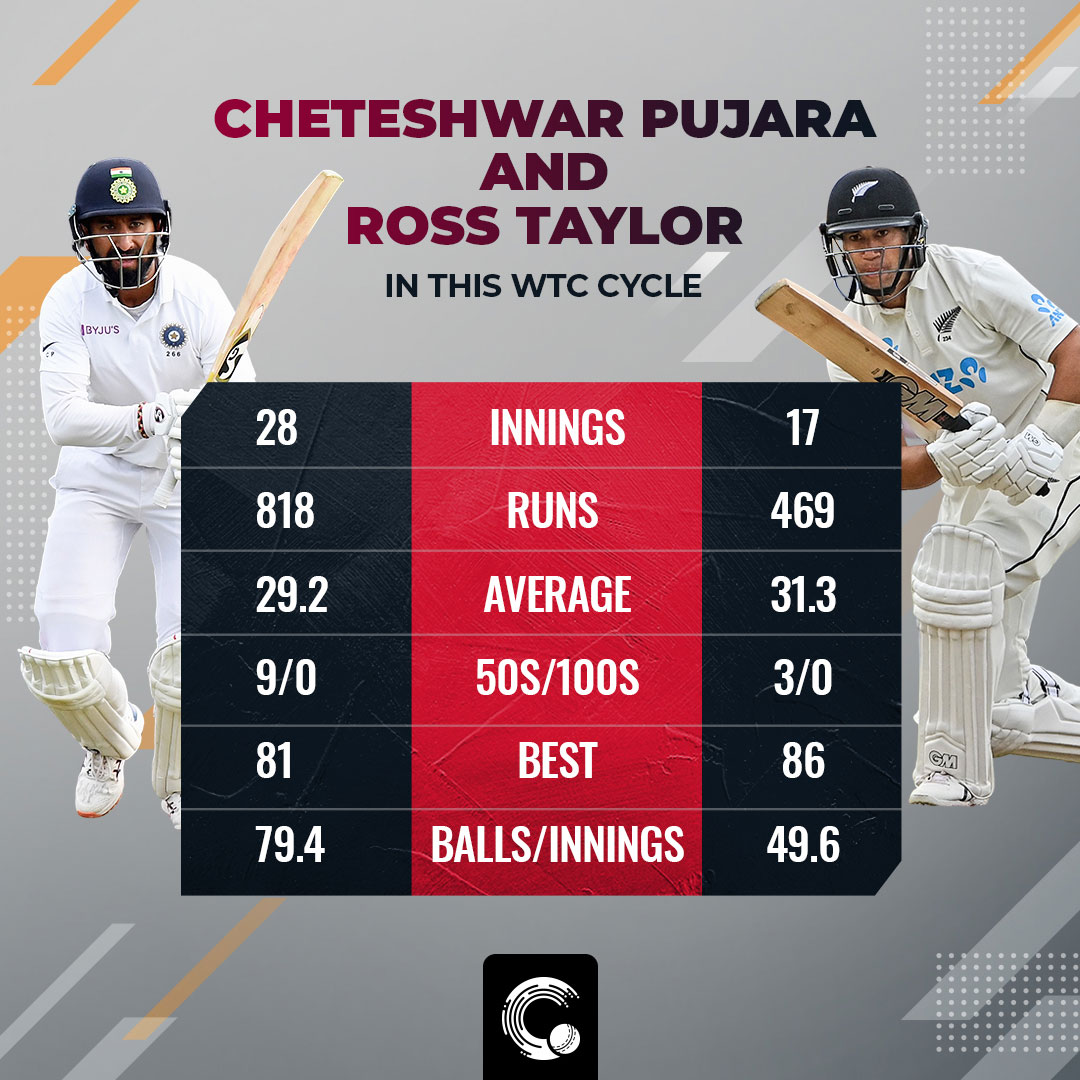 The biggest drawback for New Zealand and India in this WTC cycle has been Taylor and Pujara's dip in form. Undeniably, this is a big concern considering the dependability on these two players. Both these batsmen featured in all the games played by their respective teams this cycle. Pujara (818 runs at 29.2) has scored more runs at a lesser average than Taylor's (469 runs at 31.3), but the former has spent more time at the crease. Pujara on an average has spent 79.4 balls/innings. Whereas, Taylor has played only 49.6 balls/innings. This is the fourth worst for a top order (1-5) batsmen who scored over 250 runs. More to their agony, both batsmen haven't scored a single century.