Did you know? Australia's incumbent ODI wicketkeeper-batsman, Alex Carey played the AFL before shifting his focus towards cricket. Here is the full interview with the man from South Australia.
On the IPL
Carey: It would be pretty nice to be in Delhi playing cricket still, it was my first time selected to be a part of the IPL, currently at this stage it's looking likely that might not go ahead but I will look at it as, I'm healthy, I'm safe, I'm getting to spend a lot of time with my family, it was a big couple of years on the cricket field, to have to spend time at home has been quite nice doing that. But as you mentioned, it is something I would much prefer to be doing as a lot of the other players. I'm still really positive and that hope, that later in the season that the IPL will go ahead and the World Cup - we'll wait and see.
How disappointing would it be if the T20 World Cup doesn't happen later in the year considering the massive success of the Women's event earlier in the year?
It would be disappointing. We've had a couple of big T20 series in the last probably six months - we are playing some really good cricket in that format at the moment. If it doesn't go ahead it's got to be disappointing for myself and a lot of other people as well who would love to watch the T20 World Cup. The Women's was so successful and seeing 80-90 thousand there at the MCG, it's an amazing spectacle. Hopefully sport can find a way to come back and hopefully it's before the T20 World Cup; it goes ahead. We've got to put the virus first and foremost and make sure everyone is healthy and safe before we can even considering going back, even training as a team. It would be disappointing but it's out of my control and everyone else's - we'll wait and see.
What has been the key in finding that consistency in the T20 format as a team for you?
Getting the group together and keeping it quite consistent. We know that our opening batters are likely to be (Aaron) Finch and (David) Warner and you throw Steve Smith in at the top of the order, probably inexperience with No. 4 when Glenn (Maxwell) took some leave. We've been pretty consistent with our lineup for the last 6-12 months - it is really valuable doing that. You know what your bowlers' strengths are, you know what the spinners can do, (Adam) Zampa and (Ashton) Agar were fantastic and the top of the order were making the runs.
It is very enjoyable, quite a consistent group with our roles very specific. We've had a really good understanding - I'm very optimistic, in 6 months time, if the World Cup goes ahead, we are playing some really good cricket, we really like our conditions here in Australia and the guys are keeping fit and staying strong, so if we do get an opportunity to play, our game would be ready to go.
Lots of talk about your prospects in the Test format. Where do you think your red-ball game is at the moment and what do you think you need to do to be confident you are ready?
With limited opportunity playing first-class cricket, with the white-ball schedule that has happened over the last few summers, I think I have played maybe 6-8 first-class games in the last two summers - which isn't a lot of cricket. But the positive for me is that with those limited opportunities I have done really well. Scored a few hundreds back-to-back. I'm learning about my game every time I go out and play cricket whether it is with the red-ball or the white-ball. As a cricketer, I'm 28 now, I'm learning lots about myself and as you do you mature into your body and you start to work out what you can do out on the field. 
With the limited opportunity it has been probably a little bit difficult just not knowing or going straight into a red-ball or a white-ball tour - but that's the way it is now. If I play cricket for Australia just with the white-ball, I will be a very happy man. It has been a really couple of enjoyable seasons for me playing for Australia, keep playing the one-dayers and hopefully the learning would be good enough one day to earn a Test cap. But there's a lot to do between now and then if it does happen.
Pat Cummins had earlier said that his girlfriend asked him to get toys for the dog after he got a fat IPL contract. Are there any purchases you had to put off because of the tournament getting delayed?
I will leave that up to my missus. She loves online shopping so I told her to probably cut that back a little bit now. We've got a 19-month old son, so he enjoys a few toys, he has to go with the ones that he's currently got.
Is there a worry of the inertia factor right now and how would you deal if you had to hit your straps straightaway in the T20 World Cup and what are you doing to hit top form if you are allowed to play again?
Good question. It's probably a difficult one at the moment because we are just uncertain of how long this might carry on for. At the moment for myself and a lot of the guys in the Australian cricket system, it's been a really big summer, probably a big 12-24 months of playing lots of cricket. At the moment I'm seeing it as a really good opportunity for the guys to refresh and recharge. Already you're seeing some videos of Marnus (Labuschagne) hitting balls out of the backyard, I've got the golf ball going against the wall trying to keep the hand-eye co-ordination going. It's probably just the uncertainty of how long this might last and in the lead-up to when that first game coming back. 
At the moment I probably can't say if we can hit the ground running but can definitely tell you that it's a well-earned break for the Australian cricket team and we are lucky that we finished the summer pretty much, so the guys can put their feet up, refresh and be really keen when the door's open to go and train, be able to interact more freely. The guys will be very keen to do that part, to be ready to play the IPL, the T20 World Cup. I have full trust in the guys to doing what they can, albeit probably in their backyard.
How you guys have been occupying yourselves, has Cricket Australia given tailored programmes for each player or even offered recommendations? Or are you basically being left up to your own devices?
Yeah, we have got lots of programs to be able to follow. And obviously it's gonna be some restrictions with what gear and what you can get in the backyard. But, you know, it's been fantastic to see and I reckon you guys have seen it as well, the social media accounts they're finding new challenges to do, if it's doing a handstand and trying to put your shirt on or if it's hitting balls and catching balls out in the backyard or juggling a golf ball on the stump.
As a professional athlete, you can't sit still for very long. And there's always a way to improve ourselves. And I feel like myself personally, it is great to get some kilos into the legs and some strength workout at the backyard. So, yeah, I have trust in all the players around the world to know once the doors open, the guys will be very keen to get back out there and again in a really good state of mind and their bodies well looked after.
Just wondering about Allan Border and Glenn Maxwell spoken all weekend about playing a World Cup with no fans and question whether it would be worth it. What's your view. Is the World Cup still worth playing? I suppose you can't share it with the fans and the crowds.
Yes, it's a difficult question, really. I guess, you know, as a cricket player and a lover of the game, I would do absolutely anything I could to represent my country at a World Cup. I would say it'd be a strange feeling, no doubt flying over to England in the one-day World Cup, having the crowd there of all different countries going crazy. When I do well, this is something you can't really explain out at the middle.
It's that atmosphere that you absolutely love and thrive on. Saying that the landscape of the world has changed dramatically over the last three months. And, you know, if it has to be that way, I'm sure we'll find a way to make it go ahead. But it's… you know, you don't want that to happen. Absolutely not. You want your fans there. They play a very big part in our sport. And without the fans, we wouldn't have a job.
So it would be bad to proceed without fans. But again, you know, I love playing cricket, if there's no one there, I'd still definitely go out and play.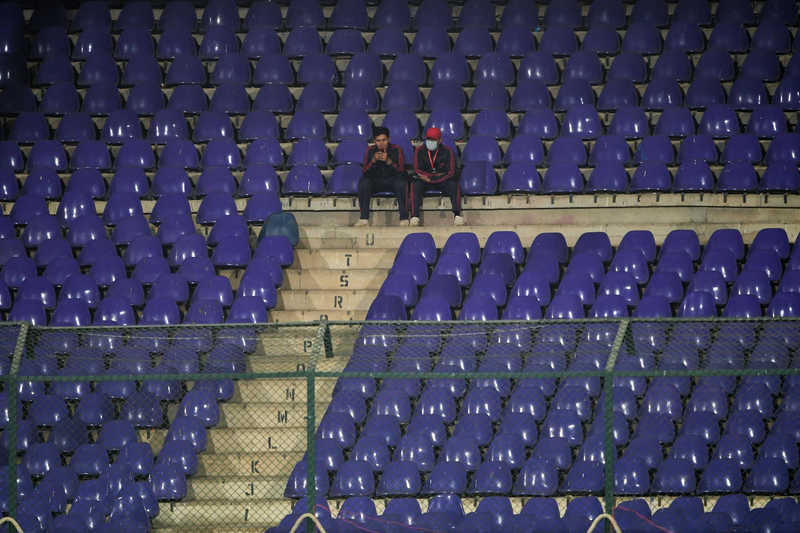 So do you want it to be pushed back so that you could play in front of things?
Yeah, that would be probably the ideal situation if you can put a date on it. It's probably hard right now to say if we postpone the T20 World Cup then three months later would be fine to open the gate. So I trust the guys well above my head to make the right decisions. Like I said, I will do absolutely everything I can to support that. And hopefully I'm there, if the T20 World Cup does go ahead.
Alex, you mentioned your son a little while ago. How different a perspective is that sort of spending time at home? Is that aspect a pretty big positive for you?
No doubt, yeah, he's 19 months old. If I have been home for six of those months I will be surprised. To have forced leave and time at home is something that I'm you know, I'm very grateful for. Yes, I would love to be playing over in India and, you know, potentially some cricket in England after that. But, yeah, this is priceless time at home, it's something that myself and I'm sure there's lots of people around the world and families around the world that are making the most of this time.
And although it's not ideal, I'm still very grateful for that bit of time that I do have here. And, who knows it might be longer than what we think, but it'd be nice to get back on the cricket field and and enjoy that as well. But yeah, thoroughly enjoying my time. And probably really appreciating my wife as well. They do a fantastic job when you're around tour so much. Now they're off to look after him 24/7. I've worked at it. It's a pretty tough gig.
Regarding the IPL. So you're getting information from Ricky Ponting. Is that your source? And if it did go ahead later this year, given you do have a young family, would you ever have any sort of trepidation travelling be it to India or wherever to play, would you feel totally comfortable given the current climate?
Actually I messaged Ricky the other day. He hasn't replied to me, so I haven't heard from him, unfortunately, but probably hearing through most of the guys in the Australian contact list. He's probably got a bit more insight than me, but yet we're all sort of unaware of what's going to happen. But yeah, I would absolutely love to get over to India and play. And I'm sure, you know, by the time that the decision is made, either way, there'll be a lot more information out there available. And I wouldn't travel without the guidelines and having a chat to people that I need to. Yeah, my family's always been a big supporter of my cricket. And I'm sure if the IPL goes ahead and there's a way to get over there, then I would do it as safely as possible. But yeah, lots of people to talk to before that decision's made, I'm sure.
Any advice to the AFL players on how to cope on tour potentially away from their families?
We're allowed to get out and exercise, obviously. And I've got down to the local park and I've seen three AFL players down there staying fit. So when they get the go ahead, I'm expecting some good things on the TV, watching the guys go about. And I'm sure they're gonna be very fit and very excited to get back playing if it does go ahead. Yeah, it's a good question. I'm sure that, with twenty two other mates there, they'll enjoy their time together. It's probably a different experience if they do go away because, you normally travel on the weekend and you travel back here and go about your weekly routine. 
Whereas now we're on the road quite a bit, as you mentioned. So you're just relying on your mates and your team-mates who become quite close family really. Being away from the family for so long it's bit of a brotherhood. So I'm sure that will be fine. And I'm sure that they're again, like most sportpeople that they'll be very keen to do what they can to see the game go ahead. It's been difficult for not only sportsmen but the general public and people losing their jobs. And you know, hopefully there's some smiles on people's faces soon.
A question on playing sport without crowds, whether you've seen this in Taiwan last week and they started the domestic baseball league. And couple of teams had robot-mannequins wearing team jerseys and the game kind of kicked off. Can you as a cricketer just talk about what that difference would be if that were to happen?
Yeah, that's a strange one. I like the idea behind that. I guess as cricketers, we play a lot of our cricket before making it to the international level without spectators or very few spectators. So we played New Zealand just before I guess this all sort of escalated and there was no one there. But I guess once you're out in the middle and in the contest, it's the last thing you're thinking about. I think it's just great to see the big roars and the crowds erupt when you do something well or you lose a wicket, seeing all the colours in the crowd and be able to put smiles on kids and families faces, sign some autographs and do all that. But again, if it has to be the way, then, I'm sure, all the fans around the world would like to sit down in front of the TV and be able to watch cricket or any sport go ahead. 
If that's what it has to be for a number of months, then we would support and enjoy it if we can to still make it really exciting out there in the middle, but I like the innovation.
You played the AFL before you started focusing on cricket. Do you contemplate going back to it in the future or is it just cricket on your mind at the moment?
That's a good question, I have just got cricket on my mind or probably at the moment, on my mind I have got family and friends, and staying safe, but definitely it's Test cricket for me. I love my footy and I love the experience that I had playing, but I think the fitness levels aren't quite up to it now and am still not quick enough to be able to play AFL (Australian Football League) again, am thoroughly enjoying my time playing cricket and really grateful for the opportunities I have had, so, head down and keep focused on the cricket.
The NRL seems to be really keen to restart their season. Does that give you hope that we will see some cricket later on in this year in Australia?
The response I have seen here in South Australia - the guidelines and messaging we have had has been taken on really strongly. I'm not a professional in this area but watching the news our numbers have improved dramatically over the last probably months. It would be nice to see that the world is a safe enough place to be able to go out and play sport. Whoever leads the way, I'm sure they will do it with the right messages from the people that are a lot above me to doing this safe and responsible matters. 
Just as a sport lover, to not be able to sit down and turn the TV on and see some live sport there, whichever sport that maybe. It's one of those things, it's all out of our hands at the moment, along with the NRL, the AFL boys are staying fit, they are staying ready. Hopefully we can get on top of it all soon and get to watch some live sport and all can enjoy some live coverage.
You were away on national duty when the decision on Jamie Siddons was made. How unsettling it is due to the current situation, the search for a new coach has been put effectively on hold indefinitely?
I loved my time playing under Jamie and I've got to thank him for my progress into the national system. He was a fantastic coach and mentor for me, to see him move on is disappointing in my eyes. Unfortunately we just haven't been able to win and play good enough cricket to see him stay around. There will be big changes here at the SACA and the guys and the management will no doubt select the right person to be able to take over from Jamie. At the moment it's probably up in the air when that's going to happen, when the squad can get back together and start training. It's a difficult time for everything, to be able to select the right guy for the job is a pretty difficult one at the moment. It's a tough one to see; a friend of mine is Jamie, who is very close to me.
Which AFL stars look the fittest to you at the moment?
It's funny. Orazio Fantasia of the Bombers (Essendon Bombers), he was looking like he was moving pretty well. Keeping his space from everyone in the park. Jake Kelly and (Daniel) Talia here at the Adelaide Crows. They are probably working a little bit more harder than what we were at the time, they look fit and doing what they can to be ready to go. As all our sportsmen are, we are probably getting itchy feet, we are trying to find new things to keep us occupied, fit and healthy as well. It's exciting when the AFL season does come back I'm sure there will be some pretty fit rigs out there.