Such has been the dominance of Mumbai Indians in the last few years that you would hardly bet against them in not overturning their fortunes, no matter the position they hold on the points table. However, the moment the side failed to close the game despite having Chennai Super Kings pinned on the mat in a spectacular fashion inside the powerplay, you would know something was seriously wrong. This is not to demean the empire they have built with the exact same core, but the fact it came crashing down at a moment they needed them the most calls for deep introspection. 
Mumbai's class of 2018 was built on analyzing rich data, focus on advanced cricketing understanding, and a rich vein of young Indian core well acquainted with the philosophy of the modern-day T20 batting and bowling. For 2019 and 2020, everything seemed to be on auto-pilot mode. Thus the 2021 season seems like a giant aberration, forced by the lack of runs from the usual suspects and the failure to grasp the clutch moments. 
Final Finish
With three wins from the last four games, Mumbai showed up big-time but it was too late. To their credit, they were in contention for a play-offs berth till the last day of the league phase but the NRR difference was too big to overcome. Ultimately, the Rohit Sharma-led side finished at the fifth position on the points table - over Sunrisers Hyderabad, Punjab Kings and Rajasthan Royals. 
The Reason
No Support for Bumrah
Barring Jasprit Bumrah, nothing seemed to have worked well in the bowling for the Mumbai-based side. Only Mumbai Indians player to be among the top-10 Criclytics Most Valuable Player (MVP), Bumrah was at his imperious best but most of his success came in the death overs. Him finding it difficult to get going in the powerplay was a massive shock for the defending champions which was further compounded by the lack of wickets from Trent Boult. While Bumrah took just three wickets in the phase and conceded at close to 8 runs an over, Boult failed to pick a wicket in 10 of the 13 innings he has bowled in the first six overs of IPL 2021.
It was crucial because Boult's start in the powerplay has always been one of the very important aspects for Mumbai Indians as they have won whenever he has done well in the phase. In UAE since the last season, the Kiwi swing bowler has taken 15 of his 18 wickets in the matches won by MI and his team have won 82% of their matches in which he has given them a breakthrough in the powerplay and have lost 60% of their matches in which he doesn't.
The batting dilemma
The way Suryakumar Yadav and Ishan Kishan took on the Sunrisers bowling attack on Friday night, it was bewildering to notice people were calling for their heads just a week ago. The duo were fantastic last night, but Mumbai's worries were excavated with scores drying up from the top-order. Only Rohit Sharma, with 381 runs from 13 games, was among the top-10 run-scorers. There had to be an underlying reason for that, but most crucially it can be concluded that Ishan Kishan is better off batting as an opener than being accommodated in the middle order. 
In 13 matches as an opener, Ishan averages 55.5 but in the middle-order, that drops down to 21.9. He has a strike rate of 155.9 which further drops down to 129 in any other position. It was clearly evident in the last two games against the Royals and Sunrisers when Ishan helped Mumbai to a terrific start and built the innings as well. With SKY not scoring a lot of runs, it didn't help that Kishan was batting out of his position more often than not. 
Krunal Pandya's dwindling returns
Over the years, Krunal Pandya has been a constant figure for Mumbai Indians, playing a vital role as an enforcer but this season, none of his performances warranted any success for the franchise. In 13 matches, Krunal scored 143 runs at 14.30 and then picked up only five wickets at an average of 53. Both returns are the lowest for him since his debut back in 2015.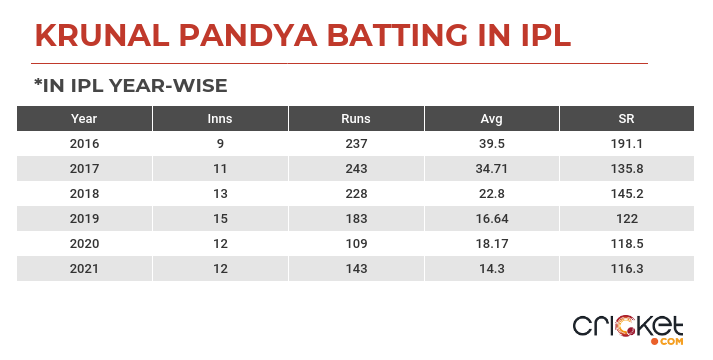 Looking at his figures, however, another pattern emerges. Krunal has been struggling to put in some consistent performances as he has managed to take just 11 wickets since the start of last season and only Navdeep Saini takes a wicket at a worse rate than the MI all-rounder. He is also amongst the slowest run-getters and the less reliable batters since last year as he has scored his runs at an average of just 16 and struck at 117. His failure escalated Mumbai's woes and played a huge role in Mumbai finding the position they eventually did.
Retention Materials
Irrespective of what happens in a single season, Mumbai Indians would want to retain their core for the following season but then that comes with what the rules BCCI layout. Ishan Kishan, being a wicket-keeper and a high-class top-order batter, would definitely be on their radar. As would Rohit Sharma, who has overseen five title-winning campaigns in the last nine years. As much as they would want to keep Suryakumar Yadav in their side, it must be noted that Jasprit Bumrah is a must.
Bumrah is Mumbai's flag-bearer in the last half a decade and can't be traded for anything. Pushing him to the auction pool means the price is inflated to a point of no return, thus the decision is a no-brainer. Overall, Mumbai have a problem of plenty when it comes to retention ahead of the mega auction. To add to that, they have a big headache once the retention rules come out.