It could have been a much better day for India if they had capitalized the advantage they got yesterday. KL Rahul went back to the pavilion on the second ball of the day, ruing all his efforts on day one. A lethargic push outside off stump saw Ajinkya Rahane heading back without adding anything to his overnight score. Though Rishabh Pant and Ravindra Jadeja stitched a valuable partnership, India could only add 88 runs to their overnight score. James Anderson was the star with the ball as he registered yet another five-wicket haul at Lord's.
In reply England yet again were jolted by early strikes and as has been the case throughout this year, their skipper Joe Root is out there fighting a cause. Rory Burns looked good, but Mohammed Shami pinned him in front at the stroke of stumps. There were few notable stats on the second day, here is a list of those:
India's big three suffering big time
India might have had success of late and those success has immensely been because of their bowlers and the young brigade. The likes of Cheteshwar Pujara, Virat Kohli, and Rahane have just made their presence felt. But, they haven't performed to their potential in their respective departments. In Tests since 2020, all three batters average less than 30 despite batting 15+ innings. Apart from the Melbourne century in 2020, nothing has gone right for Rahane as well.
Anderson, oldest pacer in 70 years to five for
He is just like a wine that is getting richer and richer with every match. At the age of 39, there are hardly a few players who play Test cricket, to top it, he is a fast bowler. Here is Anderson who is bagging five-wicket hauls at his will. At the start of this match, Anderson aged 39 years and 13 days, considering the start date, Anderson is the oldest pacer to bag a five-for in Tests for nearly 70 years. In fact, the oldest before Anderson was South African Geoffrey Chubb of South Africa in July 1951.  
Anderson's seventh five-for at Lord's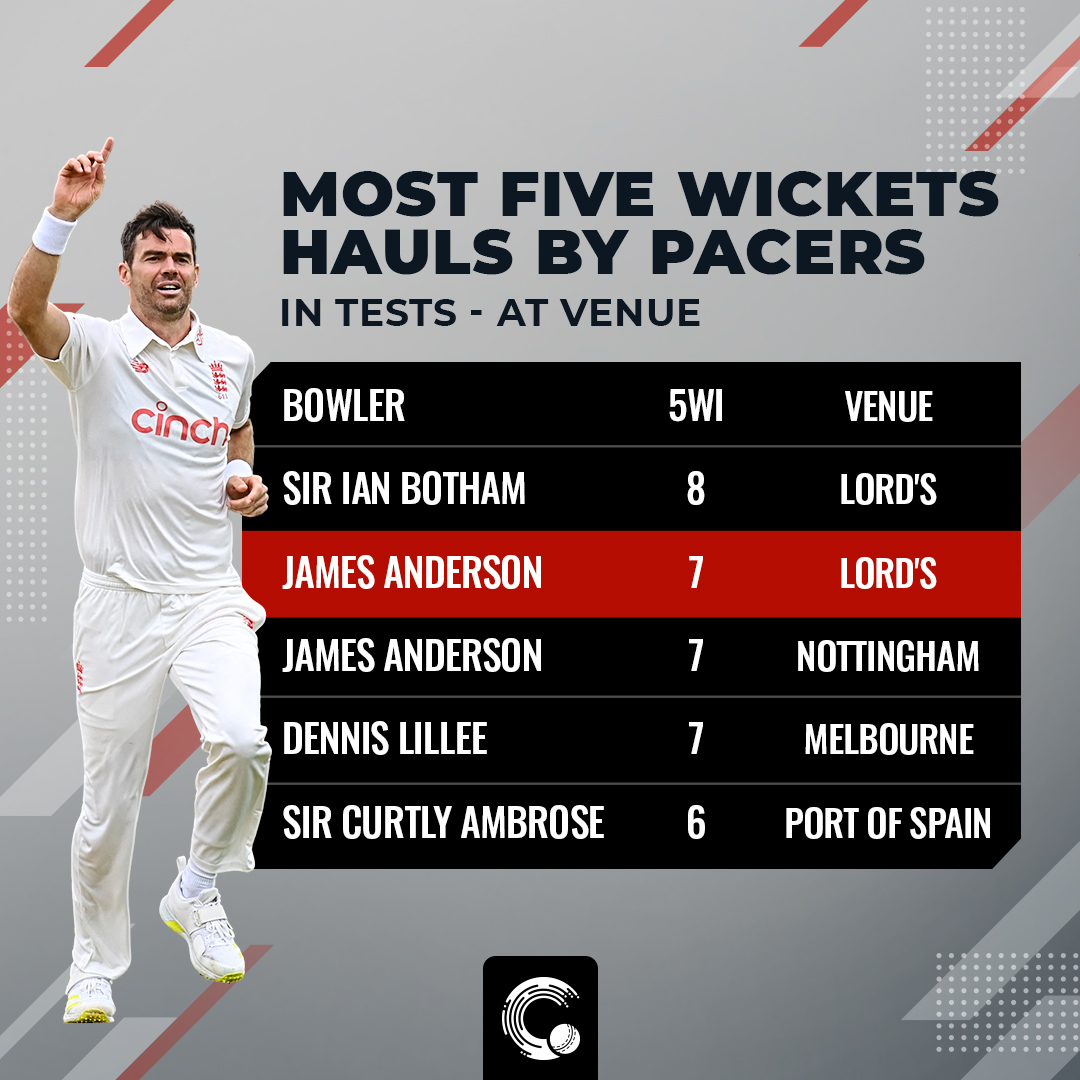 The king of Lord's embarks on another milestone by bagging his seventh five-for at the venue in Tests. This is the joint-second most number of five-wicket hauls by a pacer at a venue in Tests. Anderson in Nottingham also has seven. Out of those seven, four have been against India, which is also the most five-wicket hauls against them at a particular venue. Sydney Barnes against Australia has five five-fors at Melbourne, the most by a bowler against an opponent at a venue.
A year for the ducks
England have played 10 matches this year and they have seen 14 ducks among the top three batsmen. Eight of them have come from the openers and six from the number three batsmen. This is the most ducks for a team's top three batsmen in a calendar year. England's top three in 1998 had one lesser. Zak Crawley, who was consistently failing made way for Haseeb Hameed. The youngster who made a fifty in his teenage against the same opponent was greeted with a golden duck. A four-year wait ended as a first-ball duck.
Siraj and his DRS blunders
Since the introduction of DRS, bowlers and teams appear to have lost faith in the on-field umpires. But, there are few bowlers like Mohammed Siraj, who are adamant and convince their skippers to go for the review. Even in the first Test, Siraj made a blunder and convinced the skipper to take the review. He busted the review as it was missing and that was repeated twice. In this match as well, in his back-to-back overs, he busted two of India's reviews. In Tests since 2019, his review success rate is one of the poorest among bowlers.