Ishant Sharma belongs to a rare breed of fast bowlers. He is only the second Indian fast bowler after Kapil Dev and 12th in the world to play 100 Test matches. As he reached the historic landmark in February this year, India's former strength and conditioning coach Shankar Basu had predicted Sharma will "at least play four more years and 40 more Tests." The 32-year old is currently in his 14th year of international cricket and continues to be a mainstay in the Test side.
When he is fit, it's hard for the team management to look beyond Sharma as a strike bowler alongside Jasprit Bumrah and Mohammed Shami. He is ready to bowl tirelessly while being able to get wickets during fruitless periods of play. Since 2018, Sharma is the third highest wicket-taker among pacers with 80 wickets from 43 innings, behind Shami (89) and Bumrah (83).
During this period, Sharma bowled a total of 164 spells, the second most among Indian pacers and seventh highest overall, despite suffering multiple injuries.
The recent knee and lower-back injuries to Shami and Bumrah, a by-product of their respective bowling actions and workload, are more serious in nature and recurrence of those problems could see them sidelined for a long period. Meanwhile, Sharma with his high-arm action, had mostly suffered issues with his landing foot.
Once compared to a newly-born giraffe by Matthew Hayden for constantly slipping during his run-up, Sharma had worked extensively on his core and lower back strength which helped his recovery rate. During the New Zealand series last year, he was able to shake off an ankle injury to claim 5-68 in the first Test at Wellington.
According to Basu's recent interview with Cricbuzz, Sharma has been hitting well above the Indian team's Yo-Yo test benchmark of 17.1 for the past four years, which also explains his returns in terms of wickets.
After managing 39 wickets in 33 innings between 2015-17, Sharma roared back with 41 wickets from 21 innings in 2018 and claimed 25 wickets in 12 innings in 2019.
Sharma has often been reluctant to discuss the changes he made to his bowling, but his former teammate Ashish Nehra pointed out how Sharma has been getting better results by bowling more on the fuller length and by angling in from around the wicket.
"When people talk about Ishant Sharma's length, yes, he has altered his length, which is very important in Test cricket. Plus, he is the same old Ishant Sharma, the ball is coming into right-handers, which is really important for him, bowling around the stumps," Nehra said in a pre-match talk show during the England tour of India.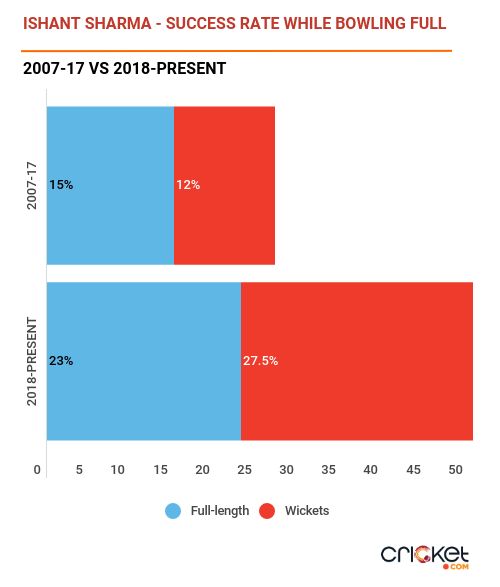 However, the recent Test series triumph in Australia had proved that India's rookie pacers also share Sharma's qualities of high work rate and led the attack with aplomb in the absence of the big three. Both Mohammed Siraj and Shardul Thakur, who are part of the current squad, have started their career which resembles that of Sharma's first tour of Australia in 2008.
What Sharma's blistering spell had done to Ricky Ponting at Perth, Siraj and Thakur had troubled some of the world's best batsmen and triggered batting collapses which led to famous victories. Sharma, who had 'Pace Doctor' Zaheer Khan to guide him in his early days, can take up that seat to help the rookies who will get their first taste of English conditions.
With the likes of Navdeep Saini, Arzan Nagwaswalla and Avesh Khan waiting in line, being a Test specialist since 2013 makes Sharma a reliable option to play alongside younger bowlers for the next few years.