Rohit Sharma has been the best Indian batsman in this series. On the runs tally, he is behind his opening partner, KL Rahul, by 28 runs. He doesn't have a hundred yet but currently, he is one of the only three batsmen in this series and the only Indian to average above 40, even if it is marginally so (40.16). Moreover, he has asked most questions to the opposition bowlers. 
Rohit has left the ball well. He has played it late. He has been solid in defence. Yet he has shown his class with his run-scoring. England thought they have found the Achilles heel by challenging him on his favourite stroke - the pull - but the right-hander curbed his natural instinct in India's second innings of the Headingley Test. He scored a brave 59 off 155 balls with the solidity that asked England seamers - "Now what?" 
On Day 1 at the Oval, India had their smoothest start. Not only did the openers look assured, but they also maintained a decent scoring rate to kick-off, accruing 28 runs in seven overs. James Anderson had an off day, going for 20 runs in his first four overs. Sensing the lack of rhythm on the part of his prime asset, Joe Root switched to the most Anderson-like bowler in England's armoury, Chris Woakes.
Woakes hadn't played Test cricket since August 2020. In fact, this was his first red-ball game in the last 54 weeks. He appeared for Birmingham Bears in the T20 Blast quarter-final, his only game on the professional circuit since recovering from a freakish heel injury. Now, six days later, he was representing England in the fourth Test. For anybody, it is not an ideal preparation for Test cricket but it speaks for Woakes' importance to this unit, accentuated further by Sam Curran's timid form and injury to many others.
But the 32-year old took to Test cricket like duck to water. He immediately halted India's progress and got the England bowling engine up and running. More importantly, he found a new way to dismiss Rohit Sharma - inducing an outside edge off a defensive shot - with his fifth ball of his first over. It was an early contender for the ball of the innings and it stayed unrivalled through the course of the 61.3 overs of India's innings. 
"It went shorter than I wanted it to be", said Woakes in conversation with SkySports at the end of the day. However, it produced the zip and bounce that took Rohit by surprise. The Indian opener has a ball-per-dismissal ratio of 49.4 on a backfoot defence as compared to 13.2 while playing the hook or the pull. 
Bowling short is not Woakes' natural length but he had done his job with his nagging line and length. Seven maidens were bowled in a row after his introduction. Ollie Robinson pinned Rahul in front of stumps and Anderson, in his second spell, edged Cheteshwar Pujara behind as England pushed India in the corner again by lunch.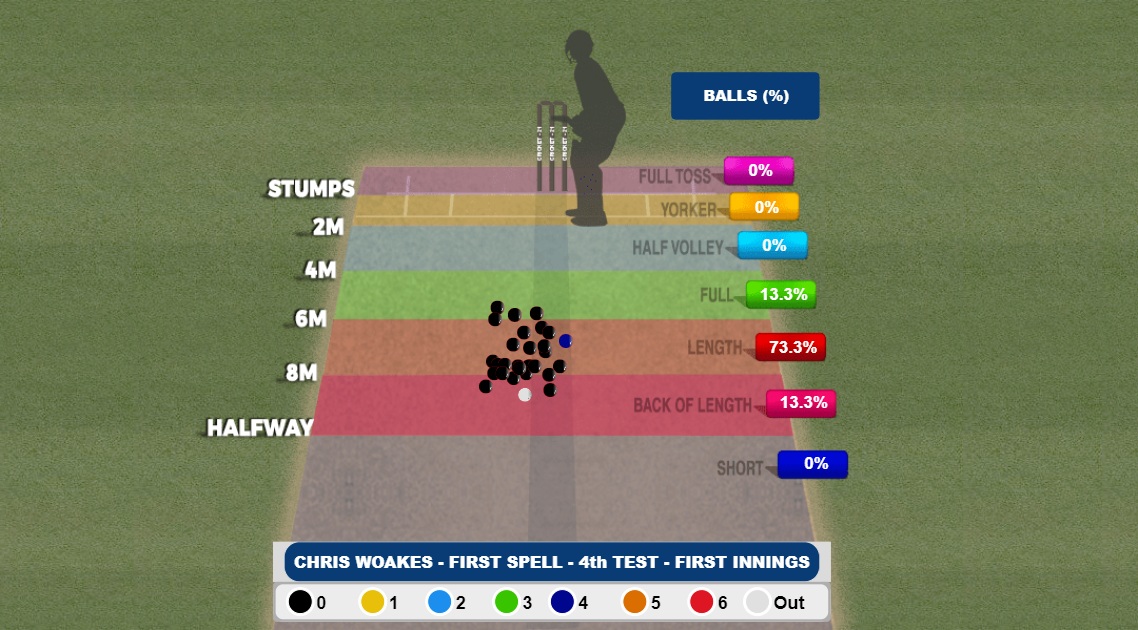 "He is really unlucky to be bowling around the same time as Anderson or Broad ", stated Rob Key in the post-match show with SkySports. 
Woakes now averages 20.9 at a strike rate of 41.1, both the best amongst the five England bowlers to pick 30 wickets or more in Tests in England since 2018. Yet, he doesn't make the headlines as often as the names Key mentioned or even a Jofra Archer for that matter. It is often when none of them is in the picture that Woakes gets his deserved share of the limelight. 
Against left-handers, his average drops down to 17.9 and strike-rate betters to 33.3, again the best amongst the most productive England bowlers at home from 2018 onwards. Post lunch, he got Ravindra Jadeja to poke at one and dismiss India's new number five for 10. 
Overall, Woakes averages 22.5 at home as compared to 51.7 away. On the basis of statistics alone, it won't be wrong to call him a home conditions bully. However, he wants to evolve. Playing for the Delhi Capitals in the first half of IPL this year, Woakes stated that he wants to bowl more at the death and he passed that test with flying colours in the couple of matches he played.
"I had a gut feeling that he will come down that ball," Woakes tells SkySports explaining how he foxed Rishabh Pant with a slower ball to bag his third. It can be an aftereffect of bowling to him in the nets earlier this year or just a case of him getting into the zone as early as on the first day of his return but it definitely reflects his improving skills in white-ball cricket.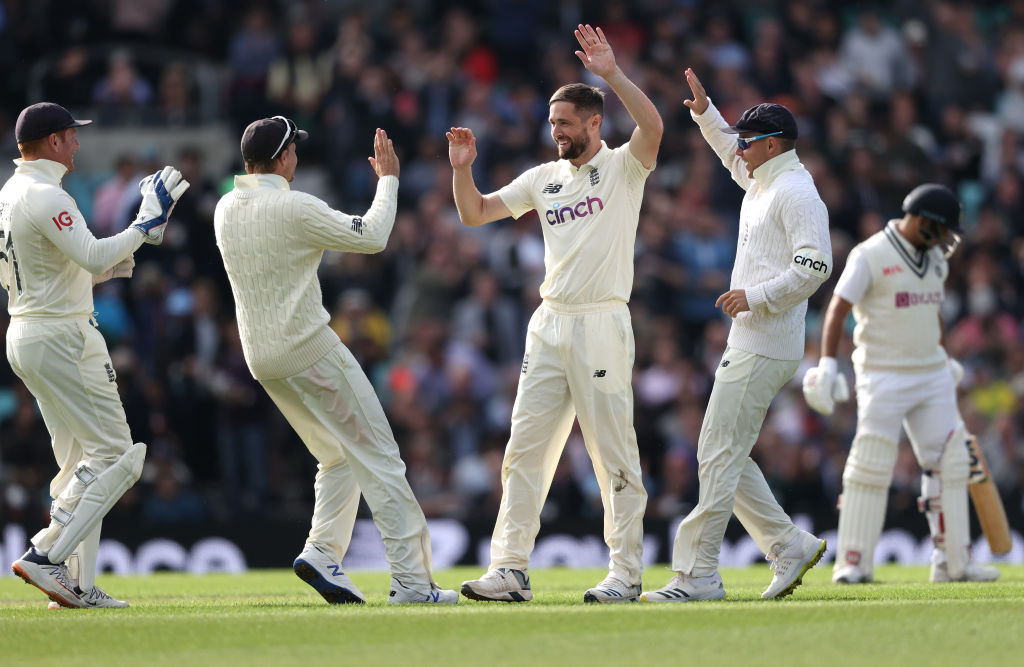 In addition, the various reasons that kept him out of Test cricket, his most preferred format, also reflect at his misfortune. He couldn't play in Sri Lanka as he was forced into quarantine after being in close contact with Moeen Ali who was tested Covid positive. His time in IPL kept him out of the two Tests against New Zealand. This was followed by a heel injury that kept him out of cricket for a month. 
Despite beginning with three maidens in a row, Woakes ended with the highest economy rate in the innings - 3.66. It is a classic example that numbers don't tell everything. At one moment, his figures read 11-6-19-3 before Shardul Thakur's whirlwind knock spoiled his figures. Ultimately, Woakes got his length right to dismantle Thakur, picking four in the innings. 
Mind you, it could have been a five-for as well had Root (or Rory Burns) held on to the chance in the slip cordon when Woakes induced Kohli to nick one in the channel. A five-wicket haul including Virat Kohli's wicket would have been a glorious comeback but Chris Woakes has already made his mark in the Test match.