South Africa visit Ireland for a full-fledged limited-overs tour after winning the Test and also the T20 International (T20I) series against the defending World T20 champions West Indies in their own backyard. Ireland will be in action following their closely fought One-Day International (ODI) series loss against Netherlands at Utrecht recently, where Craig Young impressed with six wickets from three ODIs at an economy rate of under three.
Only one bowler, Joshua Little with seven scalps in the series fared better and Young reckons that the fact the Netherlands had not seen much of him, helped to a great extent.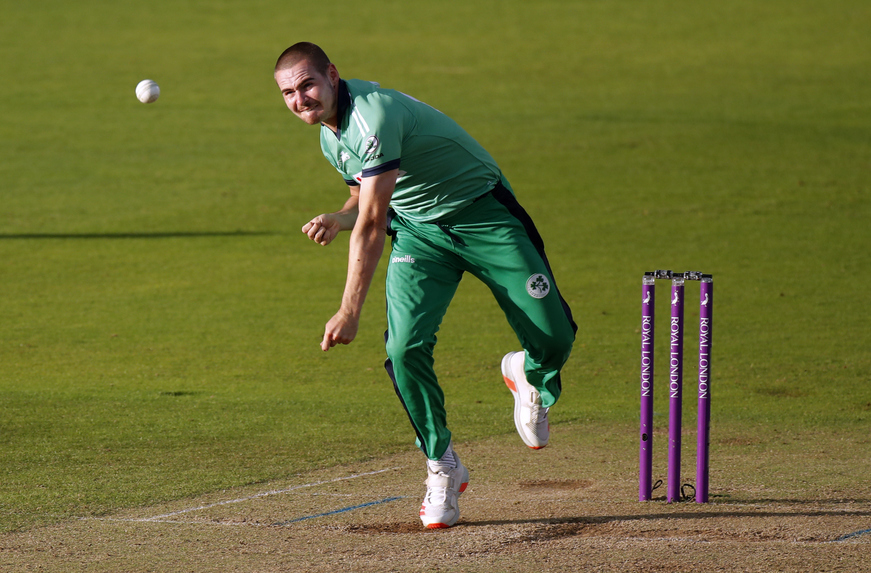 "It's funny because I was standing at mid-on before Josh bowled his first ball, and I don't think the Dutch would have seen much of Josh and just how skiddy he is. I had a feeling he was going to run through them. He bowled with a good pace and he was accurate, and it's nice to see him grow and develop with each game that he plays," Young said in a chat with Cricket.com.
Young went wicketless in four out of his five matches in the UAE, where Ireland took on the hosts and Afghanistan in an ODI series but was once again among the wickets against the Netherlands. 
Asked if he had made any changes ahead of the Netherlands tour, Young said, "I wouldn't say I changed anything massively, but at the start of our season I knew I needed to put work into getting my run-up as close to perfect as possible. I'm a rhythm bowler and you can't get rhythm when you're battling getting your run upright. So as soon as we could get outside to train, I made that my focus."
 "I know that if I get that right then I give myself the best chance to do my job well for the team. I also realised that I bowl a lot better when I do that bit extra in the warm-ups - not only getting loose and bowling a couple of overs, but I feel much better if I get loose and get my run-up marked and bowl a few overs off that at full pace. I found that has helped massively," he added.
Young recorded the best bowling figures for Ireland on ODI debut, picking up 5 for 46 against Scotland in 2014. Since then, he played just 57 international matches for Ireland. He could have played a lot more if his elbow injury had not gotten in the way. He has had surgery twice already but admits that it has not healed completely.
"It was small bone fragment that got chipped off over the years and finally a few got badly lodged and I had to go in twice for surgery. The surgeon removed nine fragments the first time, then six the second time. There's still bits floating around inside the elbow itself – I can feel them from time to time - but I just have to be careful and keep on top of the icing and compressing the elbow when it hurts. It's something I've spoken to a few people about and they say the same, one of which was Tim Bresnan," the 31-year-old said.
Young was picked in the 2015 World Cup after a string of impressive performances with the ball. In fact, in the six ODIs he had played before the mega event, he had picked up 16 wickets at 14.06, which was good enough for him to make the cut, but he failed to make it to the XI even once.
However, his chance came in the 2016 World T20, where he played just one game – that against Oman – in Dharamsala but Ireland failed to make it to the main draw. With the T20 World Cup not too far away now, Young reckons that the team is shaping up quite well.
"We're shaping up nicely - I feel as a whole squad we are adding depth, guys are adding and executing more deliveries, nailing yorkers, and really adding a lot more thought to their game."
"I'm seeing new names coming up with big scores, and we have lads striking at over 160 which has added a new side to the competition for places. We have domestic sides packed with extremely talented cricketers all hungry to play for Ireland," the fast bowler said.
Young has been around the Test squad on a couple of occasions – the inaugural Test against Pakistan and then the Test against England at Lord's. Like many, it would certainly be a dream come true to don the whites for Ireland at the highest level. 
"If it comes it will certainly be my proudest moment on the cricket pitch. I've done 12th man duties in a couple of Tests now, and I think the Lord's Test experience was right up there. The buzz and the hope that we gave ourselves after the first full day's play – we really pushed them all the way at the home of cricket," Young said.
"It was also a great chance to see players like Chris Woakes and Stuart Broad go about their work and how they tested all our batsmen over and over again. We've been unlucky in cricket terms with all the cancelled games, and every time I see a test on the horizon it has been cancelled - hopefully, it won't be too long until the next one is in the pipeline. It would be a literal dream come true to get a Test cap," he added.
After a four-month gap, ODI cricket finally resumed with Ireland touring England for three matches, the first since March 2020 between Australia and England. Ireland may have lost the series, but in the final game in Southampton, the Irish showed how good they really are by beating the world champions in their own backyard, chasing down 329. 
Speaking of that match, Young said, "It's one of my proudest moments in an Irish jersey. We knew they would come out hard at us, as we had batted first in the first two games and they would want to come out and attack from the start. If we are being honest we felt we let them get away and were hoping to keep them around the 260-270 mark. But to beat teams like England you need something special on the day and we just so happened to get two of those, in the centuries scored by Balbo (Andrew Balbirnie) and Stirlo (Paul Stirling)."
"It was a great win and we were all just proud of each other, and we will be hoping for more of that in the next couple of weeks," Young who picked up the wickets of Jason Roy, James Vince, and Sam Billings in that match added.
Speaking of the challenges of playing against South Africa, one cannot look past how well Tabraiz Shamsi did against West Indies. He gave away just 80 runs from his 20 overs at an economy rate of four and picked up seven wickets along the way, justifying his place at the top of the ICC rankings in T20Is. 
Young acknowledges that the chinaman bowler is going to be a threat and his team are going to go into the series well-prepared. "Yes, the lads will have watched all their bowlers and will have come up with different plans and strategies to deal with them. Shamsi bowled very well out in the West Indies and he for sure will be a tricky bowler to negotiate, as they all will be. Our analyst Scott Irvine, he's been doing the homework for weeks on their players to pass on to our batters and bowlers to make sure we are prepared and ready for the games," Young said.
"With such strength in depth, South Africa are going to be an extremely tough challenge no matter what combination they use, but it's a challenge we are excited for," Young, who has picked up 71 wickets for Ireland to date, added.
Both Ireland and South Africa will look to climb World Cup Super League (WCSL) table during their three-match ODI series, starting July 11, followed by the T20I series, scheduled to begin from July 20.