The Indian Premier League (IPL) is the biggest annual event on the global cricket calendar. Started in 2008 with a lot of hope but cautious scepticism, having gone through many ebbs and flows, the league has emerged stronger each year to showcase the world's best talents on a single stage. The league has established itself as one of the biggest platforms for youngsters to flaunt their skills – a celebration where cricket's largest global community meet, compete, share and build bridges.  
Marking the 12th anniversary of the decorated league, cricket.com celebrates and honours the legends of the IPL by inducting them to the 'Cricket.com IPL Hall of Fame' – stars who not only dazzled on the field of play but elevated the stature of the league to skyrocketing heights by their sheer presence. This year, cricket.com will induct 15 such legends. Our 11th "Cricket.com Hall of Fame" inductee is the lion-hearted left-arm seamer Ashish Nehra.
Teams: Mumbai Indians, Delhi Daredevils, Pune Warriors, Chennai Super Kings and Sunrisers Hyderabad
Won his only IPL title with Sunrisers Hyderabad in 2016
Significant Statistics
- Nehra (83) was the third fastest bowler to 100 wickets in IPL after Lasith Malinga (70) and Bhuvneshwar Kumar (81).
- Only Malinga (19) and Amit Mishra (16) have taken more three-wicket hauls than Nehra (14) in IPL.
- Has the second-most wickets for a left-arm bowler after Ravindra Jadeja.
- One of seven fast bowlers to take 100 or more wickets in the IPL.
- Became the first Indian to bowl three-plus overs of dot balls in an IPL match.
What makes him HoF worthy: Consistently punched above his weight and a player with a no-quit attitude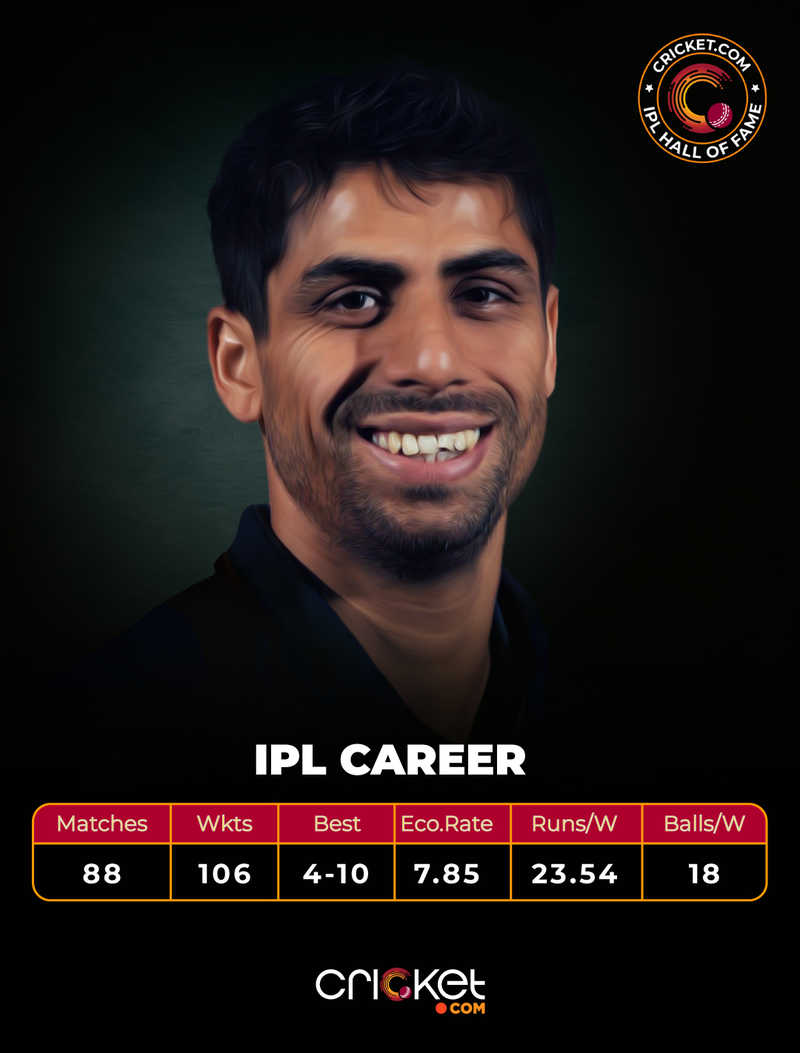 Many injuries and many comebacks, Ashish Nehra will always be known for his commitment, sheer will and never-say-die attitude! Despite so many injuries and setbacks, the left-arm paceman managed to play 18 years of international cricket. 17 Tests, 120 ODIs and 27 T20Is, these numbers might not sound many but Nehra was always around when his team needed him. Talk about the 2002 Champions Trophy or 2003 World Cup or 2011 World Cup or 2016 World T20, Nehra played a key role in all these major tournaments. It wasn't just his skill sets, whether it was his jokes or words of wisdom or his performance on the field, Nehra always knew how to put a smile on someone's face.
Nehra made his international debut under the leadership of Mohammad Azharuddin and retired under the captainship of Virat Kohli, which makes some story for a fast bowler. Sourav Ganguly always described him as a player with 'a big heart, and the ability to perform when it mattered'. His IPL career was also hampered by injuries but Nehra featured in every edition from 2008 to 2017 apart from 2011 as he was ruled out of the tournament because of a fractured finger on his right hand.
He had a decent first season with Mumbai and then moved to Delhi in 2009 where he picked up 19 wickets in 13 encounters and formed a superb trio with two other left-arm seamers - Dirk Nannes and Pradeep Sangwan. It was his performance in the second season of the IPL that played a key role in him being called up to India's T20I side later that year. He only featured in four games in 2010 and then missed the entire 2011 edition. Injuries didn't keep him down and Nehra kept coming back. The next three seasons weren't great for Nehra and it looked like his career was coming to an end.
But just when you decide to rule Nehra out, he makes a comeback and takes everyone by surprise. The reason why every captain loves to have him in their team is because he bowls those tough overs. Nehra might not look like a guy who goes too much into the details but he always has valuable insights and is very used not to shy away from sharing it with his captain and fellow bowlers. Nehra looked down and out but the kind of season he had with Chennai Super Kings in 2015 helped him get a spot in the Indian team for the 2016 T20 World Cup.
He took 22 wickets at an average of 20.4 and an economy rate of 7.2 in the 2015 season under MS Dhoni's leadership. He then led India's bowling attack in the 2016 T20 World Cup and performed better than other Indian bowlers. He then joined Sunrisers Hyderabad in 2016 and won his first IPL trophy, and so did the franchise. He featured in only eight games and made a huge impact before a hamstring tendon injury ruled him out of the competition. The team management was totally aware of what Nehra brought to the table and had nothing but praise for the paceman. He also worked closely with the likes of Mustafizur Rahman, Barinder Sran and Siddarth Kaul.    
The 2017 edition was his last as he announced his retirement from all forms of cricket later that year. He then worked with Royal Challengers Bangalore as their bowling coach for two years before he was let go after the 2019 edition.
Was Nehra fragile? Of course! But he knew how to survive and made a damn good career out of it. Despite having 12 major surgeries on various parts of his body, Nehra never gave up and always came back stronger and more determined than ever. That was some journey! Nehra ji, they don't make players like you anymore (tongue-in-cheek)!