Chennai Super Kings and Rajasthan Royals' battle in Match 12 of IPL 2021 turned out to be a contest of temperament. CSK, being led for the 200th time under the same captain tonight, registered a convincing 45-run win from a stage where a defeat was a potential prospect. They used their batting depth, until number 11, and some wise captaincy moves supported by a few individuals to turn the tide at a crucial point in the game. 
When Jos Buttler thumped Ravindra Jadeja to the cow corner, RR were placed well in the run chase. They were 81 for two in 10 overs - chasing 189 - with Buttler riding the momentum. That six, though, changed a minor feature of the match which MS Dhoni was quick to notice. 
The ball was lost and replaced by a drier version of it. Dhoni persisted with Jadeja despite his unproductive start, expecting the drier ball to turn. Jadeja proved him right on the first ball of his next over. He bowled a peach to Buttler, spinning one sharply past Buttler's outside edge to light up his stumps. 
The delivery gave a feeling as if CSK were playing at their homeground, Chepauk, and they feasted off favorable conditions. Buttler's blow was a massive blow in itself and Jadeja added Shivam Dube to his kitty by the end of the over. Moeen Ali was called upon and picked three wickets for 1 run. 
RR collapsed to lose five wickets for 8 runs - all of them between Jadeja and Moeen - as CSK ran through their batting in a blink of an eye. The rest - 94 runs from 33 balls - was too much to do for Rahul Tewatia and the tail.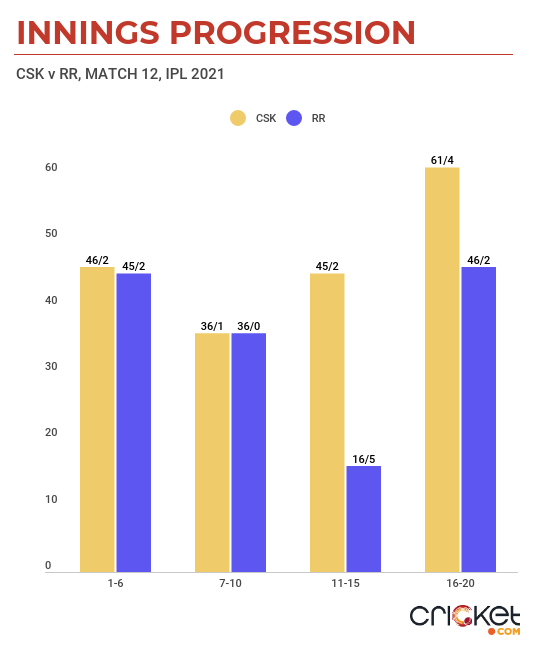 It was an incredible surrender by RR against spin. Riyan Parag and Chris Morris added to the misery with their reckless attempts to slog sweep Moeen Ali. Jadeja added to his contribution in the game by taking four catches in the outfield. 
Earlier, CSK stretched their score to 188 by using their batting depth. Dwayne Bravo, in at 9, mustered 20 runs from the eight balls he faced to end the stop-start innings on a high. The result was big given Bravo has not batted much off late. 
Put into bat first, CSK batted with a conspicuous intent today. In the first two games, CSK had a shoddy run-rate of 5.4 in the Powerplay. Faf du Plessis acted on it today with his 33 off 17 balls - which remained the highest score of the innings. He carted Jaydev Unadkat for 19 runs in the fifth over. 
Moeen took the baton when Faf was dismissed in the sixth over. He played another decent cameo of 26 off 20 balls. Upon his dismissal, it was Ambati Rayudu who didn't let the run-rate fall. His contribution was 27 off 17 balls which consisted three sixes and bashing of RR's spin duo - Tewatia and Parag. 
All this hitting superseded Suresh Raina's struggle. When he got out for 18 off 15 balls, CSK made their only error tonight with Dhoni's arrival at number 7, ahead of the in-form Sam Curran. He was 6 off 11 balls at a crucial stage of the innings which was going into a rut. He eventually got out for 18 off 17 balls. Raina and Dhoni's innings were the backward push in CSK's innings. For RR, Sakariya picked three wickets - Rayudu, Raina and Dhoni - comprising another great night for him. 
The thrust was given by Curran and Bravo. Curran scored 13 off 6 balls and Bravo, having started with two consecutive boundaries, ended with a six, carrying CSK to 188. 
The total was just 1 run more than what they failed to defend against Delhi in their season opener. The way RR began, it appeared to be the same old story in this game as well. Manan Vohra and Buttler grabbed all scoring chances on offer, mostly from Deepak Chahar who sprayed the ball over. There was no swing for him and the conditions appeared great for run scoring. 
Even when Vohra (14 off 11) and Sanju Samson (1 off 5) were out, Buttler and Dube kept the pressure on the bowlers, adding 42 from 32 balls. Moreover, Buttler was in control. His calculative risks - successive reverse sweeps against Jadeja - were paying off and the wet ball made it further tough for CSK bowlers. 
However, the change of ball provided CSK with a little opening. The wise team that they are under such playing conditions, they stepped their foot into the door. Buttler may wonder what if he had not sent the ball beyond sight.