It was in 1998 when India had two different squads for two different tours. One for the Commonwealth Games in Kuala Lampur and the other to play the Sahara Cup against Pakistan in Toronto. Those were the days when even a full-strength Indian team often failed to match the might of Australia and Pakistan. So, one can imagine what two second-string sides would have achieved. Well, not much.
It is rather strange that India's last assignment before the T20 World Cup later this year will not give them a chance to test their starting XI. But, to those who see the glass half full, this is a perfect opportunity to focus on the gaps in the larger scheme of things. In that regard, there are predominantly four areas that the team management would keenly observe through the course of the six white-ball games.
The reserve opener
Virat Kohli's admission to open with Rohit Sharma in T20Is is a story now repeated like a broken record. Kohli's sedate performance as an opener (strike rate of 121.5) in the suspended IPL does raise some questions. But, his promotion to the opening slot will help India's batting unit by allowing them to supplant anchor with a dasher in the XI.
However, press conference assertions in the heat of the moment are not new to this team management. So fans of KL Rahul at the top, keep your hopes up. If not, Rahul still might be in contention for a role in the middle-order too like in ODIs.
But even then, India would want to have another opener in the squad for the World Cup. As things stand, only two candidates are front-runners: Shikhar Dhawan and Prithvi Shaw.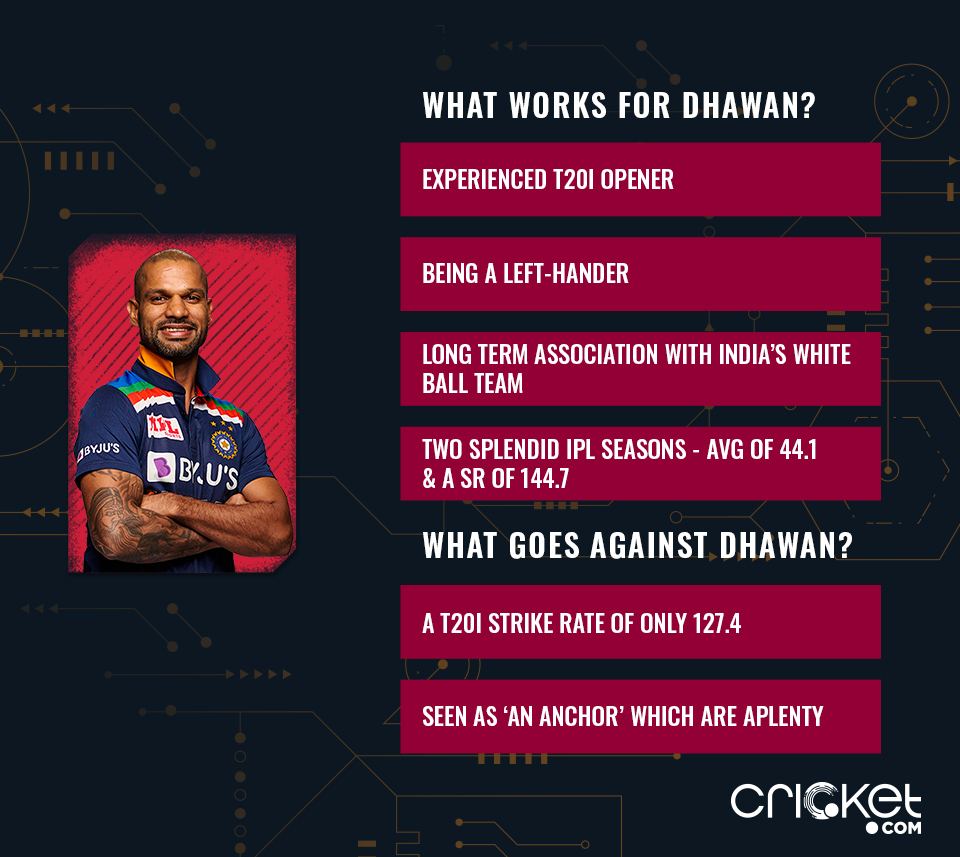 Dhawan is at his best in the 50-over format. Even among the more celebrated batsmen in the side, Dhawan has been a lynchpin of the ODI set-up since he began in 2013. While in T20Is, a strike rate of 127.4 is more of an anchor which given how Kohli, Rohit Sharma and Shreyas Iyer play are already more in number in an eleven than the modern-day T20 cricket demands.
However, Dhawan has now had two splendid IPL seasons with an average of 44.1 and a strike rate of 144.7. Being a left-hander also works in his favour if the decision between him and Shaw goes down to the wire.
Unlike most of India's top-order, Shaw is a dasher. He has this rare quality of looking for a boundary on every ball without indecision affecting his mind owing to a focus on wicket preservation. In the suspended IPL 2021, no other batsman with 150+ runs had a higher strike rate than Shaw. But, an average of 17.54 in IPL 2020 held in UAE – one of the venues of the World Cup – is a bullet point on 'what goes against him' side of the ledger. 
The frontline spinner
In 2017 and 2018, the Kul-Cha combination were going gung-ho for India in white-ball cricket. They were among the top-four wicket-takers in T20Is in those two years combined. Come 2021, Kuldeep has lost his place in his IPL franchise and has travelled to Sri Lanka just to make up numbers. Judging by the inclusion of Rahul Chahar in the final two T20Is against England in March this year, the management seems to be losing patience with Chahal as well. 
Chahal is India's leading wicket-taker in T20Is with 62 scalps but an economy rate of above nine in T20Is in each year since 2019 dilutes the purpose of having a spinner in the side. Add to it only 18 wickets in 21 games since and only four wickets in seven IPL games in 2021, even if selected, Chahal will be on borrowed time.
Meanwhile, Chahar has been on a rise since 2019 and has taken more IPL wickets than any other Indian spinner since 2020. With more variations than Chahal, the Mumbai Indians' leggie is a front-runner for the World Cup berth. 
Along with Chahar, the one pushing for selection and putting further pressure on Chahal to perform is Varun Chakravarthy. Along with being a mystery spinner who are a rare breed, an exceptional economy of 7.2 in IPL since 2020 warrants a look-in.
The fitness of ace players
The fitness of Hardik Pandya to contribute with the ball remains the number one question for India ahead of the World Cup. While he will still make it to the XI even if he can't bowl due to his hitting prowess, a Hardik Pandya with an ability to chip in with overs works wonders for the balance of the side.
The ODIs and T20Is against Sri Lanka will provide a good overview of the improvement in his bowling fitness. He has bowled 17 overs in all T20s in 2021 and nine in ODIs. He sure needs some more overs under his belt before the big event.
Apart from Hardik, the other player that India desperately need to be at his best for the T20 World Cup is Bhuvneshwar Kumar. In a career plagued with injuries, Bhuvneshwar has let himself and his sides down time and again with his fitness issues. While he was remarkable in both the white-ball series against England at home but just three wickets in five games at an economy of 9.1 on bowling-friendly wickets in IPL 2021 raised question marks about him being in his prime again. He is a certainty in the World Cup squad but he still needs a few good performances to be a certainty in the XI.
A third wicket-keeper?
Rishabh Pant will hands down be India's first-choice wicketkeeper in the World Cup. If need be, Rahul can don the wicket-keeping gloves too. In a scenario of teams sending an extended squad owing to the travel bubbles, there can be a shootout for a spot between Sanju Samson and Ishan Kishan.
Kishan hit the most sixes in IPL 2020. He earned an India call-up against England when he debuted with a half-century while opening the innings. However, a torrid time in IPL 2021 (an average of 14.6 to go with a strike rate of 83) meant that he could not retain his place in Mumbai Indians.
The story of Samson is equally frustrating. Like a non-perennial river, Samson trajectory has followed a pattern when after an exceptional start early in every IPL season, he gets experts all charged up about his prospects for the international side. The flame soon fizzles out as dogmatic shot selection takes over. 
But, the responsibility of being the captain might have worked in his favour as he contributed with a 40+ score in each of the last three games before IPL's suspension. However, his record in India colours has been nothing but abysmal: an average of 11.86 in seven T20Is. Hence, it is anyone's guess right now as to who among them, if any, can make the cut.
Image Credits: BCCI