India picked the 15-man squad for the T20 World Cup before IPL began. Since then, a lot of players have seen ups and downs in their form. However, there are four players for whom the downs have been a lot more glaring than the ups.
Bhuvneshwar Kumar
Bhuvi played a pivotal role in Sunrisers beating Royal Challengers Bangalore. He dismissed Virat Kohli in the first over and defended 13 runs in the last over. However, he has been one of the primary reasons for Sunrisers Hyderabad's lacklustre season.

The 2021 season of the IPL has been Bhuvi's worst both in terms of economy and the number of wickets he has taken per game.
To make matters worse for his side, the most expensive spells for Bhuvi in this IPL have come in venues like Chennai and Sharjah that were the more bowling-friendly pitches.

While Bhuvi has been decent with the new ball, he has been very expensive at the death. Something that is true for Mohammed Shami too but not to this extent. This puts a question mark on who will India trust to partner Jasprit Bumrah in the crucial death overs.

Should India look to add someone like Deepak Chahar instead who has proven to be useful across all phases?
Rahul Chahar
The younger of the Chahar brothers is the incumbent number one spinner in the Indian side if we go by the last time India fielded their strongest XI in T20Is. That was way back in March this year against England.
He was excellent in Sri Lanka as well. In fact among Indian spinners who have taken 25 or more wickets in T20 cricket since 2020, no one has done better balls per wicket record than Chahar. However, there is one definite pattern we have seen across two IPL seasons that makes us question his place in the World Cup squad.
Maybe it is the pace at which he bowls or the trajectory, Chahar does not enjoy bowling in UAE as much as he does in India. This is unlike Yuzvendra Chahal whose numbers in both IPL seasons got a significant boost due to the conditions in UAE.

Now, with Ravindra Jadeja and Varun Chakravarthy in the squad, Rahul Chahar might not even make it to the first XI. However, if due to some unforeseen circumstances, who would they rather have as an option in the squad? A player who has lost his place even in his franchise squad or a player who is at the top of his game, winning matches for his side at the moment?
Ishan Kishan
There were two primary reasons why Ishan Kishan pipped some other players more experienced than him. Number one is his ability to be a floater. He can open and also bat in the middle-order. That makes him more useful than Shikhar Dhawan. Number two is him being a left-hander which provides a variety as opposed to what Shreyas Iyer offers.
However, his recent rut with the bat has raised a lot of question marks about his position in the side. In the current season of the IPL, whenever Kishan has batted in positions three or below, he has averaged a mere 13.38 and has a shoddy strike rate of 87. He played two blinders against Rajasthan and Hyderabad but those came when he opened the innings.
Now Kishan should be less of a worry for India than some of the other players since he would not have made it to the first XI anyway. However, will India use him as an opener if things don't work out well between Rohit Sharma, KL Rahul, and Virat Kohli? Or if they are eyeing him as a middle-order option, will someone like a Shreyas Iyer – who is among the traveling reserves – will be a safer bet?
For lefties, India have able batsmen in Rishabh Pant and Ravindra Jadeja to play around with to counter match-ups.
Hardik Pandya
Finally, let us come to the elephant in the room. In the last two seasons of the IPL, Hardik has not bowled a single ball. Although while playing for India he has averaged around three overs per innings in the six T20Is he has played this year. Moreover, he rolled his arm over in the ODIs India played against England and Sri Lanka.
The communication from Mumbai on Hardik not bowling has been around him managing his workload looking up to the World Cup. But, even if we assume he is fit to bowl, lack of match practice might come in the way at such an important stage.
This beckons the question: Is Hardik Pandya good enough to play as a batsman? Now, in T20s since 2019, no Indian batsman with an international cap betters Hardik Pandya's strike rate of 161.6. However, in one of the most challenging years of his career, Hardik has averaged 17.75 in T20s, his lowest since the beginning of his career. A strike rate of 120.3 is also way below what he is capable of.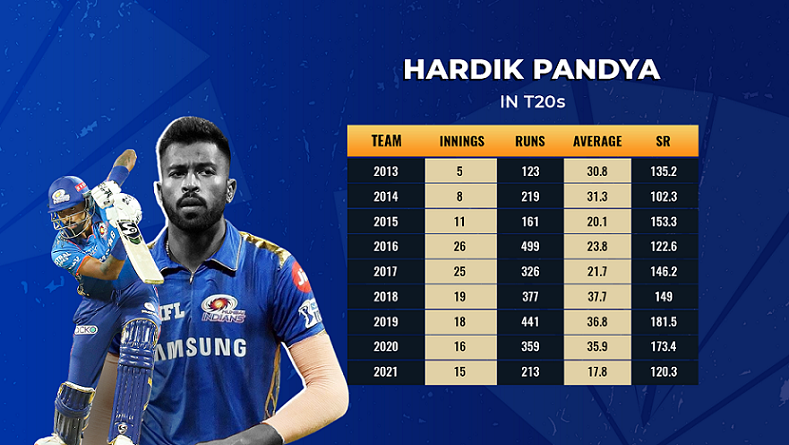 Now if India play Hardik just as a batsman, can they have him at number five to ensure six bowling options below him? If he isn't a guaranteed success with the bat, India's tail might look longer than that of a side perceived as favourites for the tournament.  
But the real issue is that Hardik Pandya is tough to replace. As with other all-rounder options, India only have left-arm spinners. In that case, should India trust Shardul Thakur as they did in England recently and add him to the main squad? Batting at seven and eight, Lord Thakur – in the form of his life – can add value in both departments.