Cheteshwar Pujara is a rock. He faced 1258 balls across the four Tests against Australia in 2018-19. It is common knowledge by now that it was the most in a series by a touring Indian player in Australia. Two years later, Pujara faced 928 balls, roughly 25% less than the tour earlier, but was still more than any other player in either team.
In the times when cricket as a sport was more than the rigour of ball by ball analysis, the measure of performance for a batsman was often the minutes spent at the crease. Pujara has a soul of a black and white age cricketer trapped in a world of high demands. Thus, the measure of his success is often the number of balls he faced rather than the runs he scored. 
But runs and wickets are cricket's ultimate currency. Not every Test is played for time.
***
Number three is the spot where cricket has seen some of its all-time greats and usually for the most compact batsman in the side. Pujara is not technically the most superior batsman in the current Indian side but is the most resilient. But his toughness has not resulted in runs in the current WTC cycle. No other Indian batsmen who batted in the top seven averaged less than Pujara in this period. And one does not need numbers to know that he batted slower than everyone else.
As India begins a fresh WTC cycle, the most difficult challenge is first up. A five-match Test series against England in their backyard. A country where India have been humiliated in the past three tours.
The trouble with Pujara is that in all countries where the ball swings and seams Pujara has a low average. In 20 innings in England, he has just three 50+ scores. Implying that in a five-match Test series, he has scored one 50+ score or two at best, not good enough for the batting position historically reserved for the best batsman in the side. In fact, both Mitchell Starc and Bhuvneshwar Kumar have three fifties in England in half the number of innings as Pujara.
Pujara loves playing spin. The issue is that he loves it a little too much. Among the batsmen with 300 runs against both pacers and spinners in the first WTC cycle, no other batsman had as much difference in strike rates as Pujara did.
Against spin Pujara shows what Virat Kohli calls "intent". He tries to upset their rhythm by coming down the track even if he never means to hit them in the air. Against pace, he remains in his crease dropping the ball dead in its track all day.
This explains why he does well in the subcontinent and even in Australia. Here, he gets to face a lot of spin from at least one end, which gives him an opening to score some runs. In countries that assist swing and seam, a four-men pace attack bombards Pujara who lacks an audacious option to put off the pacers.
The situation is dire when we look at Pujara's numbers against good length balls to pace. Among batsmen with 300 balls on a good length in the WTC cycle none averages lower or have a lower strike rate than Pujara
Now a good length ball is a good length ball for a reason. Unless the bowler gets his line wrong, the batsman does not have many options to score with. So, the more successful batsmen in this WTC cycle made the two most important shots for a Test batsman count. Players like David Warner and Kohli used a front foot defence on good length balls to pinch a single every four-five balls. While the likes of Marnus Labuschagne and Ben Stokes did the same using back foot defence.
On front foot defence, Pujara had eleven dismissals and averaged 2.8 with a lowly strike rate of 9.2. On back foot defence, the average was down to 0.5 and the strike rate to 2.3
Hence, Pujara does not look to score unless a bowler balls a really bad ball, which is rare when the one running with a ball is a World Class operator. 
Fun Fact – Steve Smith and Kane Williamson have been dismissed only once while playing the front foot defence on a good length ball during the WTC and never while playing the back foot defence. 
Unlike the more celebrated number three batsmen in recent years like Ricky Ponting and Rahul Dravid, Pujara does not play the pull shot. In fact, the data suggests that during the WTC cycle, Pujara played the pull against pace only six times. In comparison, the top run-getter in the cycle, Marnus Labuschagne played 116 times. Thus, even to back of a length and short balls, Pujara relies on room to unleash the cut shot but ducking (or taking a blow to his body) remains the only option when such a delivery is targeted at his body.
Since his debut in 2010, Pujara's ability to score runs on the leg side against pace has increasingly diminished.
There has been nearly a fifty percent fall in strike rate to balls that are in the channel or at the stumps from when he first burst on to the scene to now. And thus the proportion of runs he has scored on the on side against pace is also falling.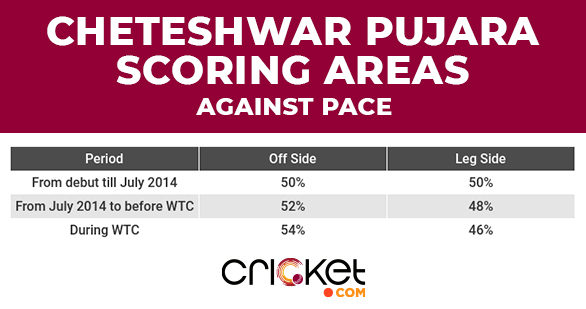 ***
Pujara might be India's most important batsman when they tour Australia. But the next tour is far away and the legacy of the side from now till then will depend on their success in countries where Pujara has failed to put his hand up.