"He's a machine really. He rarely bowls a bad spell to be honest."
"What strikes me about him is his hostility, accuracy and his variations."
"He is clearly the best bowler in the world, his stats will probably back that up."
We can talk about it, we can fight over it, but in the end, you will have to settle for the fact that Pat Cummins is currently the best Test bowler in the world. The fast bowler from New South Wales has earned plaudits all over the world through his rigorous hard work and the way he has gone about his business ever since returning from his injury. The No. 1 Test bowler has been playing non-stop cricket for three years and has been an impactful performer for Australia in all three formats of the game.
Cummins was just 18 when he made his Test debut against South Africa in 2011 on a juicy Wanderers pitch and took the cricketing world by storm by claiming six wickets in the second innings. He had all the ingredients and it looked like Australia had found a gun bowler who would do wonders for them in the coming years, but then tragedy struck. The spate of injuries – mainly spinal stress fractures – didn't allow him to play Test cricket for almost six years. He did play a few One-Day Internationals and Twenty20 Internationals in between, but Cummins kept on suffering repeated stress fractures in his lower back and looked far from his best.
Cummins put in a lot of work, training and rehabilitating every day for hours and when he was called back to the Test side for the tour of India in 2017, the right-arm paceman looked fit and strong and ready to live up to the rigours of international cricket. Despite missing out on so many years of red-ball cricket, he was yet to turn 24 when he featured in his second Test in Ranchi where he announced his second coming in some fashion. There were still doubts over his fitness and to add to that, the surface in Ranchi had nothing for the seamers. He put in a lion-hearted performance and made the ball talk in conditions not made for him. He played back-to-back Tests in Ranchi and Dharamsala and impressed everyone with his pace and attitude. He took eight wickets in three innings and everybody knew that Cummins 2.0 was ready to unleash.
A TRUE WORKHORSE
Since his return to Test cricket, Australia have played 31 Tests and Cummins has featured in 29 of them. Only offspinner Nathan Lyon has featured in all of those 31 encounters, while skipper Tim Paine has played 27 Tests in this time frame. He has been a true workhorse for Australia in the bowling department for over two years now. When Australia toured Bangladesh in 2017, Cummins took the field as his team's only fast bowler in the second Test in Chattogram. No other bowler has taken more Test wickets than Cummins since the start of 2018. The paceman has claimed 107 wickets in 21 innings at a stunning average of 20 and a strike rate of 44.1.  
Then came the 2017-18 Ashes and Cummins stamped his authority by emerging as the highest wicket-taker in the series and played a key role in helping Australia smash England 4-0. He picked up 23 wickets in five Tests at an average of 24.65, forcing everyone to sit up and take notice. The Australian team management kept rotating Josh Hazlewood, Mitchell Starc, Peter Siddle and James Pattinson but Cummins played every single match, apart from those two Tests in UAE where he was ruled out because of an injury.
No matter what the situation is, Cummins bowls his heart out and never lets the intensity drop. His average speed since his return has been 138.84 and only Starc (142.37) and Shannon Gabriel (139.58) have better average speed than him in this time period (minimum 10 matches). He has phenomenal numbers in both innings but his average in the second essay tells you how impactful he has been for Australia.
The Sydney-born fast bowler has been extremely consistent for Australia ever since his return. In 2019, he produced the most dominant year by a pacer since Sir Richard Hadlee in 1985 after taking 59 Test wickets in a calendar year. Cummins finished 14 wickets ahead of his team-mate Lyon who scalped 45 wickets in 2019. No bowler has had such a bigger margin over the second best since Hadlee's stunning 1985 season when he took 28 wickets more than the second leading wicket-taker.
MR. CONSISTENT
Cummins was superb against India, Sri Lanka, Pakistan and New Zealand at home, while in the 2019 Ashes in England, he looked a class above all. A total of 29 wickets at an impressive average of 19.6 tells you how good Cummins was in that series. The likes of Steve Smith and Marnus Labuschagne might have hogged most of the limelight but Australia wouldn't have been able to retain the Ashes if not for Cummins.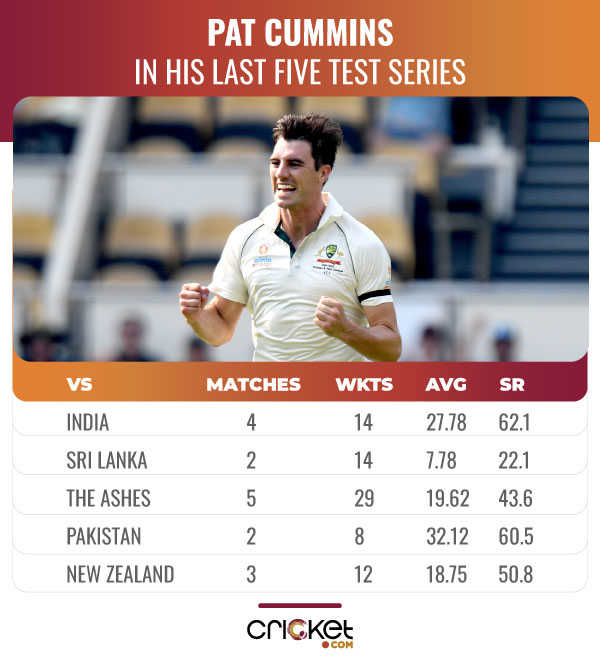 Now, if we compare him with former and current Australian bowlers, Cummins stands out there as well. He has played 30 Tests so far and not many Australian bowlers have picked up more wickets than him when they were 30-Tests old. While there are a few bowlers who have taken more wickets than him, Cummins has the best strike-rate amongst Australian bowlers with a minimum of 100 wickets. And we are comparing him with the likes of Glenn McGrath, Ryan Harris, Mitchell Johnson and many more. He has a bowling average of 21.8, fourth best for an Australian bowler after Charlie Turner (16.5), Alan Davidson (20.5) and McGrath (21.6) - minimum 100 wickets.
GOING TOE TO TOE WITH MCGRATH
Cummins and McGrath are completely different bowlers but the former has been compared to the Australian legend a lot in these last two-three years. The comparison has nothing to do with how they bowl or go about their business, but it has largely to do with how impactful they have been. McGrath relied more on his line and length and Cummins too does the same but at more pace and with more hostility. If we compare them on the basis of their first 30 Tests, Cummins has more wickets, a better average and strike-rate than McGrath who eventually finished with 563 wickets in 124 games.
He might not have the same amount of success in white-ball cricket but Cummins actually has pretty good numbers in ODIs and T20Is. Cummins has 105 wickets in 64 ODIs so far and only four Australian bowlers - Starc (126), Brett Lee (120), Shane Warne (114) and Nathan Bracken (110) - had more wickets than him after they had played 64 ODIs. Cummins (27) was also the fourth fastest Australian to 50 wickets after Dennis Lillee (24), Warne (24) and Len Pascoe (25).
The 2019 World Cup didn't quite go Cummins' way. The fast bowler was economical but couldn't pick up as many wickets as he would have liked. Sometimes Cummins has been guilty of bowling the "Test-match" line and length in limited-overs cricket and batsmen have made him pay. He needs to work on a few areas, especially getting those yorkers right. Out of the combined 140 ODI and T20I wickets, only one has come via a yorker. Despite some minor flaws, Cummins is still a very good white-ball bowler. He was recently bought for INR 15.5 crore by KKR in the Indian Premier League 2020 auction and that tells you much he is valued around the cricketing world.
McGrath recently said in an interview that he feels Cummins is the most complete fast bowler from the current crop of cricketers, and if the 27-year-old can keep his form going and remain injury free, he will go on to break and set many records, just like McGrath did!