George Vernon led the first British team to undivided India in 1889-90, when the Parsees registered their famous win against the tourists. The tour ended with a largely forgotten match, where Vernon's XI beat a Punjab side by an innings and 40 runs. This match, while not of first-class status, was the first by an English team in what is present-day Pakistan.
In 1937-38, Lionel Tennyson brought a reasonably strong English side to India. They played Sind at Karachi and an unofficial "Test" against an all-India side (and a match against Indian Universities) at Lahore. These marked the first instances of an English team playing in what is now Pakistan.
The Partition of 1947 split India – and the cricket team – into two parts. Three Indian Test cricketers later played Tests for Pakistan: Gul Mohammad, Amir Elahi, and most significantly, Abdul Hafeez Kardar, the first man to lead Pakistan in Test cricket. 
Originally selected for India's first post-Independence tour, in Australia in 1947-48, Fazal Mahmood was forced to escape to Pakistan as threats of riots loomed in India. The Mohammad family of Junagadh, Gujarat, left for Pakistan. Between them, Kardar, Fazal, and Hanif Mohammad would help shape Pakistan cricket in the 1950s.
The BCCP (now PCB) was formed in 1949, but the ICC were reluctant to elevate Pakistan to Test status. That changed when England toured the Indian subcontinent in 1951-52, and played twice against an all-Pakistan team. They had to save the first after trailing by 174 runs, then lost the second. Kardar, Fazal, and Hanif all played key roles in the win.
The ICC had to relent. Pakistan played their first Test in 1952-53, in India, and toured England in 1954 to play four Tests. Chasing 168, England were 109/2 at one point in the final Test, at The Oval. But Fazal followed his first-innings spell of 6/53 with 6/46, and Pakistan won by 24 runs. 
Pakistan drew the series 1-1. They remain the only team to have not lost their first series on English soil. One must remember that the 1950s team was probably the greatest England team of the 20th century.
Pakistan beat every other Test-playing nation (barring South Africa, who did not play against them) at least once in the 1950s. Unfortunately, the numbers took a nosedive in the decade that followed, some of which can be attributed to their switch from matting wickets to turf wickets at home in the 1960s.
They lost to England at home in 1961-62 (a tour sandwiched between two legs of England's tour of India), and on English soil in both 1962 and 1967. Then came the 1968-69 tour, arranged hastily amidst threats of a civil war in East Pakistan. 
The English cricketers were based in Ceylon (now Sri Lanka) to stay away from the brewing turmoil. After a drab Test in Lahore, the English cricketers had to play a Test in Dacca (now Dhaka) – an effort by Field Marshal Ayub Khan to use cricket to ensure peace in East Pakistan. Keith Fletcher responded to this with "we were no longer cricketers, it seemed, but ambassadors being paid a tour fee to keep the peace". 
The Dacca Test passed without an incident, but the third Test, at Karachi, had to be called off on the third day after a group of rioters invaded the ground. The English cricketers left straight for the airport. Ayub resigned two weeks later.
England faced a scare again when they returned in 1972-73, months after Black September, the Palestinian terrorist group, killed eleven Israeli athletes at the Munich Olympics. The British High Commission in Islamabad received a letter from a group bearing the same name, threatening to kill the English cricketers unless a certain political prisoner was released.
All three Tests were drawn in that series, as they were in England in 1977 and again in Pakistan in 1977-78. England won the next two series, at home in 1978 and 1982, but Pakistan won the five series that followed – two at home, three in England.
Pakistan's dominance over this period was largely due to reverse swing, pioneered and mastered by their fast bowlers. So hassled were the English batsmen by reverse swing that Ian Botham and Allan Lamb accused Imran Khan of ball-tampering – and lost a libel suit. Imran, Sarfraz Nawaz, Wasim Akram, and Waqar Younis all picked up wickets conceding less than 28 runs apiece over these five series.
To add to the woes of the English cricketers, Pakistan unearthed a leg-spinner with a quirky action. Abdul Qadir picked up 60 wickets in 10 Tests against England, at 22.30. With 9/56 and 4/45, Qadir demolished England in the 1987-88 Lahore Test. Refusing to take the foot off the pedal, the selectors picked Mushtaq Ahmed, an uncapped leg-spinner who cloned Qadir's action, in the tour match at Sahiwal. Mushtaq routed them with 6/45. Across the five series, he claimed 32 wickets at 28.81.
The tides turned in the new millennium, when, after losing the first Test of the three-match series, England came back to win 2-1. The series was won as Graham Thorpe helped England chase down 176 in near-darkness in Karachi. As the umpires kept checking the light from time to time – Waqar was going flat out in the gloom, Matthew Hoggard moved the sightscreen to save time. The image of Nasser Hussain punching the air in glee remains one of the most iconic of the century.
After losing in 2005-06, England beat Pakistan twice at home. Both series were marred by controversies – Darrell Hair's decision in 2006 (more of that later), spot-fixing in 2010 – that shook the entire cricket fraternity. The latter ended the careers of captain Salman Butt and Mohammad Asif, and took five years off Mohammad Amir's when he approached his peak.
Pakistan wrestled the dominance back in the new decade. In fact, since that tumultuous series, Pakistan are the only opposition against whom England has not won a Test series (if one exempts Bangladesh, against whom England have played only two Tests). Pakistan have won eight Tests against England over this period and lost three: their win- loss ratio (2.667) is more than twice of that of any other side's.
Controversial men in hats
No account of Pakistan-England cricket can be complete without the numerous controversies surrounding the umpires. Perhaps the most harmless of these took place on the 1987 tour, when the Pakistanis voiced disappointment over the umpiring of David Constant and Ken Palmer, requesting for their removal from the series.
This intensified during the Old Trafford Test of 1992, when Ken's brother Roy warned Aaqib Javed of bowling too many bouncers at Devon Malcolm. Aaqib's sweater got stuck in Palmer's belt when the latter tried to return it at the end of the over. Aaqib's response cost him fifty per cent of his match fee.
This pales when pitted against the aftermath of the 2006 Oval Test, when Hair (and Billy Doctrove) accused Pakistan of ball-tampering, changed the ball, and awarded five runs to England. When Pakistan refused to take field in protest, the match was awarded to England. Hair was subsequently barred from standing in ICC events.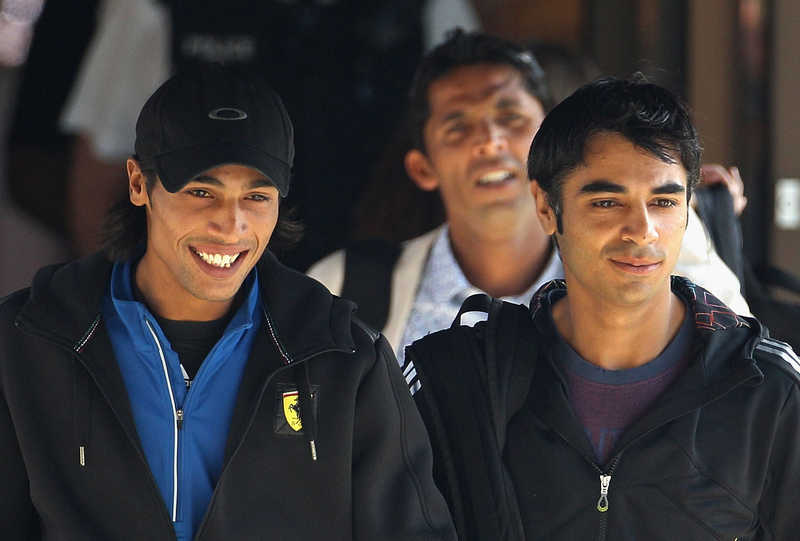 All this seems benign when compared to the infamous Mike Gatting-Shakoor Rana faceoff in 1987-88. The image of the two men wagging fingers at each other is familiar to even the newest generation of cricket fans. The incident threatened to hamper diplomatic relations between the sides; brought (albeit not officially) a swift end to Gatting's stint as captain and Rana's international career; and hastened acceptance of neutral umpires on a global scale.
However, the most remarkable incident involving an umpire took place in 1955-56, a tour that did not feature a Test match. Disgusted with the performance of umpire Idrees Beg, the English cricketers arrived at his hotel room, drenched him with water pistols, abducted him in a tonga, and manhandled him. Captain Donald Carr apologised. One cannot help but wonder how England would have recovered their relations with a dominion they had lost seven years ago.