July 7, 2005 saw a never-before tried innovation in international cricket. The ICC had been pondering changes to make One-Day International (ODI) cricket as exciting as possible. In a bid to do so, they came up with the Super Sub rule, wherein a team could replace a player at any point in the game with the 12th man. The replaced player will play no further part in the game, but the player coming in, can bat, bowl, field and also keep wicket. While earlier, a substitute couldn't do anything but only field, a super sub could perform any on-field duties his captain required of him. 
In the first of five ODIs between England and Australia at Headingley, England batsman Vikram Solanki created history when he became the first-ever super sub. Fast bowler Simon Jones made way for him after finishing his quota of 10 overs. 
Solanki was one of the most stylish batsmen coming through the England ranks and had a solid domestic record to back him. Having made his debut in 2000, he never really cemented a place in the England side due to his inconsistent performances. However, after a poor start to his international career, his first big break came in 2003, when he was recalled to the side as an opener and made it count with his maiden century against South Africa at The Oval. He was given a longer run this time, having played 13 ODIs in 2003, followed by 10 in 2004 and 15 in 2005. He eventually finished with 1097 runs at 26.75, which included two centuries and five fifties. 
Coming back to the match against Australia, Jones left the field and made way for Solanki at the end of 31 overs. Umpire Rudi Koertzen used the 'T' sign to announce the substitution. Many times we have seen players substituted in football or hockey, but this was a first in cricket. Solanki took the field for the remaining 19 overs with Australia at 116 for 4 at that stage. Damien Martyn was batting on 22, while Michael Clarke, who had joined him not too long ago was on two.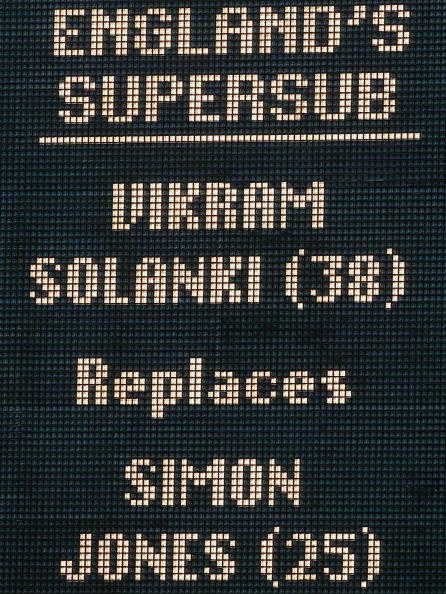 The England bowlers did a commendable job, choking the Australian batsmen and despite a breezy unbeaten 46 by Michael Hussey the visitors managed to put up just 219 for 7 on the board. Paul Collingwood starred with the ball by dismissing Ricky Ponting, Martyn, Andrew Symonds and Clarke.
In Reply, Marcus Trescothick and Andrew Strauss further put England in the ascendancy with a 101-run stand inside 25 overs for the opening wicket. They got off to a slow start with, having put up just 26 in the first 10 overs, but put their foot down in the next 10 in which they added 60. Strauss was more than happy playing second fiddle to Trescothick, who was going at a steady pace. Just when the partnership was threatening to completely bat Australia out of the match, Brad Hogg – Australia's super sub for Matthew Hayden – got Strauss' edge and Adam Gilchrist made no mistake behind the wickets. Strauss departed for an 84-ball 41. 
By the time Michael Vaughan came in at three, the ball was not doing much despite the overcast conditions and he just eased into the situation. Trescothick reached his fifty soon after and Vaughan needed to play the role of a sheet-anchor to ensure England got closer to the target. He played his role to perfection, scoring at nearly run-a-ball for most of his innings, which allowed Trescothick to play his natural game, the opener notched up his ninth ODI century and his skipper at the other end brought up his fifty off 58 balls. 
Despite a few plays and misses, England kept up with the required run-rate comfortably and romped home to a nine-wicket victory. As it turned out, Solanki's services with the bat were not needed. However, he was called upon in the third match of the series at The Oval, where he once again replaced Jones and went on to score an unbeaten 53 and helped England to a competitive total, but his side lost, not just the match, but the series as well.
It was felt by the administrators that the team winning the toss had an advantage with the super sub rule and was hence abolished after 60 matches. Australia won nine out of 10 matches when they used the super sub, while Pakistan were the only team with 100 percent success, having won both their matches. 
Solanki played 10 more ODIs after the series against Australia – a period in which he was also part of the England squad in the inaugural World T20 in 2007.