Gritty, stubborn, pugnacious, insatiable, inquisitive could well be the perfect words to describe Gautam Gambhir. However, very little of it could be seen during his first outing in international cricket when the 21-year-old Delhi boy made his ODI debut, on this day in 2003, against Bangladesh in Dhaka. He scored only 11 in a 46-run stand with fellow Delhi-ite, Virender Sehwag.
This was India's first match post a sublime World Cup campaign in South Africa. With the vision of creating a pool of players for the next World Cup and playing Bangladesh as one of the teams in the tri-series, India rested Sachin Tendulkar and Rahul Dravid. Gambhir was the first batsman to debut for India post the 2003 World Cup. The southpaw, however, missed a golden chance accumulating only 113 runs in five innings at an average of 22.6. 
India's next ODI series involved a world champion Australian side and India went back to the settled Sehwag-Tendulkar opening duo and Gambhir was dropped. 
****
Faltering at the start to come back stronger has been a tale of this Delhi-lad's career. In 1999, Gambhir missed out on selection for India's squad for the U-19 World Cup in 2000 which went on to lift the trophy in Sri Lanka. On a brighter note, he made his first-class debut and notched up a fifty in the two games that he played as a promising 18-year-old youngster for Delhi. 
Quite similarly, on his Test debut, which came after 19 months in oblivion since his solitary international series, he did himself no favours with scores of 3 and 1 on a treacherous Mumbai track against Australia. Luckily for Gambhir, the Test match ended in three days which allowed him to be a part of the Delhi side taking on Gujarat and the Indian opener kept himself in the selector's radar blazing 151 off only 181 deliveries. Picked for the following Test series against South Africa, Gambhir scored 96. By the end of the year, he notched up his maiden Test ton, facing the same opposition; Bangladesh - at the same venue - in Dhaka - where he made his unfulfilled ODI debut. 
A string of gritty Test performances as an opener helped him regain his place as an ODI opener and he responded with his maiden one-day hundred in his comeback match - 103 against Sri Lanka in Ahmedabad in November 2005 completing another stout-hearted comeback.
But a young Gambhir could not sustain it. He was soon dropped again, from both forms of the game. In Tests, his technique was exposed against the moving ball by Chaminda Vaas. In ODIs, he could not convert his starts. 
Through domestic cricket, Gambhir still kept himself in contention for the World Cup. He was in direct competition with Robin Uthappa. He was opening the innings with him in the third ODI against West Indies in January 2007. He got out for a duck and Uthappa was picked ahead of him. Gambhir, being the senior-most amongst the debutants post the 2003 World Cup was left out of the 2007 World Cup. 
He took that setback to heart and considered quitting the game. He told ESPNCricinfo in an interview, "I didn't want to play anymore. I didn't want to practise. I couldn't motivate myself."
****
India flunked their World Cup campaign suffering an early first-round exit. Forced to look elsewhere, the selectors brought Gambhir back for the ODI series in Bangladesh and for the third time in his career, the neighbouring country played a pivotal part in his career. In what Gambhir perceived as his last chance, he struck a career-saving 101 in the second ODI in Dhaka.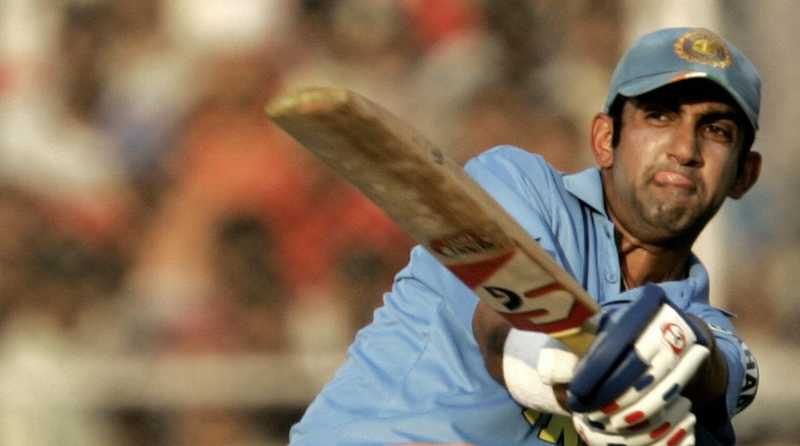 After only 32 international appearances scattered across four years between the 2003 and 2007 World Cups, he became a regular member of the side. While the opening duties shifted between Tendulkar, Sehwag and Sourav Ganguly, the Indian management didn't ignore him this time. Instead, they found a way to accommodate him in the ODI team. The tide had changed for Gambhir on either side of the 2007 World Cup. And he rounded it off nicely becoming the highest run-scorer for India in the 2007 T20 World Cup. His tally of 227 runs included a gutsy 75 in a high-pressure final against Pakistan where his presence at the crease proved to be the difference between the two sides. 
In 2008, he sealed his spot in the Test side as well. On a disastrous tour of Sri Lanka for the Indian batsmen, Gambhir stood out aggregating 21 percent of the team's total runs. Alongside Sehwag, he was the only one who could read Ajantha Mendis and Muttiah Muralitharan.
Gambhir became India's first left-handed batsman to have cemented his place in all three formats of the game. He could score against pace, and was brilliant against spin. He could attack, he could anchor the innings. 
Moreover, Gambhir solved India's long-lasting hunt of an opening partner for Sehwag. He became only the third Indian batsman to play over 50 Tests as an opener. Amongst the players who have played more than 20 Tests as an opener, he has the third highest average - only behind Sunil Gavaskar and Sehwag. 
463 runs against Australia in October-November 2008, 361 runs against England in December 2008 and 445 runs against New Zealand away from home in March-April 2009 - Gambhir was the leading run-scorer in three consecutive Test series. His 643-minute epic 137 in Napier is easily amongst the best defensive knocks in Indian Test cricket post which he was even called as 'The Second Wall' by Sehwag.
The golden run won him the Arjuna Award in 2008, ICC Test Player of the Year award in 2009 and also took him to the top of the ICC Test batting rankings briefly in 2009. 
In ODIs, he scored eight hundreds between the 2007 and 2011 World Cup, the third most in this period. He struck 150 twice. With two hundreds, Gambhir was the highest run-scorer in the CB series in Australia in 2008, the tri-series victory which marked the resurgence of a new era under MS Dhoni. He was also the second highest run-scorer overall between the 2007 and 2011 World Cup.
In the 2011 World Cup, his contribution was underrated. Scoring 393 runs in the tournament, he was India's second-highest run-maker. Only considering the top 10 teams as opposition, Gambhir was the highest run-scorer in the middle-phase of the innings (overs 11-40) amassing 308 runs. His comprehensive batting style allowed Sehwag to play freely at the top.
In the final when he came in to bat with the score reading 0 for 1 in a tense run-chase, Gambhir weathered the storm batting till the 42nd over. Out for 97, three more runs could have ensured his name is never forgotten but he had done the more important job of bringing the team to a commanding position, much like his career chart. In 2007, when he wanted to quit cricket he would not have thought that he would play a massive role in two upcoming World Cup victories for India. 
****
Cricketing aphorisms suggest that a batsman's best years are ahead of him when he turns 30. That is when an individual can use the blend of his experience and talent to become more fruitful. It did not hold true in case of Gambhir. 29 at the point of the 2011 World Cup victory, the tide of his career changed once again around the mega-event. The waves were descending. 
He lost his place in the Test side after underwhelming performances in England and Australia. He continued to be a vital part of the ODI side till 2012 but his habit of poking outside the off-stump proved his nemesis and the MS Dhoni-led side soon moved on to the opening pair of Shikhar Dhawan and Rohit Sharma in 2013. 
He made brief returns to the Test side in 2014 and 2016 but this time, his return lacked the impact which he had laid earlier and was dropped after four innings on both occasions. 
****
Gambhir's career can be split into three phases divided by the two World Cups which propelled him to the general conscience. The second phase was so glorious, that he was acknowledged as a candidate to lead India in the future. Gambhir, in fact, led India in six ODIs during this illustrious phase and won all of them.
However, the decline in form had other plans. His captaincy mettle was instead seen in IPL where he revitalized Kolkata's fortunes leading them to the title twice in his seven-year-long reign with them. 
One can always debate if Gambhir was a future great who underachieved in two out of the three phases in his career or just a decent batsman who overachieved in the middle one. Ultimately, he will be remembered as a magnificent contributor to Indian cricket who did not have the flamboyance of Sehwag or the longevity of Tendulkar but gave every ounce of energy in his tank to Indian cricket.