A last-ball thriller to kick start the 14th edition Indian Premier League is what we have come to expect off the marquee league. Royal Challengers Bangalore are off to a winning start, thanks to a cameo from AB de Villiers in the end. Here are a few noteworthy stats from the first match between RCB and Mumbai Indians at Chepauk.
An unwanted start for Rohit Sharma
Rohit Sharma had got off to a steady start in the first match. He went past 700 runs against RCB in IPL and became the second-highest scorer against them. However, his innings came to a halt in the fourth over when he was run-out. By virtue of this, Rohit's dismissal was only the second instance in which, an IPL season's first wicket was through a run-out. The first one happened in the 2012 edition and Faf du Plessis from Chennai Super Kings was the batsman who was dismissed on that occasion.
Best bowling figures against Mumbai Indians
Harshal has always been in and out of teams with inconsistent performances. But, today he was able to cement his place after his bowling stint in the last five overs. He became the first-ever bowler in IPL to bag a five-wicket haul against MI. Previously, the present MI skipper Rohit held the record of the best spell against MI when he was playing for the now-disbanded Deccan Chargers. In addition, this is also his best-ever T20 spell, never had he bagged a four-wicket haul prior to this match. More to his glory, his spell of 5 for 27 is also the third-best spell by an RCB bowler in IPL. 
Final flourish
Four wickets by conceding only one run in the final over of the innings, out of which three belonged to the bowler was an absolute rare sight. The defending champions have some exotic finishers, but, on the day it was nullified by some excellent bowling by Harshal in the last over. To see the back of Krunal Pandya and Kieron Pollard in back to back deliveries was the highlight of the over. He was on a hat-trick, but, a slower yorker missed the stumps by a whisker. In the first five balls, Harshal had three wickets without a run to his name. He ended the over by conceding a single off the last ball as there was a run-out in the second run attempt. Hence, four wickets and one run of the last over became the best 20th overs bowled by a team in IPL.
Virat Kohli becomes the first to 6k runs as captain
It has become a routine to set records or break records for Virat Kohli. In the T20I series against England, he became the first batsman to reach 3000 runs in international T20s. Today, he became the first captain to score 6000 T20 runs. Kohli has scored 4509 runs as a captain for RCB at an average of 43.8 and 1502 runs at an average of 48.5 in Indian colours. He has a total of 49 scores of 50+, 44 fifties and five centuries as a captain in T20s, which is also the most.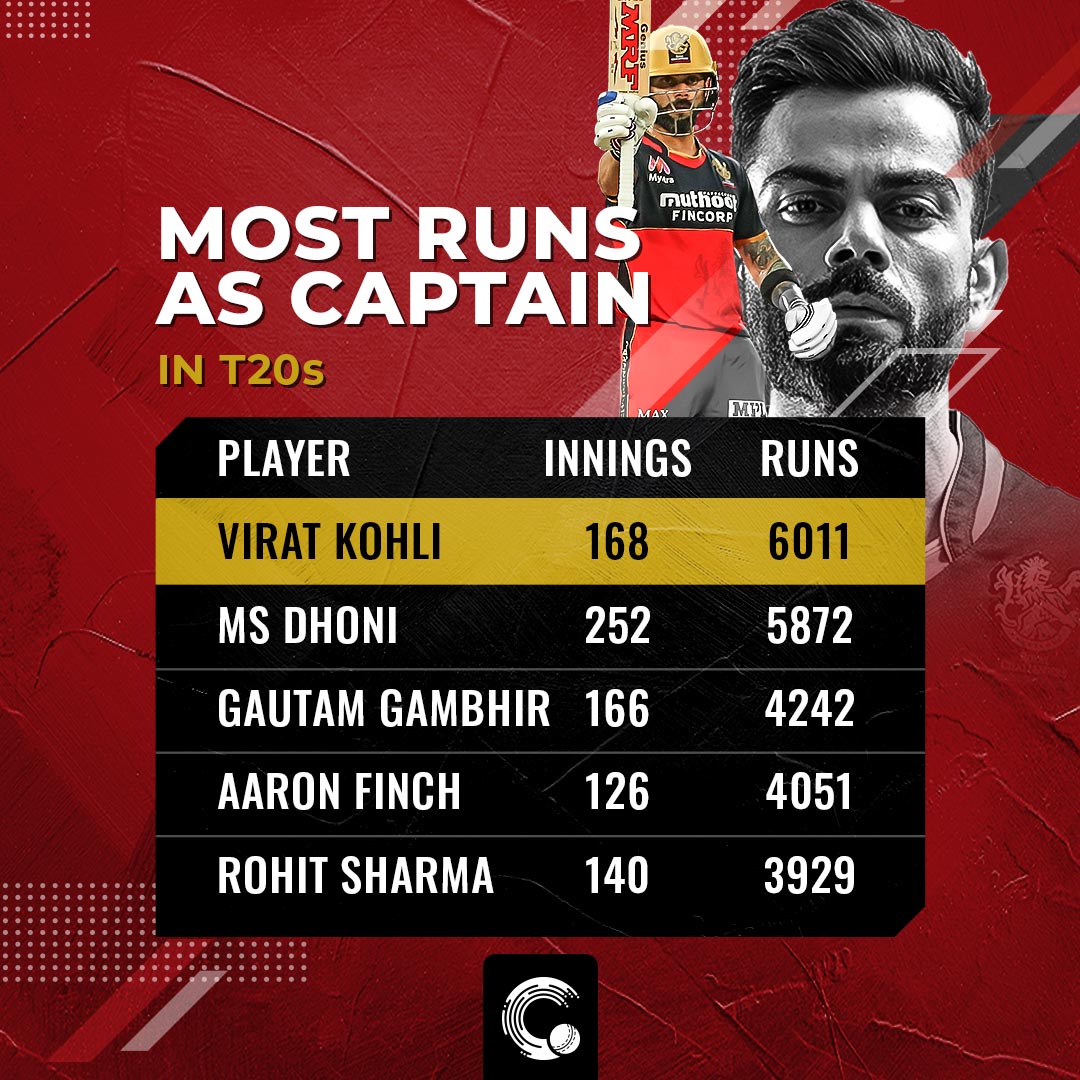 Glenn Maxwell finally breaks the six jinx
For the calibre of Glenn Maxwell, a whole season of IPL without six after facing over 100 balls is a certain shocker. In IPL 2020, he had played 106 balls and had no six to his name. In fact, the last match he hit a six dates back to 27th April 2018. Post that, Maxwell had played 17 innings and 171 balls without a maximum to his name in IPL. By virtue of a towering six in the 11th over, Maxwell broke his barren run of sixes. 
Mumbai's first match losing streak
Mumbai might be the best team of IPL when it comes to the number of titles or wins. But, that hasn't been the case for them in their season opener. It has been ages since they won their first match of the IPL edition. The last time they won was in 2012 against CSK. Post that, for nine consecutive years they have only tasted defeated. However, in the previous eight seasons, they have won the title four times. Though Rohit mentioned that "winning the championship is more important than the first game" it is a streak that they would like to break someday.