Is it true that Kieron Pollard has won most T20 titles for Mumbai Indians? – Shirish Adhikari on Twitter 
If you consider both Indian Premier League (IPL) and now-defunct Champions League T20 (CLT20), then Kieron Pollard has been a part of the playing XI in the seven successful finals for the Mumbai Indians. Rohit Sharma, follows Pollard with six titles, while Ambati Rayudu and Lasith Malinga have been a part in five title-winning matches. The list below has the details:
Which uncapped player has the most runs and most wickets in the IPL? Among these players who has the highest individual scores and the best bowling performances? – Sujan Ghosh on Twitter 
Suryakumar Yadav with 2024 runs and Rajat Bhatia with 71 wickets are the players with most IPL runs and wickets respectively and are yet to appear in any internationals for India. Kings XI Punjab's (KXIP) Paul Valthaty's unbeaten 120 against Chennai Super Kings (CSK) in Mohali on 13 April 2011 is the highest individual score, while Ankit Rajpoot's 5/14 also for KXIP against Sunrisers Hyderabad (SRH) in Hyderabad on 26 April 2018 is the best bowling performance by an uncapped player in the IPL. The four lists below have all the relevant details: 
+ are not current players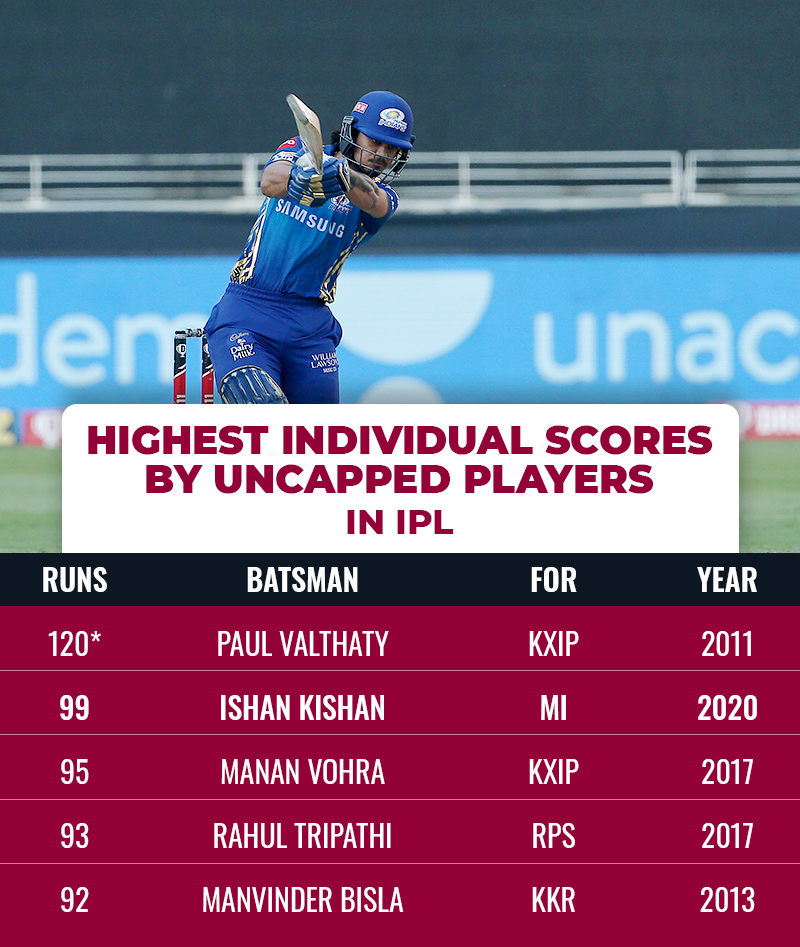 Mumbai Indians played Delhi Capitals on four occasions in 2020 and won all four games. Has any other side won so many against one particular side in a single IPL season? – Anand Kumar on Twitter
Mumbai Indians has now done it twice and that too in successive seasons. If you recall, Mumbai Indians had beaten Chennai Super Kings on four occasions in 2019. And in the season before that, in 2018, Chennai Super Kings had won 4-0 against Sunrisers Hyderabad. The list below has all the head-to-head victories by sides by a margin of 3-0 or more in a single IPL season.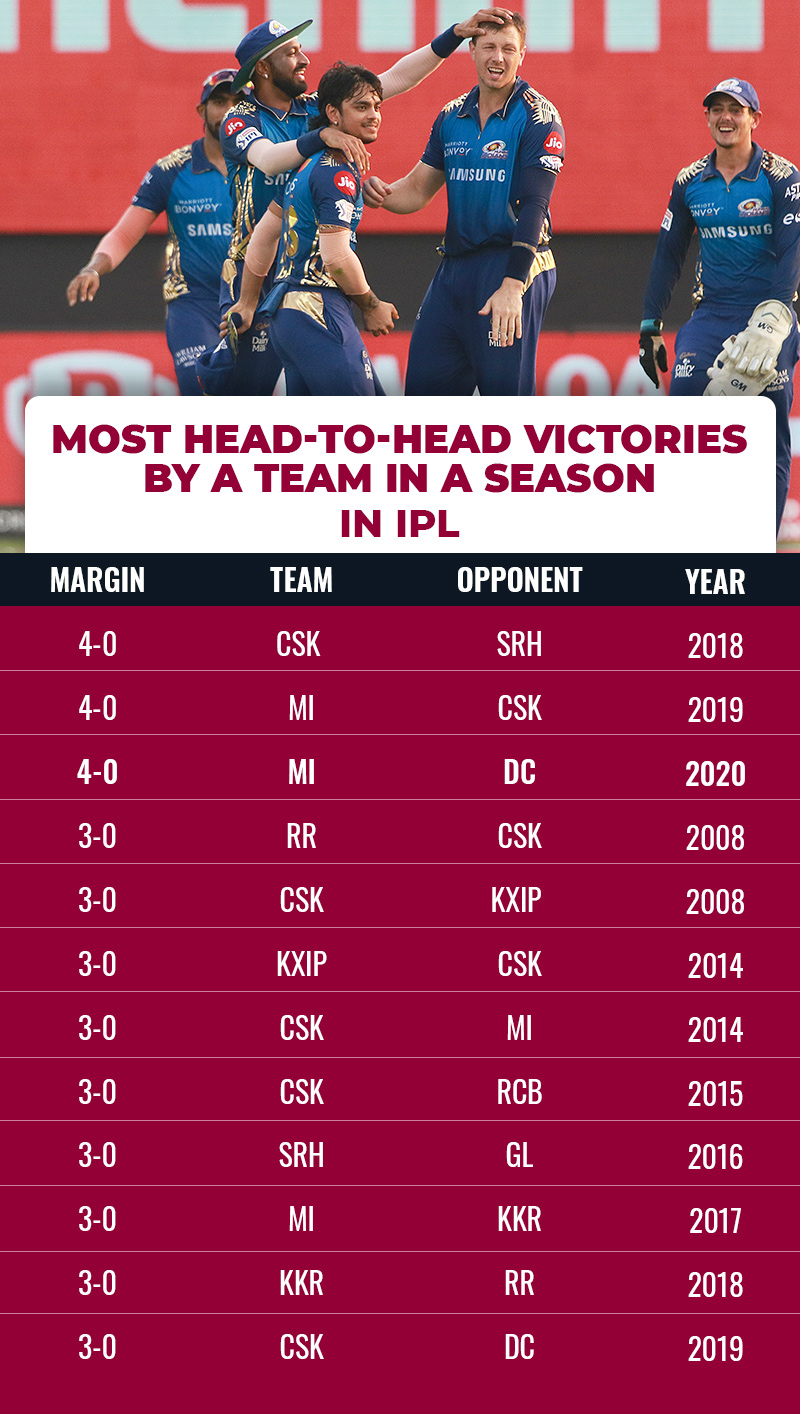 Is Shreyas Iyer the youngest to lead a side in an IPL final? – Suresh Bhaskar on Twitter 
Delhi Capitals captain Shreyas Iyer at 25 years, 340 days is now the youngest to lead a side in an IPL final, doing so in the latest edition at Dubai on 10 November 2020. He betters the previous record held by Mumbai Indians' Rohit Sharma, who was 26 years, 26 days when he led the side during the 2013 final against Chennai Super Kings at Kolkata on 26 May 2013. The list below lists the youngest captains in the IPL final.
Note: the oldest is Shane Warne for Rajasthan Royals in 2008 at 38y-262d
Has any player achieved the all-rounder's double of 1000 runs and 100 wickets in IPL? – Arup Chatterjee on Twitter
At the end of IPL 2020, only two players have managed to do so. The first is Dwayne Bravo (1490 runs + 153 wickets) who, achieved the feat in 2015. The second player was Ravindra Jadeja (2159 runs + 114 wickets) who achieved his landmark in 2019. However, for the record, five other players have managed to aggregate over 1000 runs and also claim 50 or more wickets during their IPL career – Shane Watson (3874 runs + 92 wickets), Jacques Kallis (2427+65), Irfan Pathan (1139+80), Kieron Pollard (3023+60) and Andre Russell (1517+61).
All records mentioned above are correct and updated as on 16 November 2020
If you have any cricket-related questions, then ask them using the #AskMohan and #StatsBurst hashtags on our social media channels. Reputed statistician, Mohandas Menon will be answering the selected questions.