"Ask a child to draw a car and certainly he will do it red," automobile tycoon Enzo Ferrari once said to describe his cars' unmatched popularity. The West Indies team, over the past two decades, have become synonymous with six-hitting, thanks to the presence of T20 maverick Chris Gayle and the likes of Andre Russell, Nicholas Pooran and Evin Lewis are set to carry the tradition further. 
In the ongoing T20I series against South Africa, West Indies batters have clubbed 33 sixes in three matches. The sixes constitute 41.5% of their total runs across three innings.
Big-hitting powerhouse
It is not contained to just one series. Post the 2016 T20 World Cup, only India (435) have hit more sixes than West Indies (428). However, India have played 12 matches more during this period and have hit a six every 17.4 balls whereas the Windies have cleared the ropes every 13.5 balls. No other top-10 ranked team has bettered this.
Since the last T20 World Cup, West Indies have scored 7200 runs in aggregate (excluding the extras), off which, a total of 2568 runs or 35.8% came through sixes. There are only three teams who have scored more than 25% runs through sixes and no one comes close to West Indies. In fact, their batsmen have hit more percentage of runs through sixes than fours, 28.7% from fours as compared to 35.8% from sixes.
Snag behind the one-dimensional approach
While there is an abundance of big-hitters, the West Indies' weakness is their poor strike rotation. In T20Is post the 2016 World Cup,  Windies have scored 33.1% of runs through singles, which is the lowest among the top 10 ranked teams. Overall, their batsmen have scored 38.8% of runs through ones, twos and threes, the lowest among top-10 teams. Lack of strike rotation means more dot balls and their dot ball percentage of 45.2% is the highest among the top nations.
In the first six overs and the last five, their approach has been better. But in the middle overs, the dot balls in between the boundaries has significantly lowered West Indies' run rate. They are the only team to face more than 40% dot balls in this phase and the only team to score less than 50% through non-boundary shots. 
While T20s are all about boundary hitting. A team that hits more boundaries generally wins. But, the West Indies are an anomaly. Owing to a poor strike rotation, their run rate of 7.3 in overs 7-15 is the second-lowest among the top 10 ranked teams post 2016 T20 World Cup. As a matter of fact, even in the Powerplay and the death overs, their run rates are not as high as some might expect them to be.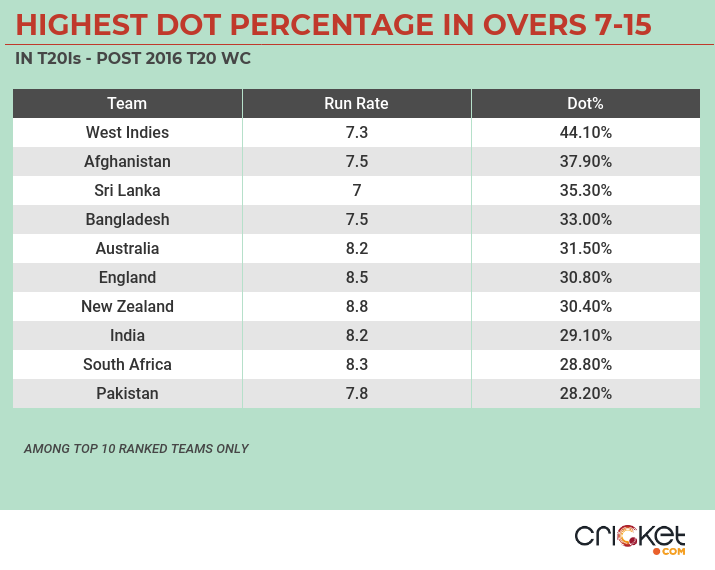 Despite having some of the most athletic players in their ranks, their reluctance to run the hard yards has affected their overall performances. Post the 2016 T20 World Cup, West Indies have a win percentage of 36.5%, the third-lowest among the top 10. In every phase of an innings, they have struggled to get things going because of a high dot percentage. Their overall run rate is the second-lowest, which is also the case with their powerplay and middle phases. While in the death overs, they have the third-worst run rate among the top 10.
The T20 world champions are a feared team in the shortest format and none can match their consistency in power hitting. But, their feast-or-famine approach needs to change if they are to successfully defend their title in the coming months.
Note: Statistics updated as of June 30, 2021.