Heading into the Mumbai Test, there was not one iota of doubt over India's capabilities of picking up 20 wickets, not a doubt over whether India could score the big totals. India in India is always a daunting prospect, barring England, no one has managed to walk away with a series win and Australia, were the other side to give India a run for their money. 
Ajaz Patel showed mettle, Daryl Mitchell showed intent but just mettle and intent isn't enough to beat India in India. Conquering India needs a lot of patience, hard work, toil, suffering and eventually, a solid game plan. New Zealand showed glimpses of all of the above but ultimately, it was all glimpses. 
In the absence of the A-team, India bore the fruits of the root that they had meticulously watered.
"A lot of these guys don't get the opportunity to play a lot (of Test cricket), but it's nice to see them do well, especially the likes of Shreyas Iyer, Mayank Agarwal, Axar Patel and Jayant. That gives us a lot of choices opening up when the seniors do return," uttered Rahul Dravid at the conclusion of the Mumbai Test. 
Very often in sports, a team's success isn't defined by the eleven they pick on the field, it is defined by the fifteens and sixteens that make the squad. And against New Zealand, India's success could be attributed to that: the fifteens, out of which many Dravid had overseen during his time with the 'A' tours. 
Heading into South Africa, India brim with confidence, not because of they have a 372-run win next to their name but the fact that they have had all the 15 players perform well in the series. However, the obvious questions still remain, intriguing. It has also put the management in a fix, who really will bell the cat? 
Plenty of options at the top
The India 'A' tour to South Africa has indeed given the selectors a real headache, Priyank Panchal, Abhimanyu Easwaran and Prithvi Shaw have all performed well. While Easwaran primarily batted at No.3, his primary position, as an opener might very well make him one of the top contenders to make the squad, owing to his versatility. 
On the other hand, against New Zealand, Mayank Agarwal had made it evidently clear that he wasn't going anywhere. His form was a definite concern after the Kanpur Test but on a surface where only one other batter scored fifty, Mayank's 150 will put them head and shoulders above the other contenders to displace either of KL Rahul or Rohit Sharma. 
As in Kanpur, Mayank's struggling technique against the pacers, with the ball going away from the body was a major concern. However, in Mumbai, barring the initial hiccup in the first innings, the Karnataka opener was patient, adamant on understanding where his off-stump was, in leaving the deliveries alone. 
What's more interesting is Mayank's approach: he had left alone 65 deliveries, attacked 105 and was in control of 362 out of the 419 deliveries that he faced across the innings. It shows that the Karnataka opener is ready for the South African challenge. 
Emergence of Shreyas Iyer and return of Shubman Gill
The biggest takeaway for India from the 1-0 series win over New Zealand: the emergence of Shreyas Iyer. Iyer had always been in the sights of the selectors from early 2016s but an opportunity never came his way. With Hanuma Vihari sent to South Africa, it was a perfect opportunity for Iyer, in the absence of KL Rahul, to leave an impact. 
And he surely did, Iyer's counter-attacking nature across both the Test comes in as gold for the Indian team. India's approach in the Test format has always been questioned, their slow-nature of play time and again pointed by their skipper, Virat Kohli. Iyer solves two of India's biggest challenges: batting time and batting with intent. In Kanpur, the Mumbaikar showed why exactly he was highly rated.
Iyer has played just the four innings but across the four, he has attacked 93 of the 345 deliveries he has faced, scoring a boundary every 11.9th delivery. Vihari, who is another prime contender for the spot only scores a boundary every 15.5 deliveries. Albeit it being relatively early, Iyer faces more deliveries before his dismissal (86.3) than Vihari (84). Will India stick with Iyer or go back to Vihari? Merit is in playing the former. 
As pointed out after day three, there is a merit of playing Gill at No.3, especially considering his strengths against spin. But with the Test series in South Africa, where pace is going to play a huge role, the inclusion of Gill is a double-edged sword for India. Are they confident of taking the plunge? 
Can India afford to leave out Ravichandran Ashwin?
300 Test wickets at home, 9th Man of the Series in Tests in 34 series, winning the MOS 26.47% of the times, 14 wickets in the series against New Zealand, can India afford to leave out Ravichandran Ashwin? The answer is no! Ashwin was never just a condition-specific bowler, his skills are paramount and as expressed in Kanpur, he has evolved his game to a level, where it is beyond questioning. 
"I would like to go to South Africa and win a series there, we haven't done that before, and hopefully we can do it this time," said Ashwin during the post-match presentation. 

Since 2019, spinners have only taken 28 wickets in South Africa but that shouldn't stop India from fielding Ashwin, who has the probing advantage in his side. 
Even on surfaces that are rendered flat, rendered tough for bowlers, the off-spinner has taken the pitch out of the equation with his pyro techniques, be it with the angles of release, the plethora of variations under his sleeve. India left out Ashwin in England and did not pay a big price but can they afford to leave him out again, in a country that they desperately need a win?
Mohammed Siraj over Ishant Sharma: a new precedent?
Ishant Sharma's form and fitness has been dodgy but his experience and caliber should never be doubted. The pace bowling veteran has led India to multiple wins in overseas conditions, single-handedly carried the pace attack at home and has also overseen the changing culture in the country. Right now, India have one of the best pace-bowling units if not the best in world cricket and Ishant has been an integral part of it.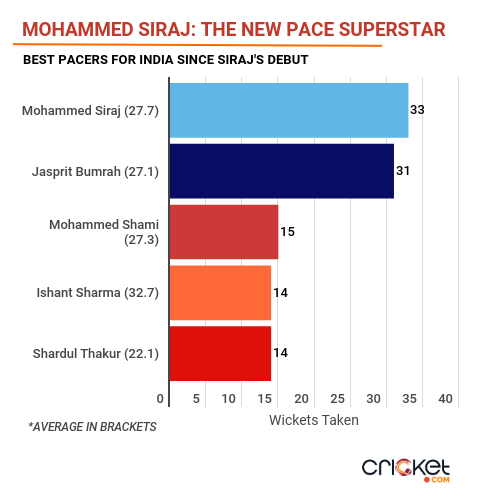 In the Border-Gavaskar Trophy win in 2020-21, India sweated profusely over his fitness. When India toured South Africa last time, he picked up eight wickets, averaging 18.75 but with the emergence of Mohammed Siraj, is Ishant's time in the Indian whites on the cusp of nearing the end? We might not have a certain answer to that but Siraj's emergence has helped him pip over Ishant. 
As shown throughout the Australian tour, England tour and the home series against England and New Zealand, Siraj never backs down from a fight. And what do successful bowlers do in South Africa? Take the fight. In Siraj, India have a fighter, a merciless bowler, for whom attack is the best form of defense. With his form, it is certain that he might be soon be the first-choice pick for India across all conditions.