During the early years of the IPL, MS Dhoni remarked that as a captain his primary responsibility is to ensure that his team finishes in the Top-4. He cannot always control what happens after that. Adhering to the responsibility set by their captain, CSK have made it to the Top-4 in all seasons they have been a part of.
Their strength has been a solid core and management group since the beginning of the IPL. This is in addition to a captain who is a master at instinctive match-ups by reading the game situation from behind the stumps. As a result, no team has been able to match their all-time win percentage of 60.9%.
CSK's strategy has always been to build a team with sufficient spin options and experienced batsmen to ensure a high win percentage in home matches. Their record of 80% wins at home since 2018 is highest among all teams. With half the matches played at home, a high win percentage there often guarantees a Top-4 finish. 
Going one step better, they have qualified for the final in eight of the ten seasons. Coincidentally, the two seasons when CSK did not make it to the final have one thing in common. Due to circumstances in India, a few matches or the complete season had to move outside the country, like this year's IPL. 
Strengths
Despite earning the title of 'Dad's Army' post the auction in 2018, CSK have continued to be the most successful team since 2018 (a win percentage of 63.6%). While the seasoned batsmen have done just enough in crunch moments, the onus of the success lies with their bowlers. Their economy rate of 8.08 since 2018 is the second-best after SRH (7.97).
Bowling in First 15 Overs
Breaking it down, if we look at the performance of their bowlers in powerplay and middle-overs since 2018, they are ahead of other teams on multiple bowling parameters. 
CSK's economy of 7.56 in overs 1-15 is better than all other teams
Their record of 21.06 balls per wicket in these overs is the best
The opposition hit a boundary in every 6.4 balls in the first 15 overs against CSK. Less frequent than against other teams.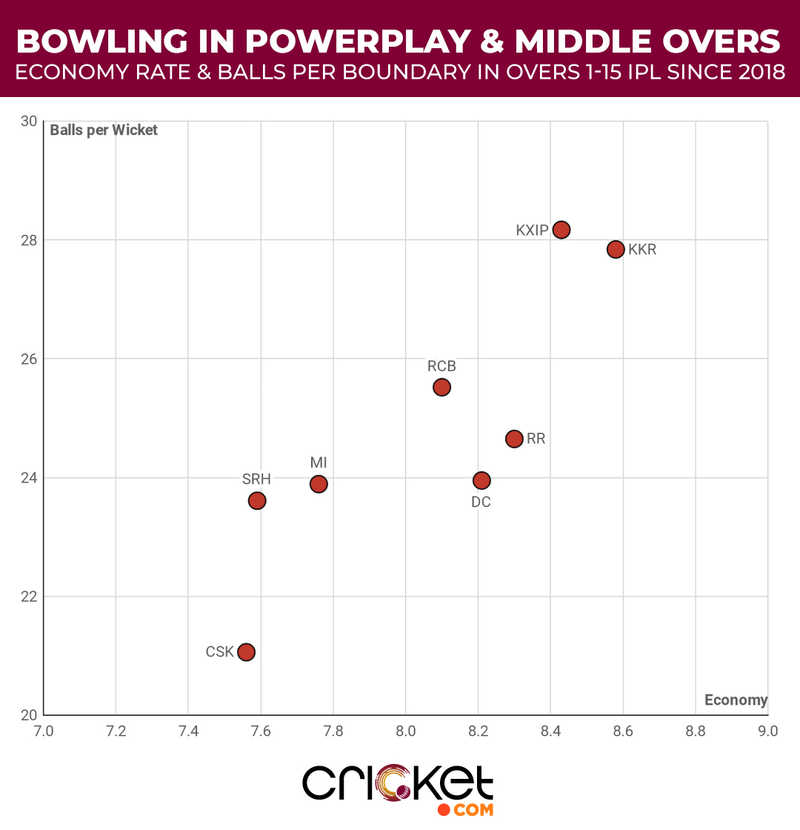 For 75% of the bowling innings, they are better than each of their opposition. Thus dominated half-of the match on most occasions.  
Four bowlers contributed to their superlative performance in the first 15 overs. Deepak Chahar has been a find for CSK. His ability to swing the ball in both directions helped them get wickets with the new ball. Assisted by Harbhajan Singh, the pair ensured that CSK took wickets in the powerplay more frequently than other teams. 
Their success in the middle-overs is down to two individuals: Imran Tahir and Ravindra Jadeja. No other bowlers with wickets in double digits in overs 1-15 has a better balls per wicket record than Tahir's 13.4. Moreover, both he and Jadeja have leaked runs at a frugal rate 6.8 runs per over in these overs.
Death Overs Batting
Another area of strength for CSK is their batting in the last five overs. Their overall batting strategy of keeping wickets in hand is contradictory to the nature of T20 cricket. However, this pays off in the death overs as their run-rate in this phase since 2018 has been 10.7, second-best after KKR (10.93).
Moreover, with expert runners between the wickets lower down the order, their dot-ball percentage of 26.6% is better than all other teams.  
Leading the charge here is their captain. Batting at a strike-rate of 185.25 in the final five overs since 2018, Dhoni maintained an average of above 90. This is due to a high balls per dismissal record of 50.8 in death overs. It implies that in many games in a row, Dhoni is not only aggressive but the toughest batsman to dismiss.
Areas of Improvement
Back in the day, CSK opened with Brendon McCullum and Dwayne Smith. No other team had two openers with equal ultra-aggression. Following them was Suresh Raina, perceived to be India's best T20 batsman for a few years after the days of Yuvraj Singh.
When they re-built after a two-year exile, the approach was to include experienced heads. Even if those players seemed past their prime. With no swashbuckler in the top and middle-order, their run-rate of 8.20 since 2018 is the lowest among all teams. One might argue that this might be a result of their home ground Chepauk being a low scoring venue. However, their run-rate has been lower than the average value at most other venues as well.
Batting in First 15 over
In the first-15 overs, their run-rate of 7.45 since 2018 is the lowest among all teams. Contributing to this is the percentage of balls hit for a boundary being 15.45%, the lowest among all teams.
Contrary to what one might expect from experienced players, their dot ball percentage of 41.99% in overs 1-15 is the highest as well. Implying that their top-order batsmen did not hit boundaries as frequent as others while digging a pit for themselves with more dot balls than others.
We can understand the importance of hitting boundaries with one look at KKR's numbers. Despite the second-highest dot ball percentage of 41.52%, they have the highest run-rate (8.42) in the first 15 overs due to the highest boundary percentage (19.31%).
Shane Watson is a beast once he settles in. From a mediocre strike-rate of 112.11 in the powerplay since 2018, it swelled to 186.38 in the middle-overs. However, as an opener, his powerplay numbers are unjustifiable. 2019 season compounded his struggles in the early overs as his strike-rate in the first six overs dropped to 95.9. An ability to go big after settling in is helpful but not when in 11 out of 17 innings, he could not last till the end of the powerplay.
Ambati Rayudu's consistency in the 2018 season earned him an international call-up. However, come 2019, his overall strike-rate in the season dropped to 93.1. As a result of the diminishing returns of these two, CSK's run-rate in the first 15 overs dropped from 8.15 in 2018 to 6.79 in 2019.
Prospects for 2020
Looking at CSK's squad in 2018, it was difficult to preempt the results that followed. For the upcoming season, we can re-iterate the same expectations as at the start of 2018: It does not seem like their year.  
In Raina and Harbhajan, they have lost two crucial members of their side. Not as sublime as in his younger days, Raina was still a key batsman in the middle-order. Being a left-hander in around a herd of right-handers also helped with the match-ups. With the loss of Harbhajan, the only off-spin option for Dhoni to use as of now is Kedar Jadhav.
They went into the auction with only five available spots. With the tournament moved to UAE, Piyush Chawla is a handy addition. Josh Hazlewood is a bowler with international experience and work-ethics who will gel well with Dhoni. However, he does not seem a certainty in the XI as of now. Sam Curran is at best a reserve for Dwayne Bravo.
A new kid on the block is the Chennai lad R Sai Kishore. Bowling most of his overs during the powerplay, Kishore was impressive in the last two seasons of the Syed Mushtaq Ali Trophy.
The attributes that make CSK such a successful franchise is an evident sense of team spirit among their players. Even the players who come after playing for other franchises feel this difference once they are in the CSK camp and develop an instant connection. 
The anchor of CSK's success is their captain. In addition to his prowess with the bat, his match-winning quality is to manoeuvre his bowling attack as per the game situation. 
In the last two seasons, CSK were lucky to find individual brilliance from senior players on crunch occasions. Add two years to what was already a veteran squad in 2018, no other team seems to have a grimmer future than CSK. They are a bubble that can burst in any season now.  
Ideal XI