A career spanning over 14 years Ishant Sharma has blown hot and cold. Playing 100 Tests as a pacer is not an easy task, especially in the sub-continent. Ishant being the fourth Asian pacer to play 100 Tests is evident enough. 
Before making his Test debut in 2007 at the age of 18, Ishant had made his first-class debut in the 2006-07 Ranji Trophy. On the back of an impressive six-match stint for Delhi – 29 wickets at an average of 20.1 – he was selected for the Bangladesh tour in mid-2007. 
The headstart to his International career was a fascinating one. In his second Test, against Pakistan, Ishant bagged a five-wicket haul in Bengaluru. His first five-wicket haul came at the age of 19y and 97d. In fact, before he turned 20, Ishant had 23 Test wickets as a teenager, the most by an Indian pacer and fourth overall. 
With a lot of promise, Ishant was picked up for India's tour of Australia in 2007/08. Though he went wicketless in the first Test – second of the series  – he was in the playing XI for the next Test at Perth. What happened in Perth, catapulted Ishant into the limelight. Ricky Ponting, considered to be one of the all-time greats, was hopping around for his survival. After a fair amount of success in the Australia tour, Ishant continued his dominance against Australia when they toured India. With 15 wickets to his name in that series, he was named man of the series in 2008. 
THE REVERSE EFFECT
Just when India thought they had a fast bowling prodigy in the making after the great Kapil Dev, Ishant's career took a u-turn. From a strike bowler, he had become second fiddle. Though he produced breathtaking spells here and there, consistency was lacking. There was an instance of him being dropped from his state team as well. In the 2015-16 Ranji season, he was left out after Vinay Lamba, the then chairman of selectors confirmed in an interview with ESPNCricinfo that Ishant didn't answer his calls or respond to his texts. 
Since his debut in 2007 till 2010 he took 87 wickets at an average of 35.6. Further, from 2011 till 2013, it worsened as the average declined to 43.3. The next four years demanded more out of Ishant. Though his numbers weren't alarming, it wasn't demoralizing as well. With 77 wickets in 26 matches in Test since 2014 till 2017 at an average of 32.2, Ishant had somewhere restored the faith. However, before turning 30, Ishant had bagged 253 wickets at an average of 34.9, the worst for a bowler who had 200+ wickets under his belt. 
AGING LIKE FINE WINE
Ishant in the past has had his difficulties, but of late he has been in bewitching form. There is something about bowlers after turning 30. Since he turned 30, Ishant has played 13 Tests and has bagged 49 wickets at an astonishing bowling average of 18.6. Among pacers who have bowled in more than 25 innings after turning 30, his average is the fourth-best. 
In comparison to other bowlers who have bagged 300+ wickets in Tests, Ishant's turn-around has been the best. Though he has played only 13 matches after turning 30, there has been an average difference of 16.8, which means, his bowling average has improved by 46.7% since he turned 30. This is the best among the lot.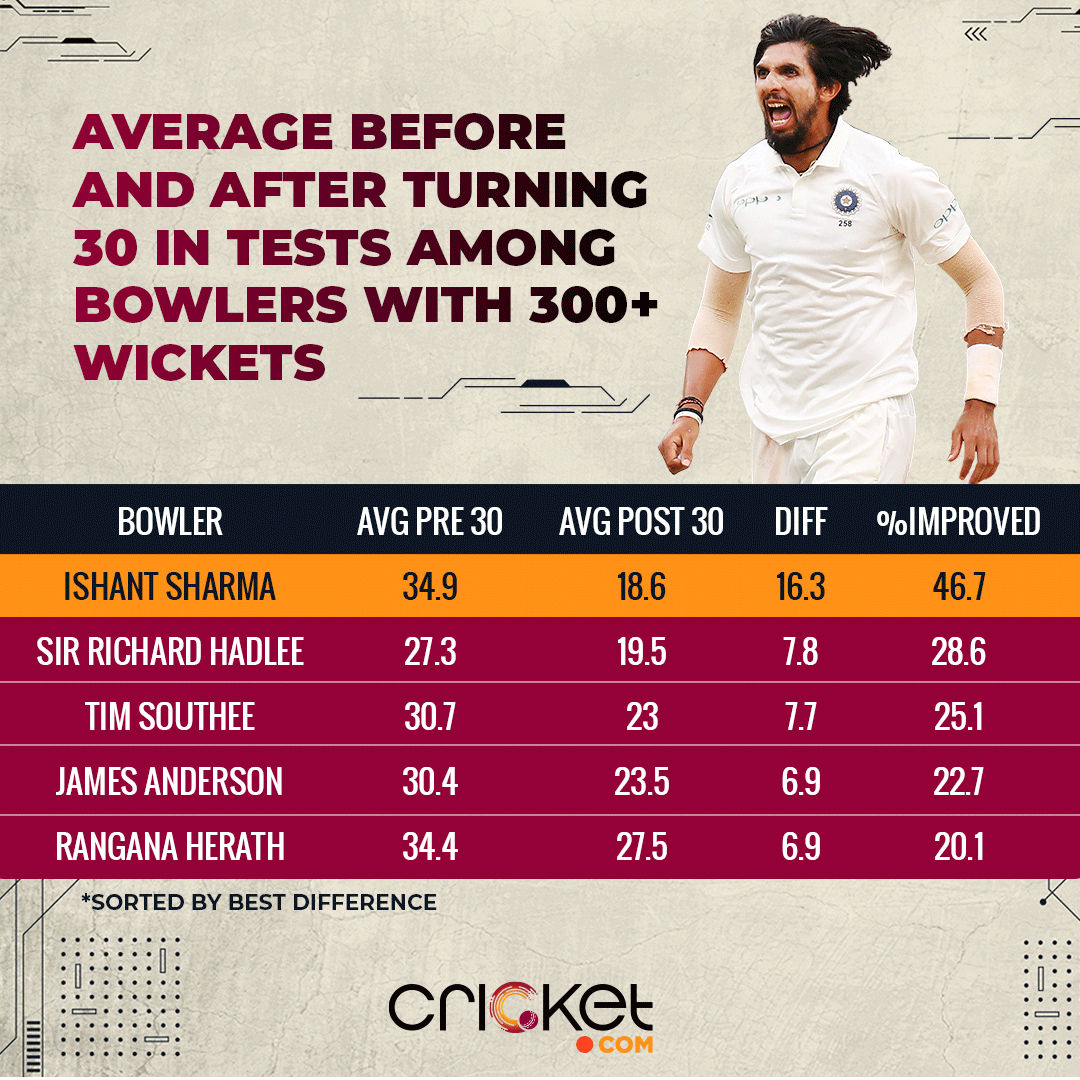 THE SUSSEX COUNTY STINT THAT CHANGED THE COURSE
For every successful cricketer, there is a point or a stage when everything they touch turns to gold. For Ishant's success of late, the Sussex county stint certainly was that career-defining moment. Under the mentorship of Jason Gillespie, Ishant had a successful county stint in 2018, starting with five wickets in his debut match. He played four matches in that season and had 15 wickets to his name. Ishant himself admitted to the fact that his game changed completely after his run with Gillespie. 
In one of his Interviews with PTI, Ishant expressed how Gillespie helped him change. "Lot of people would tell me to increase the pace on my fuller deliveries. But, no one told me how to do that? It was when I went to play county cricket, Gillespie gave me the solution". He further added "Gillespie told me, in order to increase pace on fuller deliveries, I had to hit the deck hard rather than just releasing the ball, so that I could target the knee roll" 
The effects of that advice were spontaneous. In Tests from 2011 till 2017, Ishant had a bowling strike rate of 83.2 (18 wickets) when he had bowled full. Whereas, since 2018, he has bagged 21 wickets at a strike rate of 35.1. In Tests since 2018, Among pacers who have bowled 75+ overs on the fuller length, Only Kagiso Rabada has a better strike rate. 
In the short time spent with Ishant, Gillespie was impressed by his hunger to learn. In his chat with Cow Corner Chronicles, Gillespie admitted to the fact and said, "You know what really struck me about Ishant was his thirst for knowledge, his willingness to listen, ask questions, try new things, because sometimes you can get senior players, experienced players who will just go about and do their thing". 
Being the senior among the current bowling line-up, Ishant has led from the front. Can Ishant churn it up after 30 like James Anderson and Sir Richard Hadlee? Only time will tell. 
For now, here are some highlights on Ishant's career:
•    Ishant Sharma will be the third youngest Indian to feature in 100 Tests (32y 174d).
•    When Ishant took his first five-wicket haul he became the fourth-youngest Indian to take a five-for in Tests (19y 97d)
•    Ishant Sharma scalped his 100th Test wicket at the age of 22y and 299d. Hence, he became the fourth-youngest Pacer in Tests to feat the record. 
•    Ishant Sharma's 7/74 at Lord's in 2014 is the best bowling figures by an Indian against England in England. 
•    Ishant Sharma has 43 wickets against England on English soil, the joint-most by an Indian bowler. Kapil Dev also has 43 wickets. 
•    Ishant Sharma and Kapil Dev are the only two fast bowlers to bag Man of the series awards at home for India. Both of them have done it twice. 
•    Ishant Sharma holds the record for the best spell by an Indian in New Zealand (6/51 in 2014 in Wellington).