She's flamboyant, yet elegant! When in full flow, Smriti Mandhana is 'poetry in motion' and can make batting look ridiculously easy. Those Kumar Sangakkara-esque cover drives, well-controlled cut and pull shots, lofted on-drives, everything about her batting is picturesque and soothing to the eyes. The left-handed opener is inarguably India's best batter and has played a huge role in the growth of women's cricket in the country in the last two-three years. Mandhana might be just 23 but she has already become a household name in women's cricket.  
No other batter has scored more runs than Mandhana in ODIs and T20Is since the start of 2018. Going into the Women's T20 World Cup 2020, Mandhana was in extraordinary form and eagerly looking forward to the showpiece event. However, things didn't quite go her way as she only managed 49 runs at 12.25 in the tournament where India had an impressive run before getting thumped in the final by five-time champions Australia.
Just like all of us, Mandhana is currently stuck at home because of the lockdown. In a telephonic interaction with cricket.com, Mandhana spoke about her and India's T20 World Cup campaign Down Under, opening along with Shafali Verma, 2021 World Cup in New Zealand, her ever-going banter with Jemimah Rodrigues, and much more. Excerpts: 
How are you keeping up? What have you been up to over the last few weeks?
Nothing much actually. I am just trying to follow the workout routine that has been given to us by our trainers. After the World Cup, we were probably on a break for a week or two. We had a long season, five-six months of constant cricket. We were told to relax for two-three weeks but we didn't know it would extend this much. When that break was done, we texted our trainers and told them what equipments we have at our home. They accordingly designed our routine based on the equipments and space we have at home.  
Nothing different, basically doing the same stuff that everyone has been doing. I have been spending time with my family which I don't get often. Also, have been trying to help mom with cooking. I am watching movies and trying to connect with all my friends. I haven't actually started watching any series because it takes a lot of time. This is after so long I have got a chance to spend time with my family. That's why I don't want to start some series because once I do I will end up watching it continuously for four-five days (laughs). I have heard a lot about Special OPS and Money Heist, but I still haven't gotten into it. One or two movies a week is fine for now.
With Money Heist, we are talking four seasons!
Yes, exactly! All of my friends are going crazy over it. They are like you have to watch it and all. I will watch it eventually on tours whenever I get a chance. I get enough time on tours before and after we are done with our matches. Right now, just want to give all my time to my family.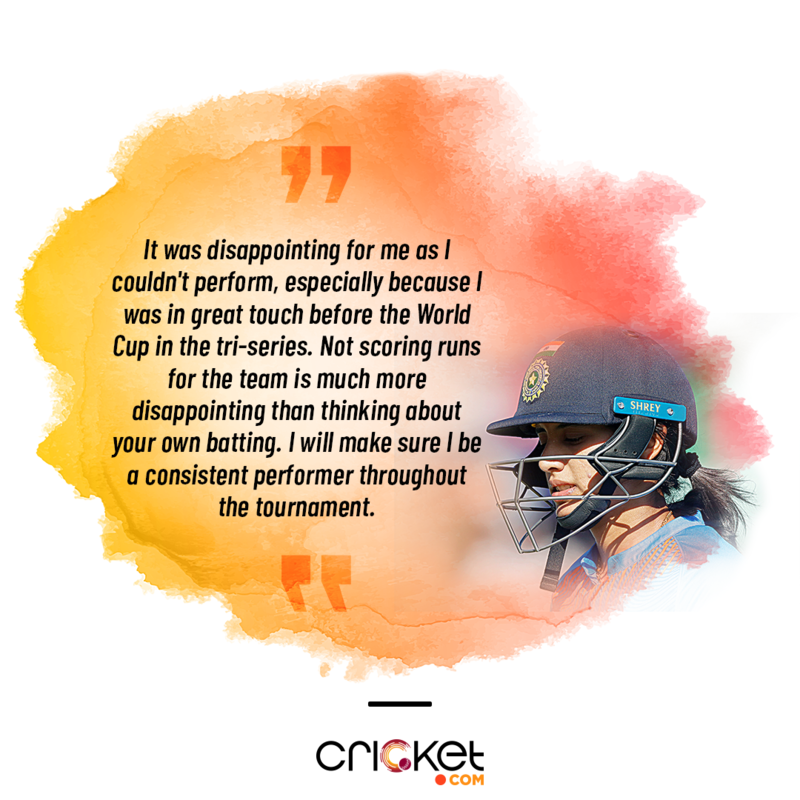 It's been over a month since that final against Australia. How do you reflect back on India's T20 World Cup campaign?
I think we had a good campaign. A lot of things to learn from. Like you said, it's been over a month now and we have had a chance to reflect on it. There are lots of things we can improve as a team. I guess throughout the tournament, not just in the final, there we had a bad day, we still have got areas that we need to work on. We know what needs to be done and once this lockdown is over, we will get back to work.
This was India's third defeat in the knockout stage in the last three years. As a senior player, did you have a chat with all the young players?
We didn't have a long chat or talk about it this time around. We left the players and even our support staff gave us the time to introspect, because after every World Cup we have a long chat about how we can bounce back from this. This time it was more about introspecting ourselves. Yes, we did have a brief chat about how the tournament went. This kind of failure is good for a player. It gives them a chance to sit down alone in their own space and think about it rather than talking about it. I guess every team member was given some space to think about their game and how we can improve as a team.  
Prior to the World Cup, you were in outstanding form but things didn't quite go your way once the tournament started.
It was disappointing for me as I couldn't perform, especially because I was in great touch before the World Cup in the tri-series. I was really looking forward to the World Cup. I was batting well and the wickets were flat as well, but it didn't happen in the main matches. Of course, I can learn from it but it still stings how I was getting out. It was disappointing to not contribute to the team let alone your own form. Not scoring runs for the team is much more disappointing than thinking about your own batting. I will make sure I be a consistent performer throughout the tournament.    
But a 16-year-old Shafali Verma stepped up. It's generally you who play the role of an aggressor at the start but with now her at the other end, does it make your job slightly easier?
It's a bit of changing of roles. It becomes slightly easier for you if you are not having a great day but you have Shafali at the other end scoring runs at a good pace. It gives you a chance to take your time and once you find your rhythm, you can launch as well. It's a bit different for me to play with her because it doesn't happen often that someone starts hitting from ball one. It's also about adapting to different situations as well. It's good to bat with her.
India have got a very young side. Do you think we are moving in the right direction? You all must be eagerly looking forward to the 2021 World Cup in New Zealand?
Every World Cup experience is helping us get better as a team. Especially our fielding has been really good, apart from that final of course. Yes, there were a couple of drop chances but we have progressed well as a team in the last two-three years. We are moving in the right direction. We have so many youngsters in the team and the average age of our side is somewhere around 22-23. It's really good to be a part of an atmosphere where you know players need to grow. And still, we ended up reaching the final. It's a good feeling but definitely we need to get better in handling the pressure of knockout matches.
Mentally, the preparations have started for the next World Cup. Physically, whenever the lockdown is over we will start. I know what I have to do but this is a very uncertain situation. At this point of time, we don't know anything, when we will start practicing and when we will be able to go out. At this moment, we can't plan anything but mentally we need to be prepared whenever we get the chance to play again.
Post the World Cup, skipper Harmanpreet Kaur said that India are five-six years behind Australia and England in terms of major-tournament experience. But the people in India now expect you to win major trophies. Does it put extra pressure on the team?
If a team is doing well for the last two-three years, not just in the World Cup, but consistently on tours as well, I think it's fair on fans to expect big things from us. Such expectations will only help us become more responsible. We love that people have started expecting us to win and that helps us push ourselves 10 percent more. Earlier, people didn't even know when we are going for the World Cup and what's happening in women's cricket but now people are looking forward to us winning the World Cup and winning matches. I think that's a positive side of it. We have been putting up good performances, especially in CB ODIs. Since the 2017 World Cup, we have won 8-9 series and people would have high expectations from you. It's a good thing, it won't hamper our performances.  
What's your take on the Women's IPL?
I think at this moment, BCCI is moving in that direction. We started with two teams in the Women's T20 Challenge. Last year, we had three and it might have been four this year. But now can't say anything because of this pandemic. We are moving in the right direction and IPL is definitely going to help us in major tournaments, especially with the experience part. Whenever it starts, whenever it happens, it's only going to help women's cricket grow. It will help all the players to be better prepared for the major tournaments.  
On a lighter note, if you have to pick one team-mate you would love to isolate with and one you would hate to?
I think I am happy with my family only (laughs). I see my team-mates for eight to nine months a year!
Okay, I wouldn't pick just one. We have a small group of five people - me, Jemimah (Rodrigues), Arundhati (Reddy), Harleen (Deol) and Radha (Yadav). We together have a lot of fun on tours. It's not a "group group" but we are really comfortable with each other. We go for dinner together. Five of us in isolation would make a good company.
And one I wouldn't? I don't think I should be saying this, but probably Jemimah alone (laughs). I would like to have her with all these other girls, but single Jemi, no. Actually, I like her a lot and love spending time with her. There's not a single person in the team I would not like to isolate with. Even if I have just one company, we can chuck balls to each other even at home.
Lastly, tell us about your ever-going 'friendly' banter with Jemimah Rodrigues? You two even have a show coming up.
Yes, we do have a show coming up on YouTube. We have developed a great bond in the last two years. We were room-mates initially so we always had that bond where we can tell each other anything. We have a lot of fun. We even make fun of each other. It's fun to have a little bit of banter with her. I am not much active on Twitter but I always reply to her on Instagram. Especially whenever she sends me a screenshot that she has tagged me somewhere. We enjoy batting together as well. And the show coming up will reflect the bond we share. Anyway, there's not much to do right now. It will be a fun show.