A term predominantly used in the English Football world, Wikipedia defines 'second season syndrome' as "a downturn in form suffered by a team in their second season after promotion, having performed relatively well in their first season."  
Interestingly, it is a phenomenon that occurs often. And it is not something restricted to just teams. Quite frequently, individuals who endure a breakthrough season suffer a drastic dip in form in the very next campaign, and almost never scale the same heights ever again. 
Rajasthan Royals still have a minimum of 3 matches left in their IPL 2021 campaign, but thus far it has been evident that Rahul Tewatia has suffered a second season syndrome.
In IPL 2020, Tewatia, in his first season for the Royals, put up numbers that were elite. He struck 255 runs at an average of 42.50 and a SR of 139.34, while also taking 10 wickets at an ER of 7.08. In the entire competition, he was the only Indian to do the 250 runs + 10 wickets double. Marcus Stoinis was the only other player to achieve the feat. 
Put simply, Tewatia in IPL 2020 was unstoppable. 
It was this form that led to his eventual Indian call-up for the five-match series against England. That he didn't make the cut due to fitness issues is a completely different thing altogether, but the management were confident that Tewatia could fill the void left by the absence of Ravindra Jadeja. And their judgement was not flawed - even Jadeja hadn't completed the 250+10 double in a single season that Tewatia did in IPL 2020.
So understandably, expectations were high heading into the IPL 2021 campaign. Tewatia was no longer seen as an uncapped Indian player who could chip in with valuable contributions; he was viewed as a superstar who was one of RR's x-factors.
11 games into the season, however, Tewatia has hit unforeseen lows - with both bat and ball. The all-rounder has struck 99 runs at an average of 12.37, while taking 4 wickets at 72.50 a piece. Since his IPL debut in 2014, in no season has Tewatia performed so poorly. It is a far, far cry from the match-winning showings he was dishing out game in and game out in IPL 2020.
What has gone wrong with Tewatia the batsman?
If the answer to 'what has gone wrong with Tewatia' were so straightforward, both he and Rajasthan would have fixed it by now. But it is worth delving into a few details of his struggles with the bat this season. 
The biggest contributor to Tewatia's drastic drop in form with the bat has been just how much he has struggled against the quicker bowlers. Tewatia had his struggles against spin last season too, but he was indomitable against the quicker bowlers. He averaged 50.5 against pacers and struck at 160.32, getting dismissed only 4 times across 11 innings. In fact, 79.21% of his runs for the entire season came against the quicker bowlers.
The tale has been completely different this time around. Against the quicker bowlers, Tewatia's average has dropped from 50.5 to 11. He has struck at under 125, has defended almost twice the number of balls and has played an absurd amount of dots.
What's bizarre is that it is not even that the pacers have devised a different strategy for him this time around. Tewatia latched on to anything full (2-6 m) or on a good length (6-8m) in IPL 2020, and it is where the seamers have predominantly bowled to him this time around, sending 58% of deliveries between the 2m and 8m mark. And yet against those two types of deliveries, the southpaw has struggled in IPL 2021, scoring just 34 of 36 balls whilst getting dismissed thrice. 
And it is not even that he has been swinging and missing. Quite inconceivably, Tewatia has defended a staggering 42.1% of the good length deliveries he's faced this season. Last season, this very same figure stood at 4.8%. 
In essence, there has been a glaring lack of intent and urgency with the bat this season on Tewatia's part. Not just against the pacers, but against the spinners too.
As was mentioned earlier, Tewatia, despite having a great season in IPL 2020, still had his struggles against spin. He only got dismissed twice, but struck at a SR of just 93. What he did do, however, was try and rotate strike, at the very least.
That has not been the case this time around. In IPL 2021, the all-rounder has struck at a SR of just 75.9 against the spinners. Notably, he has defended a staggering 41.4% of the balls he's faced, nearly 20% more than what he did in IPL 2020.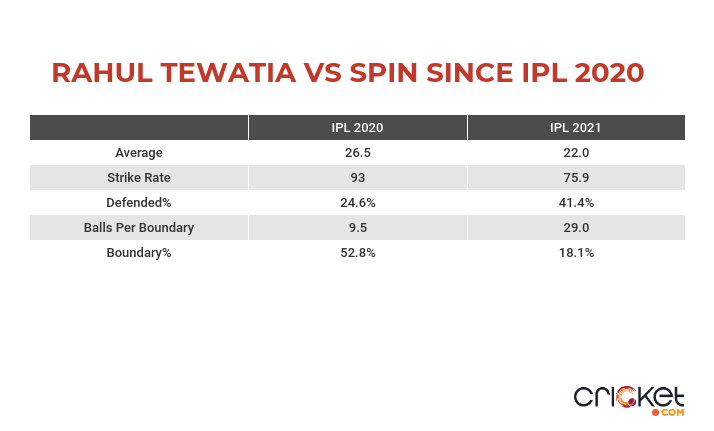 This overall lack of intent and urgency with the bat this season has been evident almost from the moment he's walked to the crease. In IPL 2020, Tewatia tried to attack nearly 60% of his first 8 balls. His SR was poor, but despite having the reputation of someone "who bides his time", the intent was there. 
This time around, Tewatia has attacked just 47% of his first 8 deliveries, and, worse, has defended almost twice the percentage of deliveries as he did last season. This has resulted in him starting off unacceptably slow, striking at just 75.5 in his first 8 balls. It hasn't even been an approach that has paid off, either, for his average in his first 8 balls has dipped from 38.5 to 10.0. 
***
The numbers and trends are reflective of a batsman who is confused; a batsman without clarity.  Last season Tewatia fed off his own confidence and used it as a tool to gun the bowlers down with the bat, but things have been anything but the same this time around. Lack of runs and confidence have distorted his thoughts to the extent that he no longer is aware of the method that works for him. 
The struggles of Tewatia the bowler - less concerning
As much as Tewatia was an x-factor with the bat in IPL 2020, he was also extremely effective with the ball. He did not take too many wickets, but he still did a tidy job in keeping things tight during the middle-overs, conceding runs at an ER of just 7.08. This season, however, that number has jumped to 9.06, and he's not taken even half the number of wickets as he did in IPL 2020.
But unlike with the bat, there is logical explanation to why Tewatia's numbers with the ball have taken a beating this time around. And there are mitigating factors too.
For one, Rajasthan have an overall improved bowling attack this time around, and this has meant that teams have identified Tewatia as the weak link to go after - something that did not happen last season. 
In IPL 2020, as many as 7 RR bowlers (who played 3 or more matches) conceded at over 8.5 runs per over. This meant that, more often than not, the runs were flowing, and teams were happy to milk and block Tewatia; seldom did they willingly go after him.
But this time around, the additions of Morris, Mustafizur, Sakariya, and the improved versions of both Tyagi and Unadkat have meant that teams have consciously looked to take on the part-time leg-spin of Tewatia.
In IPL 2020, batters only attacked 52.2% of the deliveries bowled by Tewatia, defending 22.1% of the 276 balls he bowled. 
In comparison, this season, teams have attacked nearly 61% of the balls bowled by Tewatia, while defending just 12.5%. 
Then there's the rotten luck with respect to venues. In the first leg of this season, Tewatia played all seven matches in either Mumbai or Delhi. Statistically, those two venues have been a graveyard for spinners this season, boasting the worst ER and average.
It is true that the venues have played a part in Tewatia's figures looking as bad as they do, as his numbers have improved drastically in the Middle East.  This season, in the UAE he's averaged 47.5 and has an ER of 7.9, in comparison to figures of 97.5 and 9.8 in India.
***
It goes without saying that Tewatia the bowler has underperformed this season, but there is light at the end of the tunnel. And there have been signs that he's finding back his rhythm with the ball, with him conceding at under 8 RPO in three of his last four innings. 
That is not, however, the case with Tewatia the batsman, and that is what will ultimately concern Rajasthan. 
Finding form in the next three games might not resurrect RR's campaign, but Tewatia will go a long way in stopping his IPL stocks from plummeting by getting back to his best with the bat before the season concludes.