Playing a Test match after nearly six years, India gave it all in their only Test of the tour. A dull performance in the first innings followed by some match-saving batting in the second, India unearthed some extreme talents. The young Shafali Verma made a grand entry as she set the record books ablaze. It was not only Shafali, the Indian debutants did have a good day at the office. Here are some of the stats that were broken in the only Test:
Opening partnership that set the tone
After conceding nearly 400 runs in the first innings, India had a great start in their first innings. Smriti Mandhana and Shafali put on 167 runs for the first wicket. But, Shafali fell four runs short of a century, hence, breaking a record partnership. That was it for the Indians, as they collapsed to 231 after a massive opening partnership. Therein, their opening partnership alone contributed 72.3 percent of the runs, the second-highest contribution by a partnership in a completed innings.
Collapsing like a house of cards 
Usually, a 150-run opening partnership sets the tone for the rest to go big. However, that wasn't the case for India in the first innings. India managed to post only 64 runs for the next nine wickets. Only once has India collapsed for fewer runs and it was against West Indies in 1976 in Jammu. The last nine wickets had put on only 37 runs in the third innings.
The young sensation in Shafali
If there is something called a dream start, Shafali is the precedent of it. In her first innings she might have missed out on becoming the first Indian women batter to score a century, but her score of 96 was already the most. 
The records wouldn't end there. In the second innings, when she scored yet another half-century, she became the first Indian women batter to achieve this feat and fourth overall. In total, Shafali accumulated 159 runs on her debut, which is the third-highest for women on debut.
Debutant's making merry
Shafali was not the only one who had a great start to their Test career. There were five Indians and one from England who were handed their debut. Each one of them had a great outing, except for Pooja Vastrakar.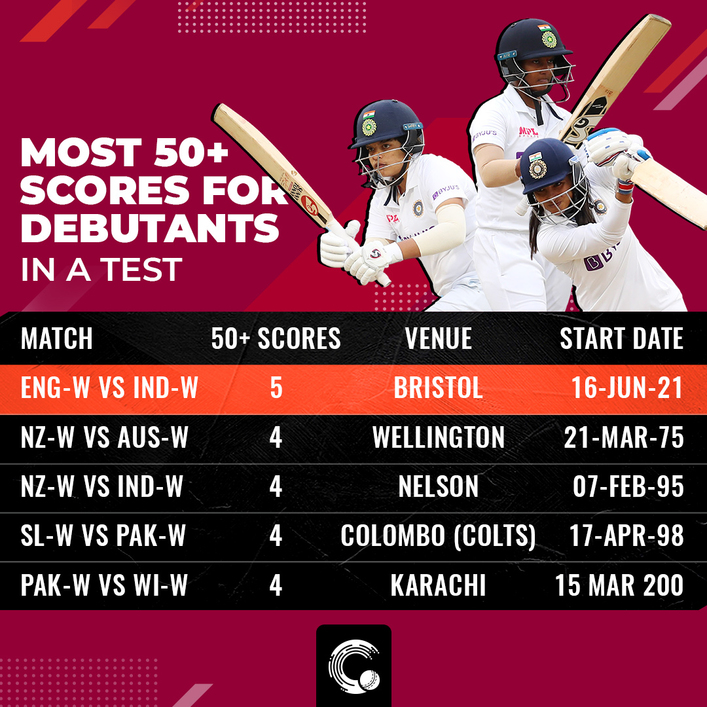 Out of the six, four of them registered a half-century. In total, there were five 50+ scores from debutants in this match. In no other Test match including the men's Test has there been more than four. Sophie Dunkley 74*, Shafali 96 & 73, Deepti Sharma 54 and Sneh Rana 80*.
Four-wicket haul and a fifty
Sneh Rana was one among the five Indian debutants in this match. Just like Shafali, Rana also had a debut to remember, with both bat and ball. In the first innings, Rana bagged 4 wickets. Though she failed with the bat in her first innings, Rana made a great comeback with a match-saving innings while India were following on. 
By virtue of a half-century in the second innings, Rana became the third Indian allrounder to bag four wickets in a match and register a half-century. More in her praise, she is the first Indian allrounder to bag a 4-wicket haul in an innings and register a 50+ on debut Test.