Since the World Cup was played for over two months, we had enough time to discuss strategy, focus on mental conditioning, etc. But it was the World Cup final and India are playing in front of the home crowd. So, there were butterflies in everyone's stomach. I spent a sleepless night before the final. We had to reach the stadium by 12.30 pm, but the crowd had gathered in front of the hotel and on the way to the ground. So, we had to use decoy buses and different routes to reach the venue. By the time we reached the stadium, it was already packed and the atmosphere was intense. 
Sri Lanka were a strong team. When they chose to bat first, we thought it will be easy for us to bat second. But when the target was 275, we knew we have to bat fifty overs to get to the target. After Sehwag and Sachin's dismissal, I went to the dressing room. Sachin and Sehwag were sitting there and I sat with them. As the partnership started developing between Gambhir and Kohli, Sachin instructed us that we should not change our places. Superstations overruled every emotion. We three ended up watching the whole match from the TV till the last ball.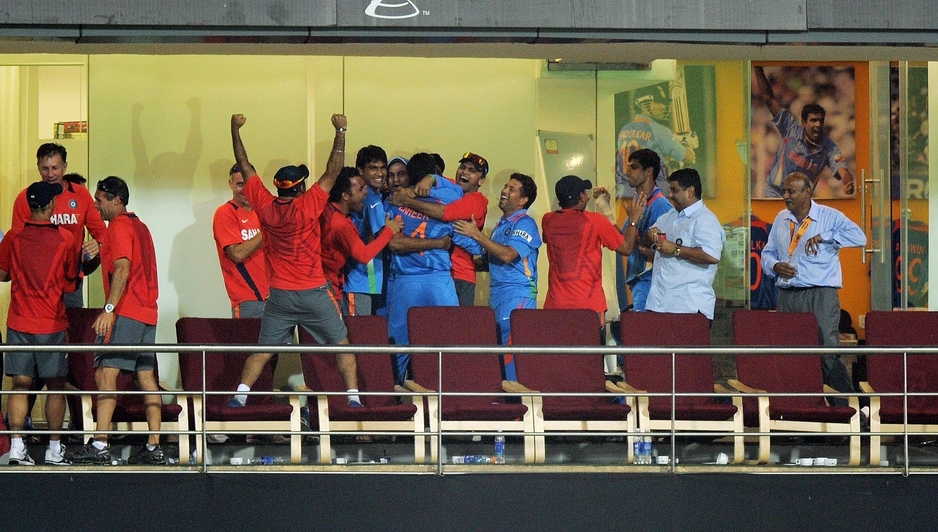 We celebrated with the family in the dressing room and we had a long night. Next day at 8 am, we had a photoshoot and we saw Dhoni coming out with his hair shaved. Dhoni had kept it to himself that if he wins the World Cup he will shave off his hair.
Ranjib Biswal is a former member of parliament and former Chairman of IPL.
 After losing Sachin and Sehwag early in the final match, we still had two of the best high-pressure players in the team – Gautam Gambhir and MS Dhoni. Gambhir has always been Sehwag's side-kick and he was never making it to the highlights package but he was the 'Rock' as Gary called him and he was the glue around the batting line-up. 
There was no conversation around promoting Dhoni ahead of Yuvraj but Dhoni knew that he hadn't performed in the previous seven games and that situation was perfect for him. I was sitting next to Kirsten outside the change room. Dhoni just knocked on the window, made a hand gesture that he is going next. It was a very courageous decision at the time. When Dhoni walked down the stairs from the pavilion I told Gary that this bloke is going to fetch us the World Cup and that was it.
It is without a shadow of a doubt that it is the most significant experience of my entire life. It was an unbelievable highlight and I don't know how long that electricity of ecstasy was buzzing in my body, in every cell and nerve. If one day I can find out how to bottle that experience and give people a pill, I will be the richest man in the world.
Paddy Upton is Professional Mental Coach and the author of the book - The Barefoot Coach
To be very honest, the atmosphere was quite overwhelming to reminisce the game. As a broadcaster, you are so busy with your work that you hardly think of the result. Everything started to dawn on me when I reached back the hotel - that Sri Lanka lost a marvellous opportunity of winning a World Cup. But the most interesting part of that night was how I reached the hotel.
I was working with BBC Test Match Special with Jonathan Agnew, Michael Vaughan, Sunil Gavaskar and a few others. After the game, there was utter chaos outside the Wankhede stadium. The roads were so packed that no vehicle could enter. Three of us (Agnew, Vaughn and I) decided to sneak through the crowd and seek a possible exit and whilst doing that we warned Vaughn. He was the only guy who could be noticed and we said 'be careful Vaughny'.
But he got noticed in the crowd and people were on top of Michael Vaughan and started hugging him. Agnew was running a fever. It was madness, plus there was no vehicle to get into. Add to that, none of us knew where the hotel was. We finally found a taxi with great difficulty but the issue was the driver couldn't understand English and that added to the drama. Finally, it was a policeman who eventually showed us our way. 
Roshan Abeysinghe is an international cricket commentator 
"A few hundred million people will be watching, so no pressure". 
This was the common refrain among the broadcast crew at the breakfast buffet. Some were beaming, some were nervous, but everyone was excited.
I remember asking the director of the broadcast, my friend and colleague Deepak Gupta how he felt, as we made the short walk from the hotel to the Wankhede Stadium. 
"It's just another match, and we've done so many", he replied.
The road to the stadium was packed. It seemed like all of India had descended upon the gates of the 33,000-seater stadium. 
Just another match, yeah right!
Up in the commentary box, amongst the stalwarts, Sourav Ganguly - two years into his commentary career, but engaging and never afraid to speak his mind - made his presence felt early. He had led India to the final two editions before and had an unshakeable faith that this time India would do one better.
Once the first ball was bowled, the process took over and it became business as usual. But some moments stand out in memory.
Often in big matches, the one strategic choice to make is to decide on the finisher – the "lead" commentator calling the game home. Much like MS Dhoni out in the middle, the commentary too needed to finish with a flourish. My choice on the big night was Ravi Shastri. From "in the air…Sreesanth takes it" in 2007 to "Dhoni finishes off in style" in 2011, Ravi has done much to immortalise these moments in the collective psyche of cricket fans.
During the memorable walk back, an impromptu carnival had materialized, and people were singing, dancing, tooting their horns all over Marine Drive. It was nice to soak in the atmosphere and to be able to appreciate what this game meant to its adoring fans.
Ajesh Ramachandran is the Executive Producer - ICC TV
What I remember the most about that night is when it was certain that India is going to win, my colleague and I came down from the press box and stood next to the sight-screen. There was a policeman standing there but with everyone being so happy at the time, he let us through and for the first time I heard that wall of sound and that was so elevating, it felt like an out-of-body experience. 
And then of course, Dhoni hit that six and then there was absolute pandemonium. We saw all the players come running down from the dressing room and when we saw Sachin, we were like, this is it!
I remember when we were sitting down late and typing our copies, there was one fan who jumped over the east stand barricade, entered the field and just dived on the grass with so much ecstasy.
All of us felt like that and it was just such a great day, I'll never forget it. In fact, the next morning, we went to buy something at this shop and everyone was so happy and I was like 'Congratulations' and they wished me back, so it was that kind of a day with everyone still happy.
Sharda Ugra is a senior sports writer
I must add here that the biggest high-profile match of my TV broadcasting career is the India-Pakistan semifinal at Mohali played just three days prior to the final. The who's-who of the world of politics, movies and business & industry were in attendance.
Being a part of the 'final' crew, we were asked to report to the swanky refurbished Wankhede Stadium at 9 am. I almost didn't reach the stadium as an over-enthusiastic cop refused to let me go, citing my laptop as a security risk. It took a huge amount of coaxing to finally get him to check my accreditation (he had earlier refused to even look at it) and a couple of phone calls to the production manager before he reluctantly let me go.
The crowds started entering by 12 PM and the noise level increased with every passing minute. Some of my all-time favourite commentators featured in that game, including Sunil Gavaskar and Ravi Shastri. Having worked with them for many years prior to this game too was a smooth ride. I recall informing Ravi Shastri that with this win India have won a 60-over World Cup, a 50-over World Cup and a 20-over World Cup - a record that is now impossible to surpass!
After the game, it took me almost an hour to just get out of Wankhede Stadium and onto the road. Nearly a lakh Mumbaikars were waiting outside for the team bus. They were dancing on top of their vehicles. It was impossible to walk outside the stadium. 
Finally, much after midnight, I was able to find transport before proceeding home exhausted but happy!
Mohandas Menon is a cricket statistician