Mumbai achieved glory on a special night for them by winning against Delhi. Here are the major statistical highlights from the 2020 IPL final:
Rohit Sharma becomes the second player to 200 matches in the IPL
Rohit Sharma when stepped out for the toss before the final was playing his 200th IPL match. He is the second player in IPL to achieve this feat, MS Dhoni earlier in the season, became the first. Starting off, Rohit was a part of the now-defunct Deccan Chargers from the inaugural season of IPL till the 2010 edition. He was a member of the 2009 title-winning Deccan Chargers XI. Then, in 2011, he moved to Mumbai Indians and has been with the franchise till now. Currently to date, he has played 45 matches for Deccan and 155 matches for MI.  
Most wickets in the first over of an innings in a season
All a team needs from a strike bowler is to provide a good start. For MI, it has been Trent Boult who has been a specialist at this job. Boult has the reputation of being a wicket-taker with the new ball, and throughout this season he has been up to it. Boult had 16 wickets in the Powerplay this season, which is the joint-most by a bowler in a season of IPL. Mitchell Johnson in 2013 also had picked up 16 wickets in the first six overs. A cut above, out of the 16 wickets he had in the Powerplay, 50 percent (8 wickets) of those came in the first over of the innings. Those eight wickets are the most a bowler has bagged in the first over of an innings in a season of IPL.
Second-most dismissals in a season
Among the current lot of wicketkeepers, Quinton de Kock stands out as one of the best. It is not just about his attacking instinct with the bat in hand, his agile wicketkeeping is something to behold as well. In the 2020 edition of IPL, de Kock had 22 dismissals to his name, which is the second-most by a keeper in a season of IPL. Rishabh Pant in the previous edition, had 24 dismissals, which is the most. Out of the 22 dismissals, 18 of them have been catches.
Most 50+ partnerships for Delhi Capitals
Shreyas Iyer and Pant, in a short time, have been the most successful pair for Delhi Capitals. They are the only pair for DC to put on 1000+ runs as partners in the IPL. In today's match against MI, from a grave situation the two put on a 96-run partnership. With that, the Iyer-Pant partnership registered their tenth 50+ stand in IPL. Hence, they became the first pair to achieve the feat for DC in IPL. On another note, the 96-run stand is also the highest between the two. Their previous best was against Royal Challengers Bangalore (93) in 2018.
Most successful batsman for Delhi Capitals in IPL
DC have produced some of the finest batsmen in IPL. The likes of Gautam Gambhir and Virender Sehwag are a couple. As a matter of fact, David Warner and AB de Villiers started their IPL journey with Delhi. Now, Iyer has taken over, Pant is also not far behind. During his unbeaten 65 against MI in the final, Iyer overtook Sehwag's tally of 2174 runs to become the most successful batsman for DC in terms of runs. This was also Iyer's sixteenth 50+ score for DC, which is the joint-most for a DC batsman in IPL. He currently has 2200 runs in 79 innings he has played.
Most runs for Shreyas Iyer in a season
Iyer made a grand entry to his IPL journey when he scored 439 runs in the 2015 edition. However, he failed to create an impact in his next stint. His failure in the 2016 edition, didn't hamper his progress as he notched up 300+ runs in 2017. Thereon, his progression graph has gone higher and higher. In 2018, he amassed 418 runs and followed it up with 463 in 2019. This season has been the best of them all. For the first time in IPL, he breached the 500-run mark and this has certainly been one of the reasons behind a near-successful campaign for DC.
Most runs scored in Powerplay this season
Why wouldn't a team end up on the winning side when its opening bowler has the most wickets inside the Powerplay and its opening batsman has the most runs in the same phase. If Boult has been the best with the ball, de Kock has been with bat. De Kock has scored 503 runs this season, out of which 309 runs (61.4%) have come in the first six overs. The 309 runs scored by de Kock is the most a batsman has scored in this phase this season.
Joint-highest Powerplay score in a final
In a final, whether batting first or chasing, a good start is what lifts the momentum of the team. Probably, this is one of the reasons why DC's innings never got going. On the other hand, MI didn't back down even if they were chasing an average target of 157. As always, de Kock went after the bowling from the word go. For a change, Rohit also followed suit as he announced himself with a six against Ravichandran Ashwin in the first over. Though de Kock lost his wicket inside the Powerplay, MI managed to post 61 runs which is the joint-highest score in the first six overs of a final. The other score of 61 was also scored by MI in 2015 against CSK.
Second-highest score by a captain in a final
The man with the most experience in playing a final, stepped up at the right time. Rohit has been a part of six finals and has won all of those. As a captain, Rohit has five titles under his belt, which is evident enough to say he is one of the most experienced in finals. Rohit registered his second 50+ score in an IPL final, his first one coming against CSK in 2015. Today he scored 68 runs to propel MI to an easy victory. The 68 runs scored is the second-highest by a captain in an IPL final. Warner in the 2016 final against RCB had clubbed 69 runs, which is the highest. Another interesting stat, this was only the second instance of both captains scoring 50+. In the 2016 final, both Warner (69) and Virat Kohli (54) had posted 50+ scores and today, Iyer (65*) and Rohit (68) got to their half-centuries.
Second-most wickets in a debut season
Coming in as a replacement, Anrich Nortje turned out to be DC's lifeline alongside Kagiso Rabada. The raw pace of Nortje was one of the most fascinating part of his debut season. The 156.2 kmph thunderbolt he bowled against Rajasthan Royals, the fastest in IPL history, is proof of his raw pace. Nortje ended up as the second-best bowler of DC this season with 22 wickets to his name. Nortje is the sixth bowler in IPL history to bag 20+ wickets in his debut season. The 22 wickets are the joint-second most by a bowler in his debut season. Sunil Narine (2012) and Mitchell Johnson (2013) had 24 wickets in their debut seasons which remains the highest.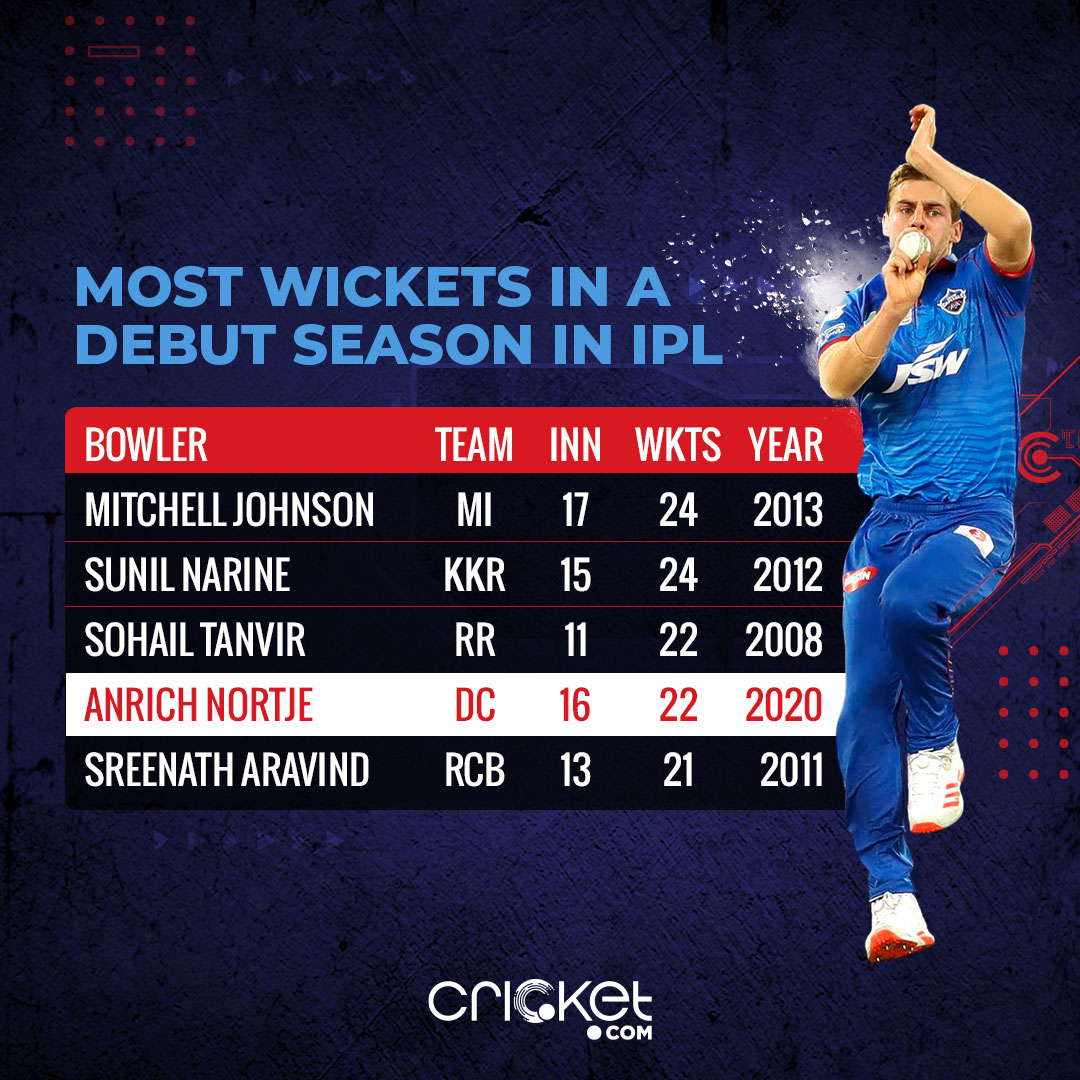 Second-most runs for an uncapped batsman in a season
This season of IPL has seen a lot of uncapped players emerging as top run-getters. Devdutt Padikkal amassed 473 runs to announce his arrival into the big league. Suryakumar Yadav, once again showed why he is one of the batsmen at the doorstep of a national call. However, among these uncapped, the pocket dynamo from Jharkhand, Ishan Kishan shone as the best. In a team that consists of explosive batsmen like Rohit, de Kock, Suryakumar, Hardik Pandya and Kieron Pollard, Kishan to rise as the best, concludes a blissful season for him. His 516 runs is the most by an MI batsman this season and the second-most by an uncapped player in a season of IPL. To add to his electrifying season, Kishan has smashed 30 sixes, which is the most by a batsman in IPL 2020 and the second-most by an MI batsman in a season of IPL.
The most successful team in T20 history
When talking about MI, words can sometimes fail to do justice. The simplest mantra that keeps MI going is these wise words said by Rahul Dravid: "You don't win or lose the games because of the 11 you select. You win or lose with what those 11 do on the field." Every now and then a new hero emerges for them when needed. Which is undoubtedly one of the reasons why MI has the most titles in IPL history. Not only in IPL, their five titles are the most by a team across any major T20 league. This season's IPL title would be special because of one reason. Though they had four titles prior to this, none of those came when they had to defend their title. By winning this season, they became the second team to defend the title after CSK did it in 2011.