In addition to holding the important batting records, Sachin Tendulkar is perhaps the most written and read about cricketer as well. The volume of runs, the longevity of his career, the flawlessness of his technique and all this under the weight of a billion expectations make him the most celebrated batsmen of all-time. 
On October 15th in the year 2000, Tendulkar went past Mohammed Azharuddin's record of 9378 runs to become the leading run-scorer in ODIs. A record that he continues to hold by a significant margin after almost twenty years. In 2001, Tendulkar became the first to reach 10,000 runs in ODIs as well. 
Back in the day, crossing the 10,000 run mark in ODIs was a Bradmanesque achievement. By adding 8,246 more runs to his tally by the end of his career, Tendulkar ensured that for every ounce of greatness, ODI batsmen in the future will have to pass the litmus test of his achievements. 
While 13 other batsmen have crossed the 10,000 run mark in ODIs since, none have reached where Tendulkar did on June 29th, 2007. This was the period when he had seven dismissals in the 90s in six ODI and one Test without a century in between. Playing against South Africa in Belfast, Tendulkar played his signature backfoot drive to the left of cover off Andre Nel on the last ball of the 18th over. Tucking his bat in both palms, letting it sway to and fro, he sprinted for a quick single. Gutsy for man run-out on 99 in just the last game. Nevertheless, that was his 15,000th ODI run. Probably as a contributory gesture to his celebration, the South Africans offered him four overthrow runs to take his tally to 15,004 on the same ball.
Sheer domination
In ODIs, Tendulkar opened for the first time in his 67th innings in 1994. Before this promotion, he averaged 30.8. For 19 years after this, he scored at an average of 47.1. Only four times in these years did his batting average fall below 40. The lowest of which was 27.5 during the tennis elbow year of 2005.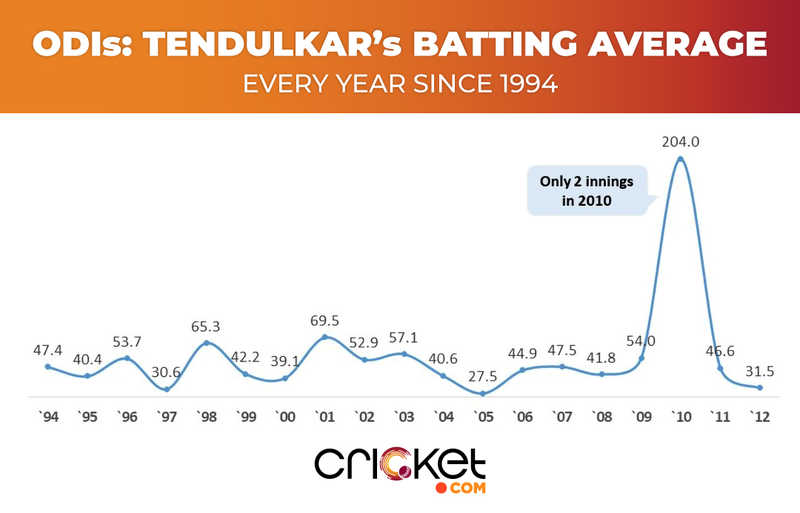 Tendulkar dominated the red and white-ball game in all conditions. He remains the only player to average 40 or above in every nation he played Tests in. In ODIs, he was far ahead of his colleagues irrespective of the conditions, especially in the second half of his career.
The protégées
At an event organized after Tendulkar's 100th international century, the Bollywood actor Salman Khan asked him if anyone could break his record. The humble man replied saying that he would not mind as long as it was an Indian player. He also pointed out that it can be the two present in the room then, pointing out to Virat Kohli and Rohit Sharma. 
In a prophecy as perfect as his elbow position after a fluent drive, after eight years to that day, it is only these two cricketers that stand a chance to come near his ODI records. 
Judging by is ever-lasting ODI form, there is a common assessment that it is only a matter of time before Kohli overtakes Tendulkar's record. A deeper look paints a clearer picture.
Since 2015, Kohli scores 56 runs, on an average, in every ODI innings. This is not his batting average, but simply the runs per innings. Excluding the outlier that is the year 2020, from 2015 to 2019, Kohli batted in 19 innings every year on an average. Given that he is 6,559 behind Tendulkar's tally of 18,246 ODI runs, it will take Kohli another 5.9 years to overtake him. 
There is a fair chance that India will not play an ODI in the year 2020. Hence, Kohli will be 32 when India plays an ODI next. Even, if he keeps batting at his current form, he will be 38 by the time he closes on Tendulkar's tally of runs. The chances for Rohit Sharma are bleaker. 
The record that is up for grabs for Kohli is Tendulkar's 49 ODI centuries. Currently 6 centuries behind, Kohli has a century in every 4.5 ODI innings since 2015. If the form continues, it will take him 32 innings or about two years to overtake Tendulkar.
Rohit has been more sublime than Kohli since 2015, with a century every 4 innings. But, given Rohit hit a purple patch almost five years after Kohli did, it will take him four and a half years at his current form to score 21 more centuries needed to cross Tendulkar's ODI tally.
With 7.5 centuries across formats every year in since 2015, Kohli can even overtake Tendulkar's record of 100 hundreds in about four years. All this, only if his domination continues at the current level. 
If not for those 28 nervous nineties, Tendulkar's record of centuries would also have been a bridge too far like his 34,357 international runs. Nevertheless, it was he who provided a broader vision of the achievable. He continues to fascinate the rest by his achievements, making them wish in private to be as big in stature as he is.