The weather in England is predictably unpredictable. With all the breaks, there were nearly 50 overs of play possible on the third day. A prospect that looked bleak according to the forecast. Before, the rain interruption on day three, India had mounted a massive lead of 95. KL Rahul was the major contributor and Ravindra Jadeja made the value of his third dimension – batting – felt yet again. Thanks to the cameo of 48 runs by the last three batsmen, India were able to post 278. 
James Anderson added another page in his book of records as he went past Anil Kumble to become the third-highest wicket-taker in Tests. Making his comeback, Ollie Robinson bagged his maiden five-for in Tests. The two bowlers were the highlight for England on the bowling front. Here is how day three transpired
As we head towards a climax, there are a lot of things to look forward to on day four. The focal point from a neutral perspective is England's batting, which was a huge let down in the first innings. But, apart from Dom Sibley and Joe Root, none of their top-7 batsmen averages more than 30 in the second innings since 2019. Not too long ago, Sibley and Root stitched an 80-run partnership to save the match against New Zealand. England batting has been one of the poorest in second innings in recent times. Among teams that have played 10+ matches since 2019, England's average of 25.8 is the second-lowest after South Africa (22.2). To their agony, they are up against one of the best. 
A SCORCHING PACE UNIT
India's pace unit has been the best in recent times, especially in the second innings. This is why England will have to bat out of their skin. In Tests since 2019, Indian pacers have bagged a wicket once every 41 balls and averaged 21.4 runs per wicket. In the aforementioned time, no team has bettered India in terms of strike rate or average. On average, teams have scored 193 runs in the third innings against India in a completed or a declared innings in this period.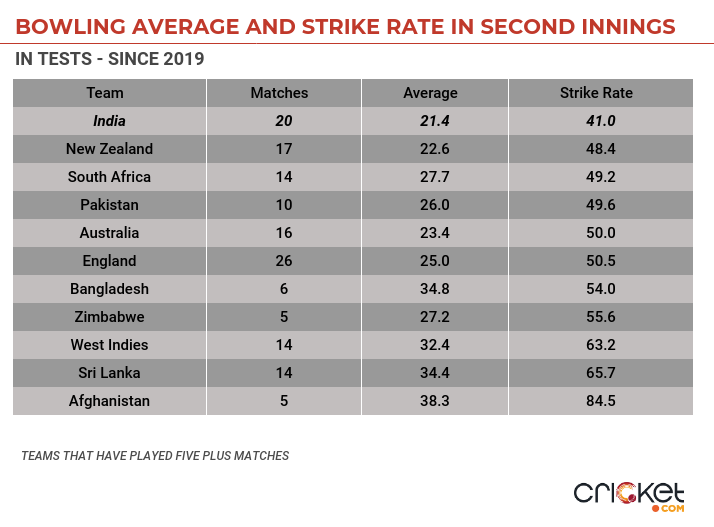 THE DESTROYER IN CHIEF SHAMI
Mohammed Shami has been the chief tormentor behind India's success in recent times. In Tests since 2019, Shami has been splendid for India. While bowling in the second innings he even betters his first innings record. Shami has bagged a total of 45 wickets in Tests since 2019. Out of which 27 of them have come in the first innings at an average of 23.4 and strike rate of 49.7. If this record is good, his record in the second innings is supreme. Shami has bagged wickets at an average of 15.8 and a strike rate of 31.2. Among bowlers who have bowled in 10+ innings, his strike rate in the second innings is the best among all. 
Out of the 18 wickets bagged by Shami in the second innings, 10 of those have come when he has pitched it on a length and has a bowling average of 10.3. But, he has been more effective when he has bowled short. In the 50 bouncers bowled in second innings, he has picked up wickets at an average of 2.3. Among bowlers who have bowled a minimum of 30 bouncers in this time, Shami's average is the best. 
England are still trailing by 70 runs with two more days left. They will be wary of Shami and India's record and will be rooting on Sibley and Root to bail them out once again. Also, not forget, when India have taken a lead of 75+ on English soil, they haven't lost a match (4 wins and 4 draws). Another factor that they will be relying on is the overhead conditions. The weather for the next two days seems to be similar to what it was on the third day. But, the result of the Test is just a collapse away.