Established in 2013, Sunrisers Hyderabad have finished in the top-4 in all but two seasons. In a competitive tournament like the IPL, we can view a top-4 finish as a successful campaign. SRH's success percentage of 71% is next to CSK with a trophy in the bag in 2016 to their name. For a team with impressive numbers, SRH make fewer headlines than other glamorous teams with celebrity Indian names enjoying a large fan following. 
Flying under the radar was a mantra set by Adam Gilchrist while leading the erstwhile Deccan Chargers after a disastrous first season in 2008. The Sunrisers not only retained most of the players from the Chargers but also the approach. In cricket, there is an age-old inequality in the volume of adulation batsmen receive as compared to bowlers. As a result, the approach of the SRH management to focus on building a stronger bowling attack helps them keep a low profile. 
Strengths
Bowling in Powerplay and Death Overs
An example of a plan leading to results, SRH has been the best bowling unit in IPL since 2018. An overall economy rate of 7.97 helps them nudge CSK's 8.08 and take the top spot.
Moreover, their economy rate is the best in the two most destructive phases of a T20 innings – Powerplay (Overs 1-6) and death-overs (Overs 16-20).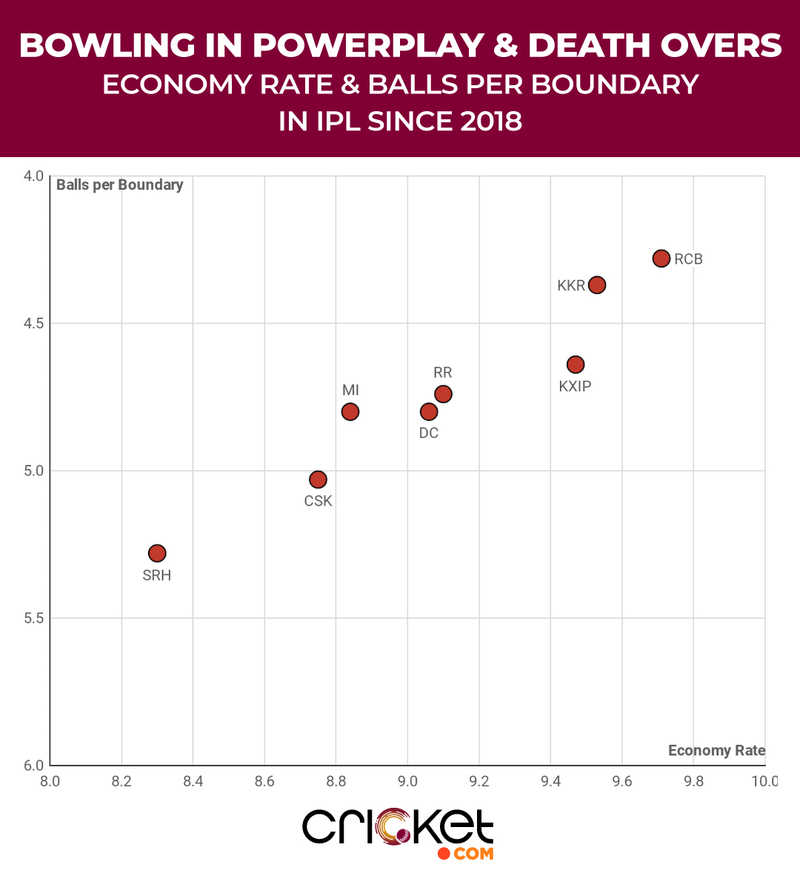 What helps them keep the run-rate down is the best balls per boundary record of 5.28 in these two phases. Boosting their economy rate is the presence of the most dangerous T20 spinner: Rashid Khan. He rarely has an off day with the ball. His economy rate of 6.5 since 2018 is the best among all bowlers with a minimum of 30 overs since.
Assisting him are Mohammad Nabi, Bhuvneshwar Kumar and Sandeep Sharma, each of whom has an economy of under eight. Bhuvneshwar, in particular, is an experienced head who excels with the new ball. His economy of 6.0 in the powerplay is the best among all bowlers with a minimum of 20 overs in this phase since 2018. Nabi too has done well with an economy of 5.6 in 16 overs he has bowled in powerplay since 2018.    
Batting in Powerplay
SRH might not have any big Indian names on the batting front. But, the leader of their pack, David Warner, is giving a tough fight to Chris Gayle on being the best IPL batsmen of all-time with each passing season. No player other than Warner has won the orange cap thrice. Two of these were in the last two seasons he played in (2017 and 2019). Making a return after a ban during the 2018 season, he was a man on a mission in 2019. Despite playing only the first 12 matches for his side, he ended with 99 more runs than any other batsman. 
Leading them in 2018, Kane Williamson upheld the ritual of an SRH top-order batsman winning the orange cap. With prolific run-scoring from their top-order in the last two seasons, SRH have the lowest balls per wicket record of 34.91 in powerplay while maintaining a healthy run-rate of 8.50.
Joining the team in 2019, Jonny Bairstow had an immense contribution to the team's success in the top-order. Like Warner, he too had to leave in the middle of the season. But, this was not before he scored 445 in 10 innings with a strike-rate of 157.2.
Areas of improvement
With the need for overseas players for the bowling and all-rounders slots, SRH can field only two of Warner, Bairstow and Williamson in an XI. Their first choice being the first two owing to a better hitting prowess.
Warner has a balls per dismissal record of 48.1 since 2018, second-best after MS Dhoni, who bats four or lower. Bairstow and Williamson, who bats at three on most occasions, also have a balls per dismissal record above 30 since. Hence, on most occasions, at least one of them is around for half of the innings or even later in Warner's case. The trouble for SRH starts after their dismissal.
Batting in Death Overs
Since 2018, SRH's run-rate in the middle-overs (7-15) dropped to 7.58. This is better than only three other teams. Whereas in the death overs, their run-rate of 9.20 is lowest among all teams. 
While the better teams have batsmen in the lower-middle order batting at a rate of 180 or above, batsmen like Yusuf Pathan, Manish Pandey and Deepak Hooda batted at around 140 or lower for SRH.
SRH have parted ways with Pathan and Hooda ahead of this season. But, their costliest buy in 2018, Pandey has a sub-par scoring-rate of 123.4 since 2018 and is yet to prove himself as a valuable investment.
Another young Indian player in the team, Vijay Shankar, has mediocre returns. With a strike-rate in mid 120s to go with an average of 20.33 in 2019, he has neither been dependable nor aggressive.
Wicket Taking Ability in Powerplay
On the bowling front, while most things have gone their way in the last two seasons, they will want to improve on their wicket-taking ability. They are the most economical bowling unit despite not being the strongest when it comes to taking wickets. Three other teams have a better balls per wicket record than SRH's 19.55. 
One of the reasons behind this is the approach of other teams against their alpha bowlers like Rashid and Bhuvneshwar. To prevent them from getting wickets, the batsmen play out their overs while attacking the other bowlers. Though being economical, Rashid and Bhuvneshwar have a balls per wicket record of 20.2 and 28.7 respectively since 2018. 
While Rashid's wicket-taking rate is decent, Bhuvneshwar has had a dry run in the last two seasons. This setback is defining in the powerplay, where the SRH's bowler's average 27.43 balls per wicket, better than only KKR and DC.
In the first six overs, Bhuvneshwar has taken only 6 wickets at 56 balls apiece since 2018. Lack of wickets with the new ball can hurt them against batsmen who can go big if allowed to settle in.
Prospects for 2020 
Unlike the last season, Warner and Bairstow will be available for the crucial last phase of the tournament. Although the management will still have to beat their head around the choice between Bairstow and Williamson. Given the tournament is in UAE, it will not be a surprise to see Williamson preferred due to an overall better batting technique.
The move to shift IPL in UAE can prove to be a blessing for the team which has the two most travelled T20 spinners. On slow turning tracks in UAE, Rashid and Nabi can be more impactful than they were in India. Moreover, their recent adventures with the bat can diminish SRH's worries in the death overs. Rashid is playing cameo with the bat frequently while Nabi is now a genuine all-rounder. His performance with the bat and ball resulted in him being one of the most impactful player in this year's CPL. He won the St Lucia Zouks several matches single-handedly.
As for the issues, Shankar is still to prove the hype created around him during the 50-over World Cup in 2019. A Bhuvneshwar marred with injuries and diminishing returns is falling in the ranks in the Indian side as well. As for Manish, we can expect a bigger impact from him after a good run with the Indian T20 side earlier this year.
One player who can surprise everyone and end SRH's lower-middle order woes is the 18-year old Abdul Samad. Representing Jammu and Kashmir, Samad hit two centuries and three fifties in the 2019-20 Ranji Trophy while batting at a strike-rate of 112.97. A clean-hitter especially against spinners, he hit 36 sixes in the tournament, most by any player. 
Two other young players to look forward to are Virat Singh and Priyam Garg. Playing for Jharkhand, Virat scored 682 runs at an average of 56.8 and a strike-rate of 135 in the last the two editions of Syed Mushtaq Ali Trophy. Garg led the Indian team in the recent Under-19 World Cup.
Overall, SRH continue to be a strong unit. However, they would hope that the domestic batsmen can share the load with the overseas firepower. Similarly, while they have a strong overseas contingent of spin bowling options, the pace attack of Bhuvneshwar and co will also have to find ways of getting wickets on helpful UAE tracks.
Ideal XI