Debutants make merry against India 
In the third Test, Will Pucovski who was expected to make his debut in the first Test of the series, was capped as the 460th Australian. Generally, India has been one of those teams which has been a favorable one for debutants. Though, Pucovski got away with a few chances, he compiled a well-deserved half-century. En route his half-century, he registered the 25th score of 50+ by a debutant against India since 2000 in Tests, which is the most against an opposition.
Steve Smith equals the century tally against India 
How rare is it to see Steve Smith missing out on runs? Let alone the centuries and half-centuries, he struggled to reach double digits in the first two Tests, that too against India. At the start of a new year, Smith was back to his usual self. Hungry for runs, Smith pounced on every opportunity to notch up his eighth century against India in Tests. Hence, he joined an elite list of people who have scored the most centuries against India. Ricky Ponting (AUS), Sir Viv Richards (WI) and Sir Garry Sobers (WI) have recorded as many centuries as Smith has against India in Tests. 
Second-fewest innings to 27 Test centuries
Smith and Virat Kohli, these two inevitably incise a record when they bat long. It was Smith who did it this time. Smith reached his 27th Test century in the first innings of the third Test. He reached the feat in 136 innings, which is the second quickest by a batsman after the legendary Sir Donald Bradman. 
Slowest Test half-century for Cheteshwar Pujara
Cheteshwar Pujara's intent is one of those things that has been questioned a lot or criticized. But, all those hasn't budged India's number three. In the first two Tests, Pujara couldn't mimic the performances he had when India toured Australia last time. On a slightly flat track that had some tweaks here and there for the bowlers, Pujara had to work hard for his half-century. He reached the milestone in 174 balls, which is his slowest half-century in Tests. Prior to this match, against South Africa in Johannesburg in 2018, he took a ball lesser. Also, since the start of 2001 in Tests on Australian soil, this was the second slowest after Faf du Plessis' 181-ball feat in Adelaide in 2012.
Pujara, Pat Cummins' bunny
A world-class batsman against a world-class bowler, a mouthwatering contest is always on the cards. Prior to the third Test this series, Pujara had his troubles against Pat Cummins. In the four innings, Cummins had the better of Pujara thrice and the latter had a batting average of 4.7 against him. Though Pujara survived the initials scares in the first innings of the third Test, eventually he fell prey to Cummins for the sixth time after a well-made half-century. For Pujara, only Nathan Lyon (10) and James Anderson (7) have dismissed him more. As for Cummins, Pujara has been his second-best bunny, Joe Root still seems to be the favorite with seven. 
Poor running between the wickets?
The current Indian squad certainly set high standards when it comes to fitness, skipper Kohli leads as an example. However, there are a few players who lag behind. In the first innings of the third Test, Hanuma Vihari, Ravichandran Ashwin and Jasprit Bumrah were dismissed via a run-out. Out of which, Ashwin's run-out was majorly because of his dodgy running and the other two off outstanding fielding. The last time three or more Indian batsmen were dismissed through run-outs in an innings was in 2008 against England in Mohali. Overall in Tests, there have been seven instances where India have lost three or more wickets in an innings through a run-out.
Ashwin has the better of David Warner for the 10th time
Regardless of the success a batsman achieves in his career, there is always one bowler who always will be their nemesis. Anderson for Sachin Tendulkar, Lyon for Kohli and Pujara. Likewise, Ashwin has had the better of David Warner in Tests dismissing him 10 times. This is the most Ashwin has dismissed a single batsman in Tests. As for Warner, Ashwin is the second bowler to account him for 10 or more times in Tests, Stuart Broad with 12 has the most. It is just not in India, even on Australian soil, Warner has an average of 7.2 against Ashwin in six innings.
Steve Smith notches up yet another record
He is 31 years old and already has numerous records to his name. In the second innings of the third Test, he engraved another one to his name on the back of a half-century. Smith registered a century and a half-century in the same Test for the 11th time, the joint-most among all batsmen. With consistency like this, no wonder he has an average of 62 – the second-highest among batsmen with 1500 runs – in over 100 matches played. 
Pujara's resilience
Let alone chasing, looking to draw out a mammoth target of 407 on a difficult fifth day pitch is a huge task. It requires one batsman to anchor one end and others try to a make chase of it. In the current Indian squad none apart from Pujara has the ability to play the anchor role. With Rishabh Pant going hard at one end, Pujara stayed put to face 205 balls, which is the most he has faced in the 4th innings of a Test.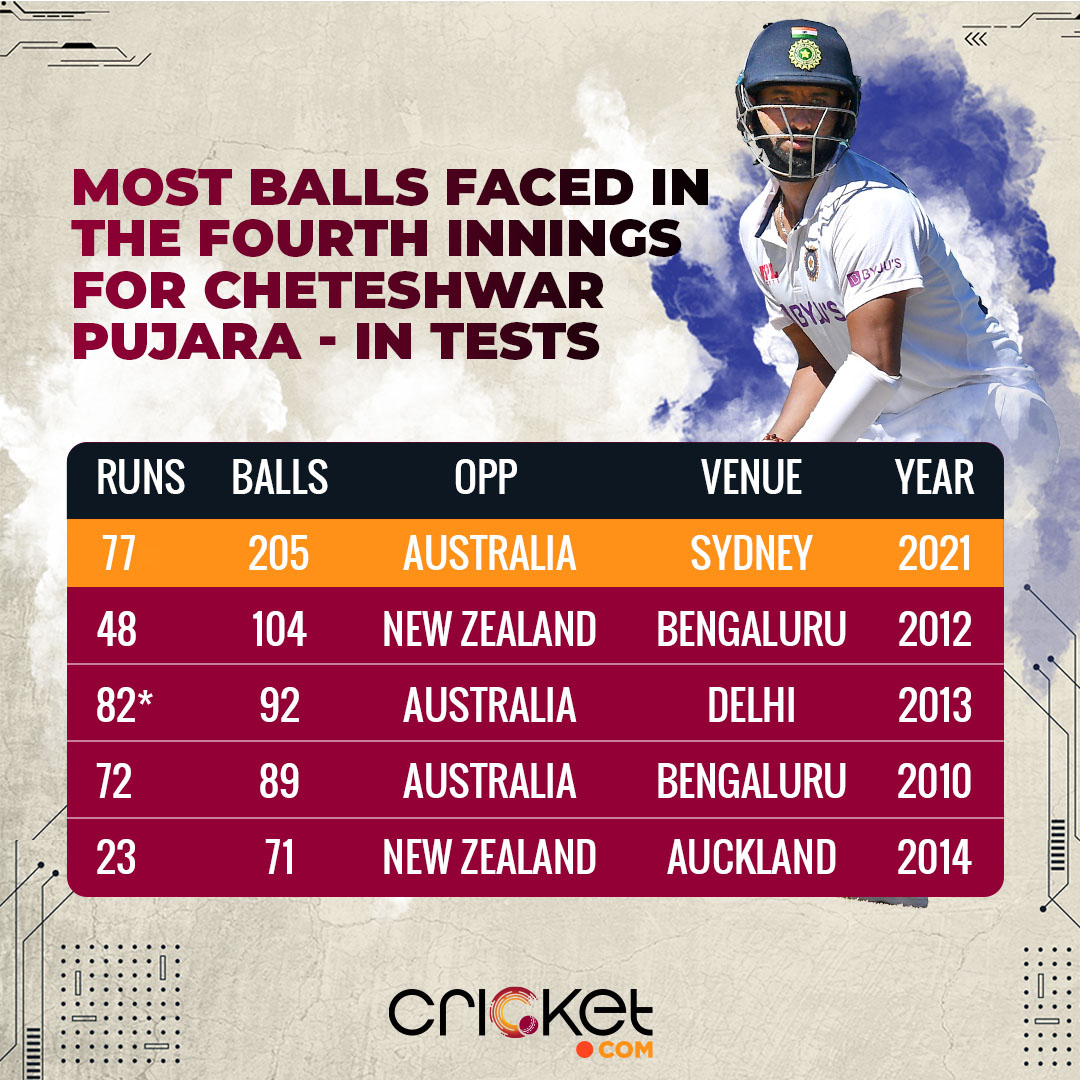 Second highest partnership in the 4th innings in Australia
A promotion for Pant meant, India had more faith on him than an out of form Hanuma Vihari. Pujara at one end played his role and Rishabh on the other was at his usual aggressive best. The fire and ice combination piled on 148 runs for the fourth wicket. This was the highest fourth wicket partnership for India in the fourth innings of a Test and the second highest partnership in the fourth innings on Australian soil. Kohli and Murali Vijay's partnership of 185 in Adelaide in 2014 is the highest. 
Rishabh Pant almost pulls off a blinder
As mentioned earlier, it takes a marathon effort to bat out four sessions in the fourth innings of a match. There was a point of time when India fancied their chances of a win. Pant after being dropped by Tim Paine early in his innings, went after the bowling attack, especially against Lyon. He scored 49 of his 97 runs (50.5%) against Lyon at a strike rate of 84.5. As they say "those who live by the sword, die by the sword". Three short of what would have been a scintillating ton, Pant registered the second highest score by an Indian wicketkeeper in the fourth innings of a Test. 
Pujara – the marathon man
Even though being criticized for scoring at a slow pace, in the modern era it is difficult to find a batsman like Pujara. Just like his predecessor – Rahul Dravid – Pujara believes in the old fashion way of grinding the oppositions and waiting for the bowlers to make a mistake. In the first innings, he faced 176 balls for his fifty and in the second 205 balls for his 77. This was the fifth instance of an Indian batsman facing over 200 balls in an innings in Australia. He joins Sunil Gavaskar and Kohli in this elite list.
Vihari grinds it out
Against the run of play, Vihari finally came into the act to save India from a defeat. Though he didn't score heaps of runs, the amount of time he spent in the crease should give him loads of confidence. Throughout the match, Vihari had a strike rate of 13.6 and scored 27 runs from both innings. Among Indian batsmen who have faced 150+ balls in a Test, only Dravid against Australia in Melbourne in 2007 had a lower strike rate in the match. 
Ashwin invincible against Lyon
Lyon has a tremendous record in Australia. Kohli, Pujara, Root and a few more are among his prized victims. However, Ashwin has a liking towards him when he is facing the offie in Australia. In the 281-ball face-off between the two, Ashwin hasn't been dismissed even once by Lyon. This is the second most balls a batsman has played without being dismissed by Lyon on Australian soil. Surprisingly, Ashwin has found it easy against Lyon.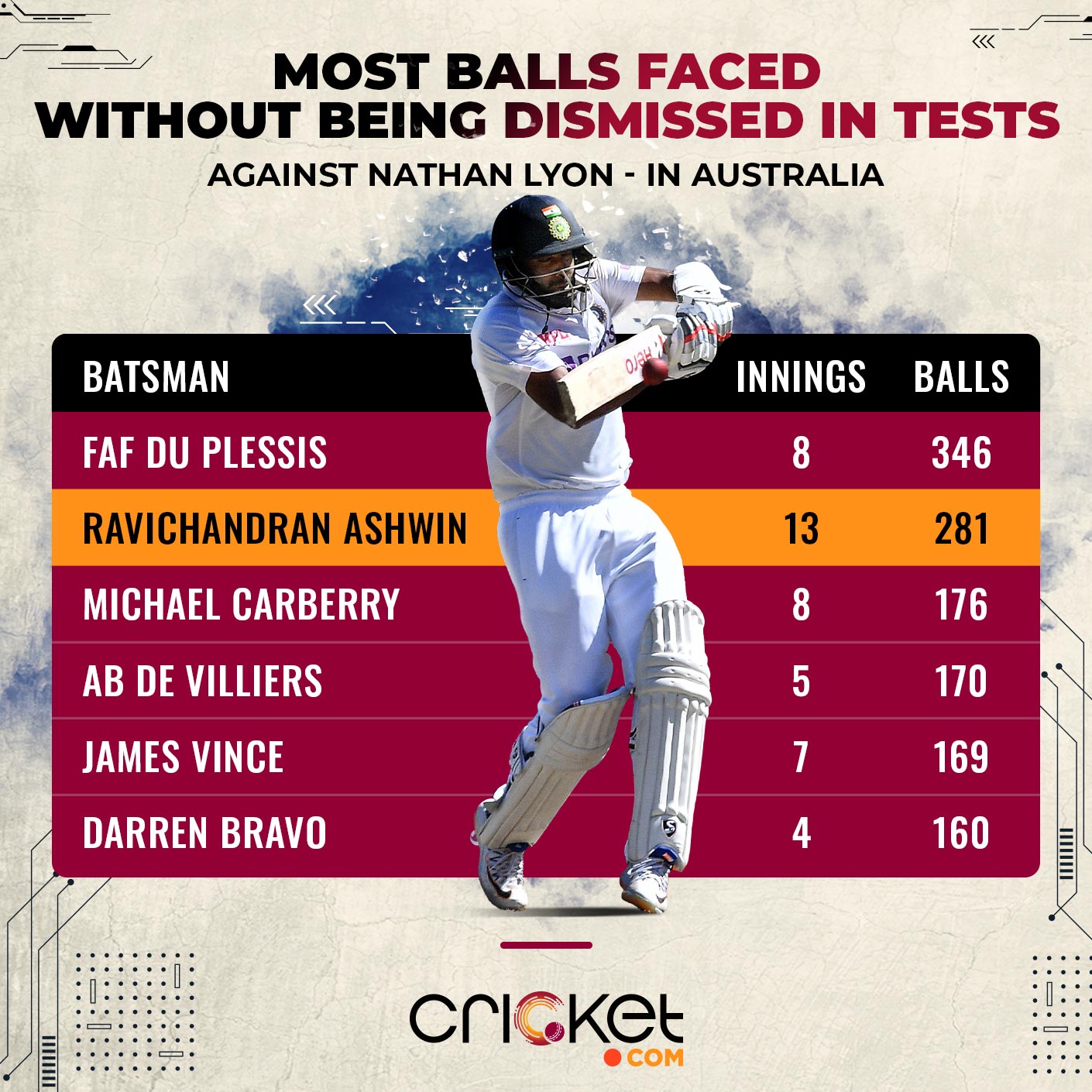 Second most balls faced by a sixth wicket partnership in Australia in fourth innings
After the fall of Pant, Pujara also followed him nine overs later. With 45 overs left, India were in deep trouble keeping in mind Ravindra Jadeja's injury. But, a limping Vihari (hamstring injury) and a resistant Ashwin put on 62 runs for the sixth wicket. More than the runs it was majorly the number of overs they gobbled up. The duo batted for 256 deliveries, which is the second most a sixth wicket pair has survived on Australian soil in the fourth innings. The Vihari-Ashwin combo made sure India didn't sink further and lived to fight another day. 
Second highest score in a drawn Test in Australia  
There is always a slightly better chance of chasing a target in the fourth innings in non-Asian conditions. In today's match as well, Indians looked like getting there before the two set batsmen collapsed in quick time. Irrespective of that, India will be happy with the fact that they were able to score big even without Kohli. The 334 put on by India is the second highest score by a team in a drawn Test against Australia in their backyard.