One of the biggest thematic debates that have always been a part of cricket universe is 'who comes after…?' The question of who comes after Sunil Gavaskar, after Sachin Tendulkar, after Kapil Dev and Rahul Dravid and VVS Laxman and, more lately, MS Dhoni, has crossed every Indian cricket fan's mind at some point. And that leads to the comparison of players across generations.
Comparing players across generations is a futile exercise; its sole purpose is to generate a copious amount of drawing-room conversation. In sports, some athletes have elevated themselves to such lofty heights that they become the ultimate benchmark for all that is great. They become the GOATs; others benchmark themselves against them and try to come as close as possible, a lesser copy of the greatest. When it comes to Sir Donald Bradman, the debate revolves around who can come close to Bradman, not who comes after Bradman.
In cricket, Bradman is regarded as the greatest of all time because of the rate he accumulated runs and the impact he had on the success of his team. His Test batting average of 99.4 remains non-achievable — ergo, there will never be another Bradman. But that does not dissuade us from discussing who can come next to Bradman.
In the post-war era of cricket, there are many players who have ignited such comparisons. The debate intensified in the early 2000s when players like Tendulkar, Brian Lara, Ricky Ponting and Jacques Kallis graced the golden generation of batsmen. Every crucial knock from one of these batsmen provided fuel to the ever-burning topic — who is next to Bradman, only to lose steam when the player descends from a short-lived 'Bradmanesque' performance and hits a plateau. In the last few years, though, no player has so convincingly argued his case to be next to Bradman than Steve Smith.
Bradman, in his career spanning over 20 years (of which he did not play for 6 years because of World War II) played 52 Test matches in just two countries, Australia and England, against four opposition and in 10 venues. Steve Smith in nine years of his Test career has played 73 Test matches against eight opposition in nine countries and 35 venues. Bradman played 62% of matches at home, whereas for Smith that is 47%. This is intended to bring balance to the argument, as Bradman played in an era of uncovered pitches and inferior protective gear while Smith plays with modern protective gear but in all conditions against all types of opposition. Given the twist and turns in Smith's career, he is now second to Bradman in the all-time list when it comes to batting average. Noticeably, none of the greats mentioned earlier, the Tendulkars, Laras and Pontings, figure in the top 10 list when it comes to batting averages.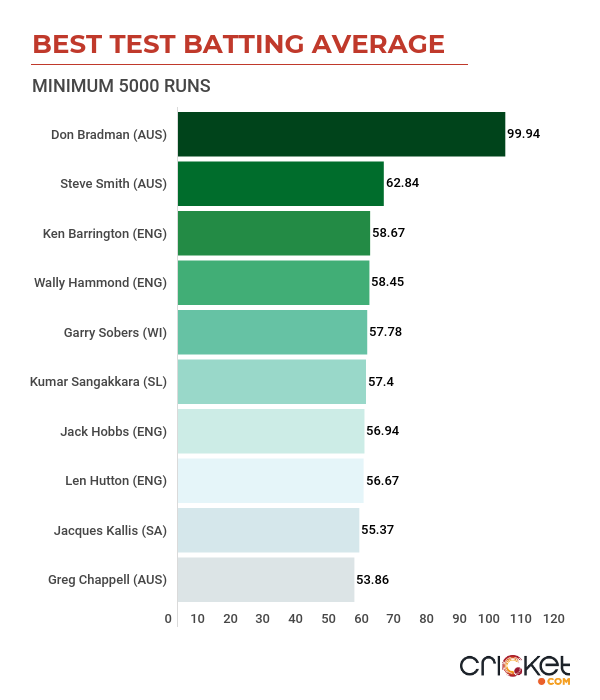 In a team game, individual performances are measured by the impact it has on the outcome of a match. Tendulkar, though, one of the biggest accumulators of runs and records, faced criticism of not coming up with his best when his team required it the most. Bradman scored 24.28% of his team's runs overall, and it went up to 27.13% in matches that his team won. If this is an indication of a player's impact on a team's performance, Smith is second to Bradman — he has contributed 18.22% of team runs when Australia has gone on to win the match.
Smith started his Test career in July 2010 as a leg-spinner who batted at Number 8. He played just five Test matches in the following 18 months and was dropped after the 2010-11 home Ashes series. He was not a natural selection until his second coming during the Australia tour of India in February 2013. Smith was a replacement player when three other Australia squad members were sent home because of indiscipline — a scandal popularly known as homework-gate.
Batting at number 5 at Mohali in his comeback match, Smith scored 92, then his best Test innings, and that bought him a ticket to the following Ashes series in England, where he was the fourth-highest run-scorer for his team and also scored his maiden Test hundred.
Since then there has been no looking back. Such has been Australia's dependency on Smith since 2013 that he has represented them in 68 matches and they have won 54% of them (37 wins from 68 Tests). When Smith has not been a part of the team (thanks to the suspension because of his involvement in sandpaper-gate), Australia's win percentage has dropped to 31% (4 wins in 13 Tests).
Bradman was impactful because he consistently scored without a prolonged string of failures. He single-handedly changed the course of a match and the series. In a series of five or fewer matches, Bradman scored 700 or more runs five times in his career. Sir Garfield Sobers has done it three times and Sir Everton Weekes and Smith have done it twice each. The thing that differentiates Smith from these extraordinary gentlemen is perhaps a knighthood.
Bradman, on his first tour of England in 1930, totalled a mammoth 974 runs in five Tests. The next best batsman, Herbert Sutcliffe from England, scored 436 runs, trailing the great Don by 538 runs. Bill Woodfull the second-highest scorer for Australia aggregated 345 runs, trailing by 629 runs. Australia won the series but Bradman's contribution stood out as an untouched minaret in a war-ravaged street. This prompted England to change its strategy and resort to Bodyline in the next series.
Similarly, Smith coming out of a disgraceful ban, booed by the hostile English crowd every time he stepped out to bat, being bounced into concussion thereby missing a match, though Jofra Archer never got him out despite trying that tactic repeatedly, the master batsman stood way ahead of everyone in the 2019 Ashes series. Smith scored 774 runs, 333 ahead of Ben Stokes from England the second-highest run-scorer of the series and 421 more than Marnus Labuschagne the second-highest run-scorer for Australia.
In the cricketing universe, Bradman will always stand alone because currently, he is 37 runs ahead per innings from the second-best which is Smith. But for a player who started as a leg-spinner when his team was looking for the next Shane Warne, to metamorphose to a batsman who comes closest to Bradman, and this against all odds, is an achievement that defies adjectives.
*All statistics are updated till the end of the 2nd Test between India and New Zealand that ended on 2nd March 2020.