For the fourth match this season, teams at Chennai have found it difficult to chase. Though Royal Challengers Bangalore did it on the season opener, it wasn't an easy one. But, irrespective of the conditions, Sunrisers Hyderabad have made a habit of messing it up at the end. In tonight's match, they were two down for 90 with 61 runs required off 52 balls. Even from a comfortable position, they blemished their chance to win and were bundled out for 137. Hence, handing Mumbai Indians a 13-run victory.
Rohit Sharma leads the sixes chart
The six hitting machine of India, Rohit Sharma, was up and running tonight, hitting two maximums in his innings of 32. Already leading the chart of sixes in T20s among Indians, Rohit reached another one in the match against Hyderabad. With the first six against Mujeeb-Ur-Rahman, he equalled MS Dhoni's record of 216 sixes. Then with a six against Bhuvneshwar Kumar, went past Dhoni's tally to be the leading six hitter in IPL among Indians.
Kieron Pollard becomes the fourth to 200 sixes
When talking about big hitters, Mumbai has a plethora of big hitters. If Rohit has been the best, there is Kieron Pollard who also is a fierce hitter. A 105-meter six to Mujeeb is a glimpse of his power. This was also his 199th six for Mumbai in IPL. In the penultimate ball of the innings, Pollard reached his 200th six of IPL. Playing all his matches for Mumbai in IPL, he became the first player to hit 200 sixes for a team, baring the three RCBians.   
Adam Milne's false start
Making his debut for Mumbai in IPL, Adam Milne's start wasn't a happy one. Jonny Bairstow clubbed him for two sixes after David Warner had started off with a boundary on Milne's first ball in Mumbai's colors. In his first (debut over) for Mumbai, Milne conceded 19 runs, which is the most for a bowler in his first ever over for the franchise in IPL. Previously, Vikrant Yeligati had conceded 16 runs in his first over, in 2008 against Chennai.
An unusual openers dismissal
There are worst possible ways to get out as a batsman in cricket, but, hit-wicket is one of the most embarrassing ones. Bairstow was looking all-set for a big one, till he tried to scoop Krunal Pandya and ended up hitting the wicket with his back-foot. Bairstow became the 13th player to go through this agony. In addition, he was the fifth Hyderabad batsman and only the second opener overall in IPL to suffer this fate. His opening partner, Warner is the other.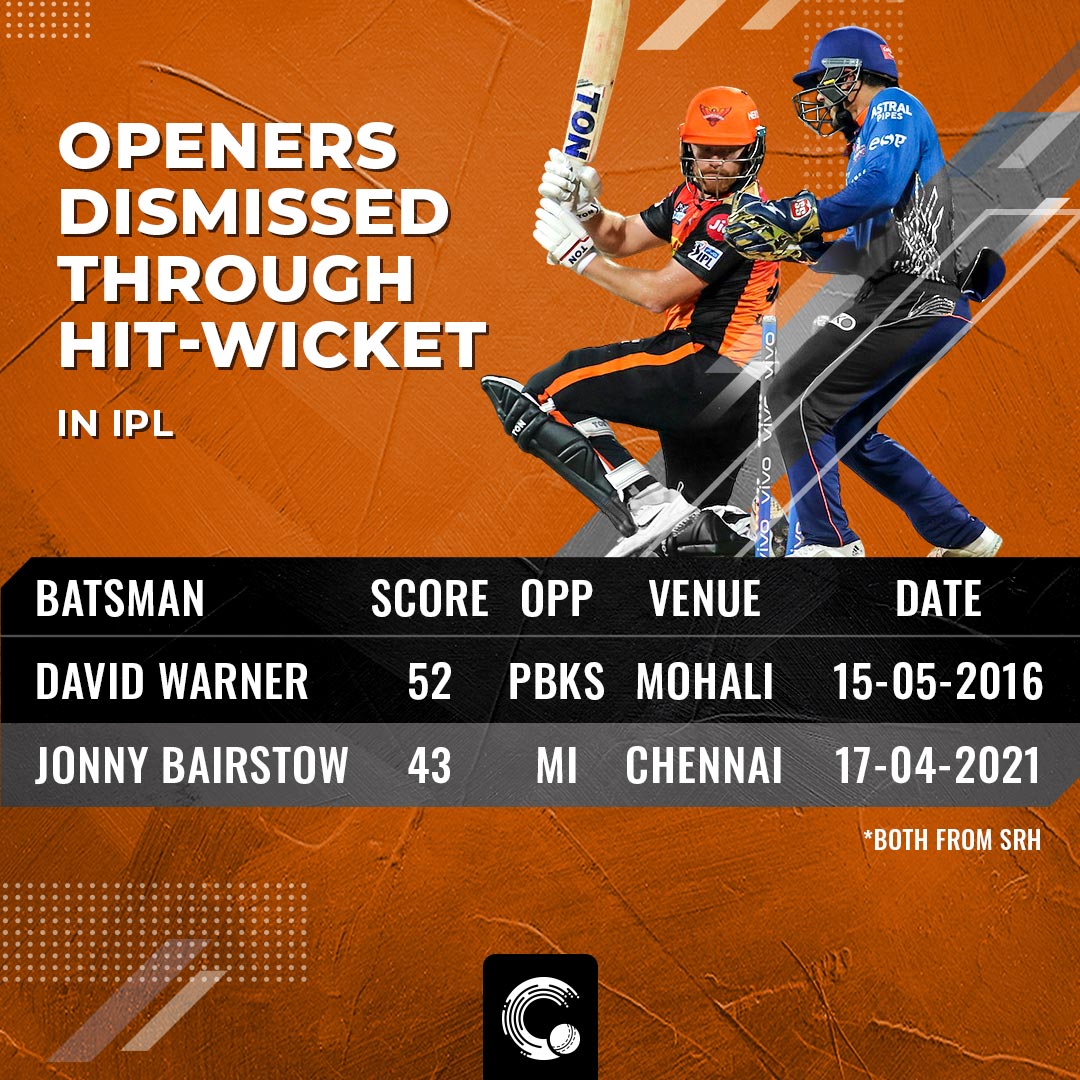 Virat Singh's sensational streak in T20s
There are very less known facts about the Jharkhand's left handed batsman in T20s. One of them is, in the 62 innings he has played in T20s, there isn't a single duck. This is the longest streak for an Indian batsman before his first duck in T20s. There are two other players whose streak is still ongoing. Rahul Tewatia has batted for 54 innings and Shubman Gill has played 50 and still do not have a duck to their name.
Sunrisers Hyderabad's horrendous start
It has not been an easy 2021 IPL campaign so far for Hyderabad. To make matters worse, they are playing at a venue which has been a nemesis to them in the IPL. They have lost for the sixth consecutive match at Chepauk. Out of those six, three of their defeats have come in this edition. In the first game they lost to Kolkata by 10 runs, second to Bangalore by 6 runs and tonight to Mumbai by 13 runs. In none of their previous eight editions had they lost these many matches at the start.