Recently, a clip from the Sydney Test during India's tour of Australia in 2007/08 went viral on social media. The video showed Rahul Dravid playing defensively for a prolonged period of time, before finally picking up a single. While every delivery wasn't shown in the said video, it was a sequence where Dravid had faced 39 deliveries without scoring a run. When he finally scored a run, the crowd gave him a standing ovation and Dravid played to the galleries by raising his bat in acknowledgement.
The video was widely shared, celebrating Dravid's remarkable ability to be a defensive rock. But this was a bit misleading as cricket writer Siddhartha Vaidyanathan, who had watched the sequence unfold in the stadium, was quick to point out on Twitter.
While yes, Dravid showed great patience, it was far from an ideal situation for him. On a flat pitch, he would have liked to have not gone so many deliveries without scoring. It was a difficult period for him. In 2007, he had averaged just 35.64 with the bat in Tests, his lowest in a calendar year until then. He had also recently been dropped from the ODI team owing to poor form.
Dravid had also resigned as India's Test and ODI captain in 2007. While the early exit from the World Cup that year came as a huge disappointment, Dravid had led India to their first Test series win in England in over 20 years. Hence, it came as a surprise when the Karnataka batsman decided to step down.
In his last 14 Test innings in 2007, he managed just two fifties with a top score of 55. This was definitely not the Dravid that we had seen before. In the previous few years, he was one of the most prolific batsmen in world cricket. In the inaugural ICC Awards in 2004, he had been named the Cricketer of the Year and the Test Cricketer of the Year. Between 2000-06, he had scored 6400 runs at an average of 61.53, but a year later, his batting form had taken a hit.
Dravid's patience in the Sydney Test perhaps helped him score 93 in the first innings of the next match in Perth – a crucial knock in a famous Test win for India. But 2008 was a struggle for Dravid, his form dipped even further and at the age of 35, there were doubts if India's greatest Test number three would produce world-class performances henceforth.
In India's home series win against Australia in 2008, Dravid struggled. And it didn't stop there as he was dismissed for single-digit scores in the first Test of the series against England that followed. Going into the second Test at Mohali, he had managed just 32 runs in his last six innings – was this going to be the end of the road in international cricket for Dravid? The answer thankfully was 'no'.
Dravid responded superbly with a hundred in Mohali which was a turning point at the time for him. It was his first 100+ score in 11 Tests and just his second such score in his last 22 Tests. It was a much-needed innings which helped him rediscover some of his old form.
Starting from the Mohali Test, Dravid hit at least one 50+ score in seven consecutive Tests, including two centuries. From then until the end of his career, the Indore-born batsman was fairly consistent, albeit not as prolific as he was during his peak which was between 2000-06.
In 2011, his performances in England were well celebrated. While India were whitewashed 4-0 in the Test series, Dravid put on a commendable showing – scoring three centuries. No other Indian batsman managed a three-digit score during that series.
In March 2012, after a poor performance in Australia and with no Tests scheduled for India for a few months, Dravid announced his Test retirement. In a career that spanned nearly 16 years, he had faced 31,258 deliveries in the longest format of the game at the international cricket. Till date, there have been 3,013 players who have played men's Test cricket and among them, according to data available, no-one has faced more deliveries than him. He also spent 44,152 minutes at the crease in Tests, which is not only a record but also equivalent to 30.66 days – that's right, a month's time spent batting in red-ball cricket at the highest level.
Underrated captain in Tests
One aspect of Dravid's career that is often overlooked is his captaincy. A huge reason for this is because of the aforementioned performance of the Indian team at the 2007 World Cup. Outside that, the right-handed batsman was a fine captain who led India to some memorable triumphs, especially in Tests.
In 2006, he skippered India to their first Test series win in the West Indies in 35 years. And he led from the front. Going into the fourth Test at Kingston, the series was tied 0-0. On a pitch where batting was far from easy, the then-India captain slammed two half-centuries to guide his team to victory.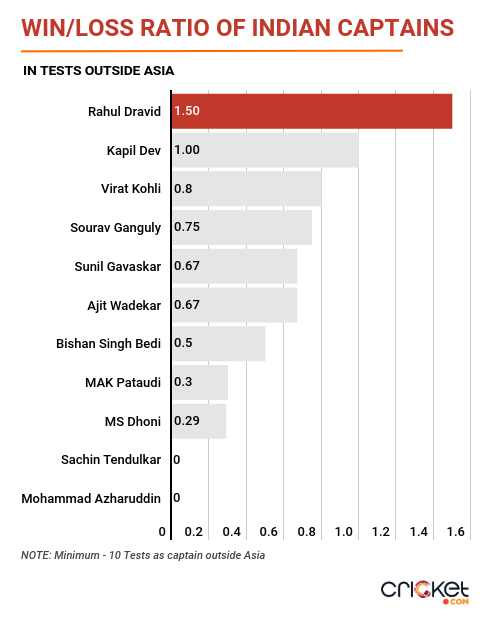 A year later, a Test series win in England was recorded. It remains India's only Test series win there in the last three decades. It goes without saying that these are two of India's most memorable moments in Tests over the last couple of decades. And the captain who led them probably deserves a little more credit.
Some feel Dravid is underrated as a batsman, which is very debatable because nearly every cricket fan rates him highly in that aspect. But his captaincy, especially in Tests, definitely deserves more praise than it gets.