Rohit Sharma registers his fastest half-century
When Rohit Sharma gets going, runs flow easily. In the second Test, batting first on a tricky pitch, Rohit was on the attack in the first session. He scored 80 runs in the first session of Day 1 at a strike rate of 100. He registered a 47-ball half-century, which is his fastest in Test. Previously, his fastest came in 49 balls against Sri Lanka in Delhi in 2017. 
First spinner to dismiss Virat Kohli for a duck
One of the best players of spin or better to say one of the best batsmen was foxed by a loopy delivery outside off-stump. Moeen Ali has had a liking towards the Indian batsmen in Tests, 49 wickets against them is a proof of it. Kohli has an aggressive intent when he is playing the cover drive, the similar aggression led to his demise in the first innings. Moeen castled Kohli for a duck and became the first ever spinner to dismiss him for a duck. Kohli is so technically correct, very often does he gets bowled to an off-spinner. In fact, only two of them have managed to do so. Moeen in this Test and Graeme Swann in 2012. 
200 International sixes at home for Rohit Sharma
Rohit is one of the cleanest strikers of the ball that India have ever produced. He already has the most international sixes (429) for an Indian and the difference is of a long way. In the first innings, he became the fourth batsman to hit 200+ international sixes at home. Brendon McCullum with 230 leads the chart, but that's not going to last for long. In this tour against England itself, Rohit might fancy his chance of breaking it. 
Century against the same opponents in all formats
Prior to the second Test, in four innings against England, Rohit had a highest score of 28. By virtue of a century in the second Test, he registered his first hundred against England in Tests. He now has at least one century across all formats against England in international cricket. This was the fourth opponent against whom, Rohit has scored a century in all three formats. No other batsman has done it against more than two. Only Chris Gayle has a century in all three formats against two opponents. 
Highest team total without an extra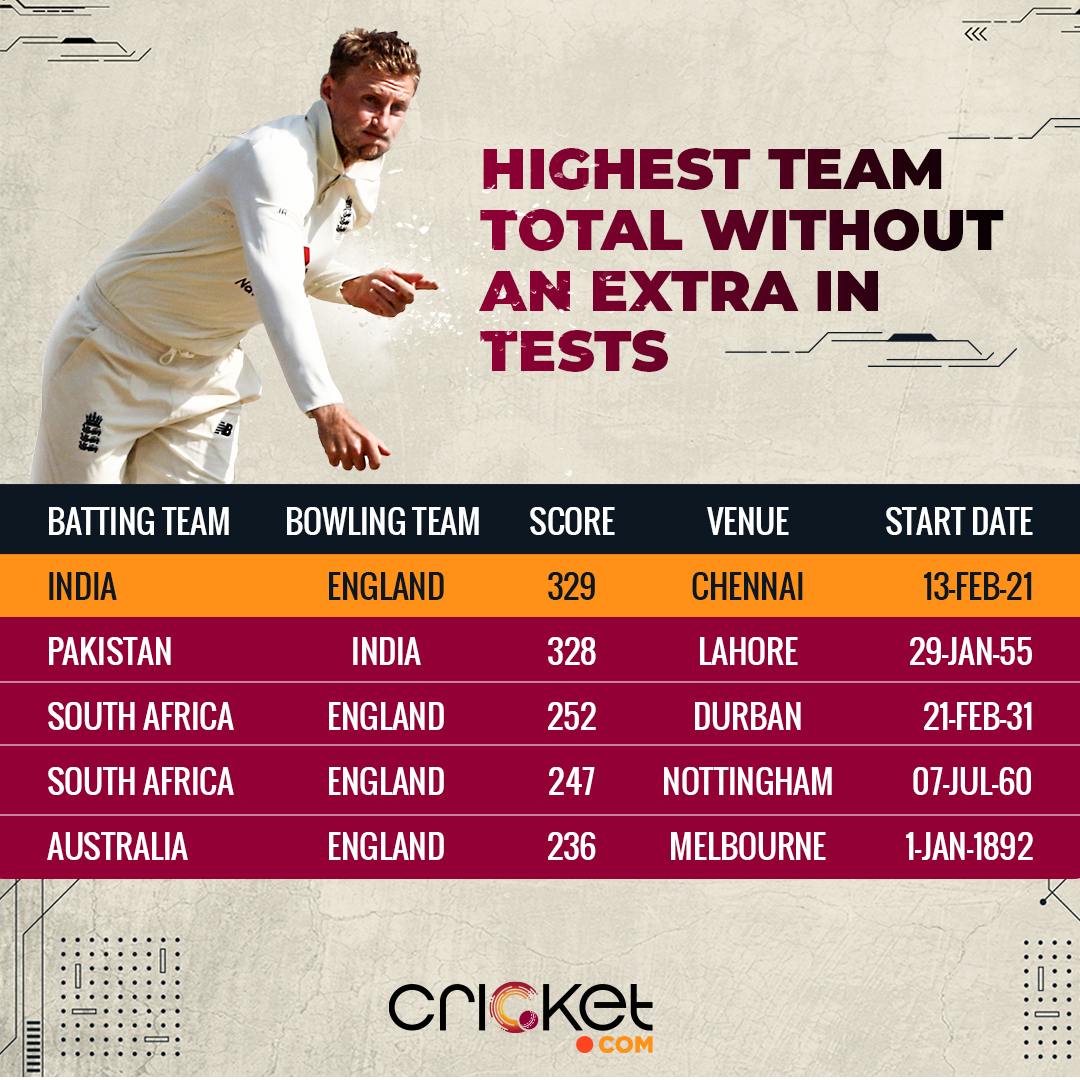 India in the first Test had bowled 52 extras, out of which 27 were no-balls. Whereas, England had bowled only 20 extras. In the second Test, England bettered this without bowling a single extra. The majority of the credit has to go to Ben Foakes, who was stupendous behind the stumps. The score of 329 in the first innings conceded by England is the highest total in Tests without an extra. 
Ravichandran Ashwin surpasses Harbhajan Singh
It is always a great feeling when you better your predecessor and Ashwin would know it better than anybody. In the first innings of the second Test, with the wicket of Ben Stokes, Ashwin registered his 266th wicket in home conditions. He now is the second best bowler for India at home. Only Anil Kumble with 350 wickets is above Ashwin. After surpassing Harbhajan, he etched another record to his name when he bagged a five-wicket haul. 
The five-wicket haul in the first innings was Ashwin's 23rd at home, bettering Anderson's record of 22 at home. Muttiah Muralitharan (45), Rangana Herath (26) and Anil Kumble (25) are ahead of him. In addition, he engraved another record to his name when he dismissed Stuart Broad. Already with most wickets against left-handers, Ashwin became the first bowler to 200 wickets against them in Tests. 
Cheteshwar Pujara and his run-out woes
Cheteshwar Pujara may be the stone wall of the Indian batting line up, but he is certainly not one of the greatest runners between the wicket. In his Test career, he has been dismissed through a run out in nine innings, which is the most for a batsman in Tests since his debut. The England skipper Joe Root, is also on that list with eight. 
Longest duration between century at home
It was a long wait for Ashwin, but the wait returned with a fruitful return. Ashwin is renowned to be a good batsman, his four centuries prior to this match is evident enough to say that. However, his last Test century at home came in 2013, since then it has been seven years and 99 days. This is the second-longest streak without a century at home for India in Tests since 1950. Mohinder Amarnath's bleak for seven years and 328 days is the biggest.
Five wickets and a century
The reason to say Ashwin is one of the better all-rounders is the number of times he has bagged a five-wicket haul and scored a century in the same match. Sir Ian Botham, one of the best all-rounders has done this five times. Ashwin is behind him with three instances. He is the only Indian all-rounder to have a century to his name and bag eight or more wickets in a Test match. To add more, he has achieved this feat twice.
Fastest to 50 wickets in the fourth innings in a country
On a deteriorated fourth innings Asian pitch, spinners are always on top. Ashwin is also one of those spinners. In fact, better than a few of the legends. With the wicket of Dan Lawrence in the second innings, Ashwin reached to 50 wickets in the fourth innings of a Test in India. He achieved the feat in just 14 innings, which is the fewest among all the bowlers in a particular country. Anil Kumble had reached the landmark in 16 innings, which was the quickest prior to today.
Ben Stokes – Another bunny out of the hat
With more than 200 wickets against left-handed batsmen out of 394, it is evident that most of Ashwin's bunnies are lefties. Ben Stokes became the new addition to the 10-time club for Ashwin. In 19 innings, Stokes has got out to Ashwin 10 times at an average of 17.8. This is the most times Stokes has got out to a bowler. As for Ashwin, he has dismissed David Warner and Stokes in 10 innings, his most against a batsman in Tests. 
Axar Patel becomes the second Indian to take a five-wicket haul in the 4th innings on debut
When Axar Patel picked up the prized wicket of Joe Root in the first innings, his debut Test already had been a one to cherish. Still, there was no stopping him, in the first innings as well as the second. Axar became the ninth Indian bowler to bag a five-wicket haul in his first Test. To better that, he became only only the second Indian bowler after Narendra Hirwani to pick up a five-wicket haul in the fourth innings. 
Most wins as a captain at home 
Kohli is undeniably the best Indian captain when it comes to wins. For a long time before Kohli took over the captaincy and MS Dhoni at the fag end of his Test career, there was a questionable debate on who would carry forward Dhoni's legacy. Kohli put that debate to rest with wins in non-Asian-conditions and dominating home record. He surpassed his predecessors' record wins in no time and now he is leveled with Dhoni for most wins (21) at home.
Biggest margin of victory against England
On back of a defeat in the first Test, India had to bounce back to stay alive in the race to the World Test Championship finals. Moreover, India had to break a record of six consecutive wins for England in Asian conditions and they did it in a grand style. With a massive first-innings lead and the pitch tailor made for the spinners, India defeated England with a margin of 317 runs, their biggest win against England in Tests. With this loss, Joe Root tasted his first defeat in Asian conditions as captain. 
Five stumpings in a match
Though Asian condition pitches produce raging turners most of the time, stumpings are a rare sighting as the batsmen are tentative on their footwork. In the second Test match, there were five stumpings, which was only the sixth instance of five or more stumpings in a match. Out of those six, three have been in Asia and all three have been in Chennai. India vs England in 1952 – (6), India vs West Indies in 1988 – (6) and India vs England in 2021 – (5).