A New Hope
There was a time in Indian cricket in the late 1990s and early 2000s when almost everybody with the ability to keep wicket in domestic cricket got a chance to represent India. While other nations in the world were relishing the Gilchrists, Stewarts, Bouchers and Flowers, India engaged in a game of revolving chairs.
It was almost in a state of desperation that in late 2004, after trying everyone from the nook and corner of the country, a young man from a little known state of Jharkhand became the 11th wicket-keeper to play for India across formats in about half a decade.
For a nation groomed to suspect everything marginally eccentric, when MS Dhoni first took the field, the conspicuous long hair became the immediate talking point. For everyone who now understands and adores his ice-cool demeanour very well, the established norm of the importance of the first impression should hold no meaning. 
The stories of how Dhoni missed a few chances to earn a name for himself during the nascent stage of his career – first by missing the bus for the Under-19 World Cup in 2000 and then missing the opportunity to represent East Zone in Deodhar Trophy in 2001 due to not being informed of his selection – are well documented in books and a movie on him.
Dhoni caught the eyeball of cricket fans and selectors after a remarkable tri-series for India-A in Kenya in August 2004, where he finished as the leading run-scorer and notched up two hundreds and a fifty against Pakistan-A. I distinctly remember a canteen conversation with my friends in school then about this young guy with strong shoulders, uncharacteristic for Indian batsmen. However, while playing for India, as was with his appearance, after scoring 22 runs in his first four innings, Dhoni did not leave a reassuring first impression with the bat as well.
Enters MSD
After a mediocre start to his international career, an opportunity arrived for the burly batsman from Ranchi when he walked out to bat at number three in the second ODI against Pakistan at Visakhapatnam in 2005, in his 5th ODI match. He started his innings by hitting most of his shots in the 'V'. After reaching his half-century, a more confident Dhoni, unleashed a range of cross-batted shots, especially against the spinners to become the second Indian wicket-keeper after Rahul Dravid to score an ODI century and register the then highest ODI score for an Indian against Pakistan.
Cross-batted strokes come naturally to him. The only coach he has ever had, Keshav Banerjee, reveals to Bharat Sundaresan in his book 'The Dhoni Touch' – "Mahi grew up playing a lot of cricket on the ground outside his school gate. The matting lied on top of a lot of small pebbles that were impossible to remove. As it was difficult to be certain about the behaviour of the ball, Dhoni just focused on playing across the line to balls on any length."
Six months later, the Dhoni power became a talk in international circles after he blasted Sri Lankan bowling attack, hitting 10 sixes – then highest in an ODI innings for India – on his way to a 145-ball 183* - the highest score by a wicket-keeper batsman in ODIs – to chase down a target of 300.
Dhoni's love affair with Pakistan continued as he smashed 219 runs in the five-match away ODI series in 2016 – that India won 4-1 – at an average of 219 and a strike-rate of 136.9. By now, even his hairstyle mesmerized fans to an extent that the then President of Pakistan advised him to pay no heed to those who counsel otherwise and stick to it. 
Soon his calm approach at the crease put him as a front-runner to captain India. After he led a team full of rookies to the title in 2007 ICC World Twenty20, there was little doubt that he will lead India across all formats soon.
What followed then was a historic half a decade where India, under Dhoni, won their first ODI trophy in Australia since 1985 in 2008, won the 50-over World Cup in 2011 and the Champions Trophy in 2013. Dhoni thus became the first and by far the only captain to win all the three ICC events in white-ball cricket. The only thing now missing were the long locks. 
Predominantly a lower-order batsman, it is no mean feat to cross the 10,000 run mark in ODIs which Dhoni did in his 330th match against Australia in January 2019. Therefore, it is not surprising that Dhoni is the all-time highest run-getter at numbers 5 and 6 in ODIs.
The Readjustments
Twice in his batting career, there was a visible difference in the intensity with which Dhoni batted. First, when he became more watchful in his approach as a batsman after becoming the captain. The captaincy hat worked wonders for his average but it came at a cost of the strike-rate.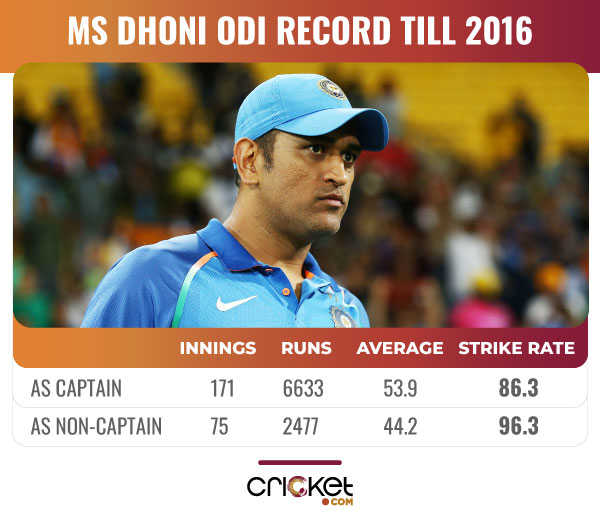 Secondly, when in October 2015, Kagiso Rabada defended 11 runs in the last over against him in Kanpur, probably inducing some self-doubt in his confident sinew, after which Dhoni was never the same in international cricket. Dhoni before then and still is deemed to be one of the best finishers the game has ever seen. Showing no signs of nerves, he always seems in control of the situation. Taking the game to the very end and finishing it off became his trademark – ask Shaminda Eranga and Clint McKay who witnessed Dhoni's prowess first hand. 
In what is a game of margins, the percentage of balls that Dhoni attacked dropped from 58% till October 2015 to 45% since. On to a lesser important stat, Dhoni,  known for finishing an innings with a six, had done so on 12 occasions in ODIs before the Rabada episode. He has done it only twice since.
Such has been the load of expectations on Dhoni that his recent dip in intensity has directly been correlated to a diminishing ability to finish games for India. Even with a hindered reputation, India have won 49% of the games when Dhoni batted while chasing since October 2015 as compared to 52% before that.
Out of the 50 ODIs when Dhoni remained unbeaten till the end of the innings while chasing, only twice have India lost the match – against Pakistan in 2013 and against England in the 2019 World Cup.
From one legend to another, AB de Villiers – who is well aware of the pain of not winning key moments in a big match as a team – said that Dhoni can be 80, in a wheelchair, and he would still play for his team. 
The fan-following of Dhoni has only grown over the years. Revered for his composure and profound maturity, it is only fair to feel privileged to have witnessed the boy from Ranchi, the honorary Lieutenant Colonel who, time and again, overwhelmed a famished nation with glory.