In 2014, the International Cricket Council (ICC) came up with the idea of the ICC Test Challenge supposed to be played in 2018. The prospect lined up the winners of the 2015-17 Intercontinental Cup, an international first-class competition between the leading associate members, against the lowest-ranked team in the Test rankings in four five-day matches - two home and two away. If the associate nation would win the challenge, they would become the 11th Test-playing nation. 
Afghanistan were the eventual winners in November 2017 and would have played Zimbabwe under the Test Challenge. However, in June 2017, ICC agreed that Afghanistan had already done enough to attain Test status. It was agreed upon to expand the number of Test teams to 12 and Afghanistan were granted Test status along with Ireland. It was the reward for the Asian team's supremacy in the Intercontinental Cup. In seven editions of the tournament, Ireland lifted the cup four times while Afghanistan were two-time winners. And the Test Challenge was scrapped. 
A year later after being granted Test status, Afghanistan made their debut in the longest format of the game on this day, in 2018, against India at Bengaluru's M Chinnaswamy Stadium. 
But it was not the best of Test debuts. They were, in fact, blown away in only two days. While it took them 168 runs to break India's opening stand and take their first Test wicket, they were themselves bundled out for scores of 109 and 103 well within a day. Their two innings combined lasted 66.3 overs as they were taken aback by both spin and pace. Their star players in white-ball cricket till then did not put up much of a fight either. Rashid Khan took 21 overs to grab his first Test wicket while Mohammad Nabi bagged only one wicket alongside a duck with the bat in the second innings.
It was an uncharacteristic display by Afghanistan. Here was a country that had gained Test status within 23 years after the formation of their board - Afghanistan Cricket Federation (now Afghanistan Cricket Board) and within 16 years since gaining Affiliate status in 2001. They crossed three divisions in ICC's ODI league jumping to Division Two in less than 12 months.
They achieved all this in such little time despite adverse social, political and economic circumstances in their country. They kept fighting, gazing at cricket as a way of finding identity for themselves in their war-driven country. Their love for the game can be signified by the fact that their first cricket club - Afghanistan Cricket Club - was formed at a refugee camp in Peshawar in 1987. 
Approaching the Bengaluru Test, Afghanistan had some great success in white-ball cricket. They had won the intensely-contested ICC World Cup Qualifiers in 2018 to qualify for a 10-team ODI World Cup in 2019. They had levelled a bilateral ODI series in the West Indies 1-1. They were consistently defeating Ireland and Zimbabwe in one-day cricket. 
However, there was not much to talk about Afghanistan's performance in their maiden Test. The proceedings of those two days highlighted the wide gulf of skills required for Test cricket and other formats of this sport. Afghanistan had been a superb competitor in ODIs and T20Is irrespective of the opposition, but Test cricket took them off guard. 
In their defence, they were thrown into the deep water. Instead of playing the lowest-ranked team as per the regulations of the scrapped Test Challenge, they were up against the number one side in Tests, in their own den. Afghanistan were up against a team which has not lost a Test series at home since 2012 and they were expected to float. 
Their then coach Phil Simmons acknowledged the broad difference of quality between the two sides.
"I think with us there has to be a lot more A team cricket played against big countries by some players. I think that's the best way for us to close this gap", said Simmons after the game. 
Any questions regarding their Test status based on this game would have been immature. Afghanistan tasted success in their next Test, beating Ireland at their adopted home venue, Dehradun. In their third Test, they acquired their first Test win against a higher-ranked side, defeating Bangladesh in the latter's backyard. They not only got the better of the team that has been playing Tests since 2000, they dominated them from the first day of the Test to win by a whopping margin of 224 runs.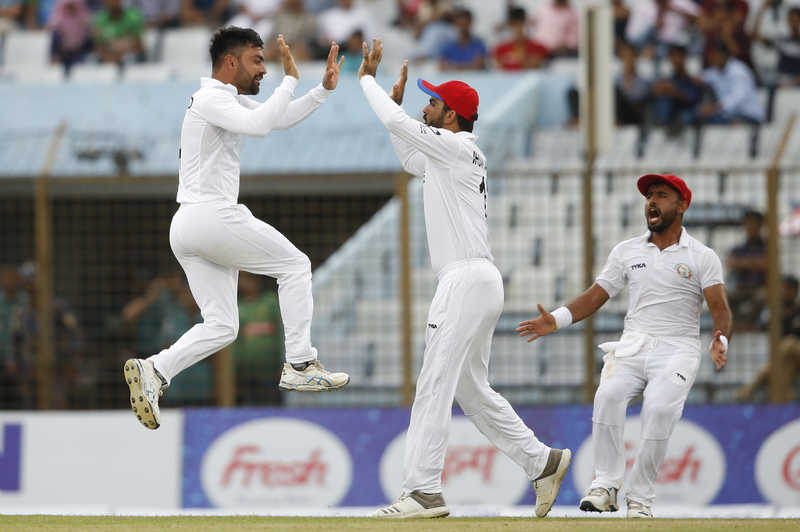 They are the only side to win two out of their first three Tests since Australia in 1879. The prolific victories against Ireland and Bangladesh show that they are ready for Test cricket, maybe not against top-ranked teams like India for now. However, playing against stronger opposition will only give them valuable experience to improve and compete against the very best at some point in the near future. 
At the end of the match in Bengaluru, the dejected Afghanistan players were joined by the opposition skipper Ajinkya Rahane. At the presentation ceremony, Rahane invited the Afghanistan team to pose with them in the customary photograph with the trophy. The gesture implied that this match was above the result of the game. It was all about Afghanistan's entrance to Test cricket, even if they succumbed to an innings and 262-run defeat.