For the first time in over half a decade, Sri Lanka can proudly say that they possess a world-class talent who is among the best in the world. 
Wanindu Hasaranga is officially the number one ranked T20I bowler in the world, and in the 2021 T20 World Cup, he showed exactly why he deserves the ranking and the tag. 
With 16 wickets to his name in 8 matches, Hasaranga finished the World Cup as the highest wicket-taker. 
The most impressive part of his campaign, though, was how he held up in extreme pressure against the best sides in the world: Hasaranga finished with figures of 10/82 off 16 overs against Australia, England, South Africa, and West Indies, taking a wicket every 9.5 balls while conceding at just over 5 an over.
The leg-spinner, overall, bowled 30 overs in the World Cup, and for a good part of the same, he was simply unplayable. 
Any country would be on cloud nine after unearthing a player like this. But factor in the dark times Sri Lanka have endured over the past half-a-decade, it is completely understandable why this 24-year-old has got an entire country excited.
For context, this is a country that, following the departure of the golden generation, has been in transition for five years and has endured pain and pain alone. For nearly a decade, it has struggled to produce world beaters capable of going toe-to-toe with the best in the sport, and it has fallen from grace to the extent that it's a spot in the next two World Cups is not guaranteed. 
For Sri Lanka and its fans, therefore, Hasaranga is the light at the end of the tunnel. He is the promised prince, the savior and the key to regaining relevance and bringing back the glory days of the past.
But now comes the tough part: to be realistic about expectations. 
When you have a generational talent at hand, it is easy to get carried away and expect too much. And if the sport has taught us anything, it is that unrealistic expectations can sometimes not just weigh down individuals, but even ruin their careers. Sri Lanka, of all countries, know this.
With Hasaranga, therefore, it will be imperative to tread with caution. For the time being, that might mean to tone down expectations from him in red-ball cricket, if not completely keep him away from the Test format. 
Now almost six years into his professional career, Hasaranga is a white-ball gun. His T20 numbers - both domestic and international - are outrageous, and his presence in 50-over cricket is growing by the day.
That, however, is not the case with the red-ball. 
Hasaranga's numbers with the ball in Test cricket, to date, make for grim reading - 4 wickets in 7 innings @ average 100.75 and strike rate 168.5 - and his subsequent numbers in first-class cricket are not too great, either. 
Across 40 first-class games, Hasaranga has averaged over 30, and is far from the same force of nature that he is in white-ball cricket.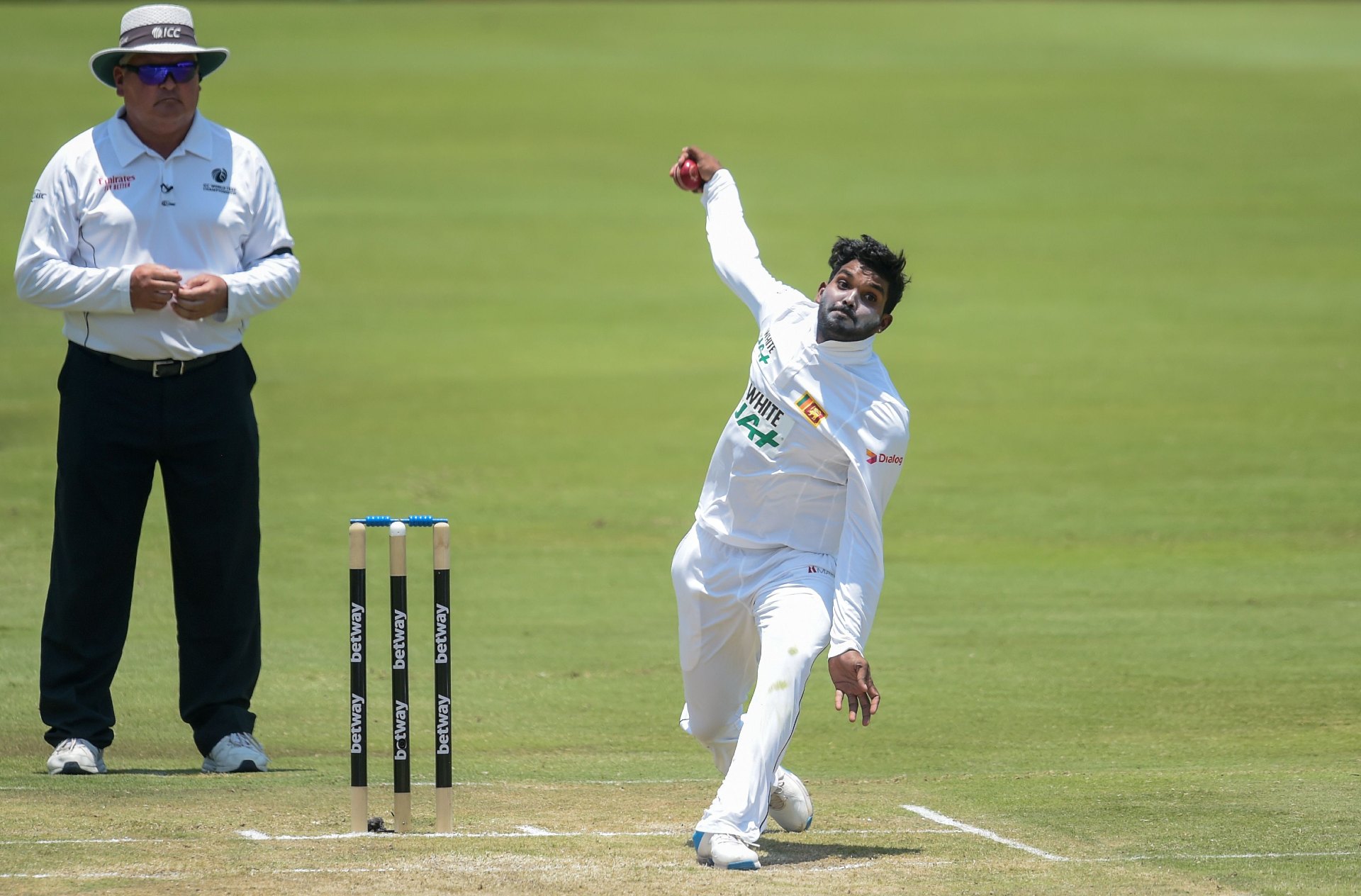 On the first look, to see these middling numbers from the player of the class of Hasaranga might be a surprise. But a deeper introspection, observing overall patterns, will tell us that it is extremely rare for wrist-spinners to be successful in both the longer and shorter formats of the game. 
Take the recently concluded T20 World Cup for instance. Adam Zampa, Adil Rashid, Tabraiz Shamsi, Shadab Khan and Ish Sodhi were among the top wrist-spinners who turned out to be the most effective in the competition. And yet, quite strikingly, neither of the players are Test regulars. 
Even if we are to include finger spinners, Jadeja and Shakib are really the only two bowlers who have had success with both the white and red balls in recent times. 
ICC's T20I rankings always need to be taken with a pinch of salt, but there is a glaring fact that cannot be ignored: of the Top 10 spinners in the T20I rankings, Rashid Khan and Shakib are the only Test regulars. And that tells a lot given Rashid has, to date, only played 5 Test matches.
Why good white-ball spinners struggle in Tests and vice-versa is a topic for later, but recent evidence is damning - it is simply unrealistic to expect a spinner to be a wizard in both white and red-ball cricket.
Telegraph's Tim Wigmore explored this in an article last year.  
Even putting cross-format struggles aside, wrist-spinners, in general, have struggled immeasurably in Tests in the past decade. Since the turn of the last decade, only two wrist-spinners - Yasir Shah and Devendra Bishoo - have taken more than 100 Test wickets. Leg-spinners, overall, have averaged 39.62 since 2010, the worst for any bowler type. 
It is another topic that deserves deeper introspection but what is clear is that it is not easy being a leg-spinner in Test cricket in 2021, regardless of how good you subsequently are with the white ball.
Coming back to Hasaranga, Sri Lanka would therefore be better off allowing him to further develop and thrive in white-ball cricket, not just as a bowler but as a batter too, rather than expecting him to conquer the longest format. 
Such an approach would make sense not only because Sri Lanka, in the next two years, have two white-ball World Cups they'll have to qualify for, but also because they have enough talented specialist spinners in the Test set-up who can carry the side. 
Lasith Embuldeniya, Praveen Jayawickrama, and Ramesh Mendis are all extremely talented young spinners, and investing in them might just turn out to be a better long-term ploy than overburdening Hasaranga with more responsibility.  
It goes without saying that Hasaranga will evolve, develop, and will inevitably turn into a far better red-ball bowler (than what he is currently) in the near future. Some day, he might very well turn into one of the best all-format bowlers in the world. 
This development, however, should happen organically with time. 
Sri Lanka, for the time being, should be grateful that they have one of the best white-ball bowlers in the world at their disposal, and should thereby try to make the most out of it. 
What Hasaranga needs right now is more franchise experience around the world - be it PSL, BBL, T10, IPL or CPL - to further enhance his skills, and not stints in whites where he'll either be carrying drinks or trying to crack a code unfamiliar to him.
By leaving Hasaranga out of the West Indies Tests, and letting him thrive in the T10 league in Abu Dhabi, the management have taken a step in the right direction. For the benefit of everyone involved, this needs to be a strategy that should remain unchanged.