For the first time, arguably ever in their history, Australia will enter an ICC tournament where no one truly expects them to make the semi-final. Sure, their stocks were low prior to the 2019 World Cup. But they'd gained momentum in the months prior, downing India 3-2 in their own backyard and whitewashing Pakistan 5-0. That is simply not the case this time around. For the Aussies, it has never, ever been this bad.
They enter the World Cup ranked seventh, having lost 8 of their previous 10 T20Is, with no other Super 12 team having boasted a lower win/loss ratio this year than their 0.363 (W4, L11). Their full-strength team last played a T20I together 20 months ago and, on top of all this, they have a multitude of form and injury concerns heading into the competition. They are, put simply, the most under-prepared and under-cooked side in the tournament. 
It is outright impossible to ferret out positives, but skipper Aaron Finch would be hoping that the whole situation ends up playing into Australia's hands. They are, after all, a unit renowned for raising their game on the biggest stage, and the fact remains that the Kangaroos have a boatload of match-winners who, if they find consistency, could quickly turn Langer's men into dark horses.
It is contradicting, but Australia is the kind of team you wouldn't be wanting to be betting on - both for and against.
Strengths
The Big Four
We usually look for metrics to highlight 'strengths', but in Australia's case, it is all about the individuals. Their biggest strength is not the team itself, but the caliber of players they possess. Aaron Finch, David Warner, Glenn Maxwell and Mitchell Starc are four of the greatest ever to have graced the format, and it is the mere presence of these four mega stars that will make opponents fret and lose sleep. 
It is true that, barring Maxwell, none of the aforementioned other three are in form or have match practice. But far too many times in the past, the most recent being the 50-over World Cup in 2019, they have shown that they possess an uncanny ability to hit peak form come the big occasion. And should that happen, they will blaze through teams. 
What makes their mere presence a scary prospect for the other contenders is that each of these individuals have the ability to win a game on their own. Single-handedly. Add to this the experience they possess, and the burning desire to prove a point, you are potentially looking at a bunch no team would want to come up against. 
An attack for all conditions
Results might have not gone Australia's way in the shortest format recently, but their bowling attack has continued to remain the best in the entire world. Since 2018, Australia have boasted the best average, strike rate and economy rate, with their bowlers excelling across all conditions.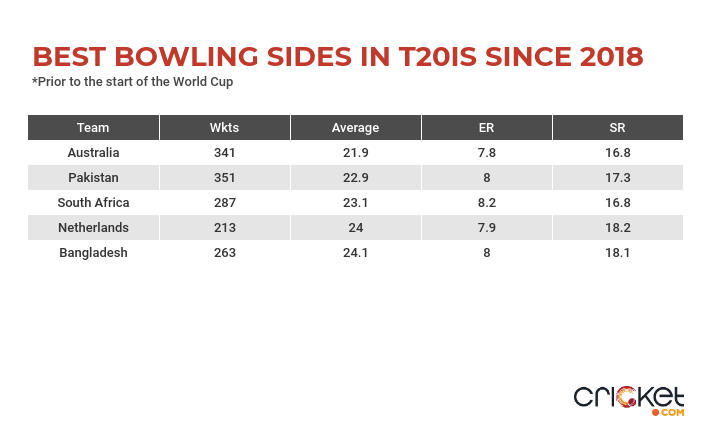 This is largely due to the fact that they have a well-rounded attack. In Starc, Hazlewood, Cummins, Richardson, Zampa, Agar and Maxwell, Australia have a unit that covers all bases in all conditions. No other side in the competition boasts of such variety and strength in depth.
Their seam attack might still blow hot and cold, but their biggest strength is the Zampa-Agar duo who only a year ago helped the side become the #1 team in the world. Since 2018, the duo have combinedly taken 77 wickets in T20Is at an average of 24.01 and an ER of 6.92, causing trouble to all opponents across conditions. 
It is little wonder that both the spinners are ranked inside the Top 8 of the ICC rankings. With the UAE wickets certain to assist spin, Zampa and Agar will have a huge say in the games Australia play.
Weakness
A chaotic middle-order 
A huge part of Australia's fall from grace in T20 cricket has been down to their middle-order which, really, outside of Maxwell, has been pretty much non-existent. Quite unfathomably, they will enter the World Cup not knowing who their No.3, No.5, No.6 and No.7 batters are. 
Mitchell Marsh has had an excellent 2021, but with Steve Smith back, there are no guarantees that he'll bat at 3. The Marsh situation is a lose-lose scenario for Australia as while pushing him down the order will render the #3 experiment meaningless and kill his momentum, keeping him at No.3 will deprive the team of a hitter down the order. 
Marsh is also by no means a proven anchor, particularly in challenging conditions; picking him over Smith will be a big gamble, that too on sluggish wickets.
Maxwell at #4 is a given, but then there's again uncertainty beyond him. Stoinis has been perennially inconsistent and now there are also concerns over his fitness, while the Aussies do not also know who their wicket-keeper is. 
Wade would have been first choice had he opened, but the presence of a stacked top-order means that it would make more sense to pick Inglis, who is more accustomed to batting in the middle. But picking Inglis too will be a gamble, for he is yet to play international cricket.
Barring Maxwell, there simply is no clarity with respect to the individuals and the roles they will be expected to perform. This uncertainty could end up putting undue pressure on the openers and Maxwell, ultimately proving detrimental to the side. 
Form and fitness concerns
Pat Cummins has not played a game of professional cricket since April, with his last T20I appearance having come over a year ago. There will be concerns over his match fitness. 
While Warner, who averaged 24.37 in the recently-concluded IPL season, has been terribly short of runs, his partner Finch will be short on match-fitness, having not played competitive cricket since undergoing knee surgery in July.
All-rounder Stoinis sustained an untimely injury in the second half of IPL 2021, and it remains unclear how much his body will hold up; if he'll be able to meet the bowling workload. 
Best Possible XI
Aaron Finch (c), David Warner, Steve Smith, Glenn Maxwell, Mitchell Marsh, Josh Inglis (wk), Pat Cummins, Ashton Agar, Mitchell Starc, Adam Zampa, Josh Hazlewood.