"If you have infinite patience and perseverance, success is bound to come" Swamy Vivekananda said it and Hashim Amla implemented it against Hampshire. If you are a keen cricket follower, this is not something new from Amla. Remember Delhi 2015? On a raging turner, batting in the fourth innings, Hashim stood like a wall. However, neither he nor AB de Villiers could steer South Africa for a draw in that match.
The situation was much dire in his innings against Hampshire. After being forced to follow-on, Surrey were in deep trouble as their first two wickets fell within 10 runs. Coming into bat once again in a grave situation, Amla batted for 278 balls to score an unbeaten 37 and help Surrey draw the match. Amla had toiled hard. He was off the mark on the third ball and his next run came after 63 balls. In his first 100 balls he had scored only three runs. The 278 balls he batted for his 37 is the slowest innings for a batsman scoring less than 40 runs in a First-Class game. Previously, Trevor Bailey in 1953 against Australia had batted 275 balls for his 38.
The whole Surrey side scored at a run rate 1.2. Only two teams have scored at a lesser rate in the last 50 years in First-class. Railways (0.8) in Indore in 1999 against Madhya Pradesh and South Africa (1.0) in Delhi against India in 2015. When it comes to strike rates, there are five instances where a batsman has batted for 200+ balls and scored at lesser strike rate. This also includes Amla's marathon innings against India in Delhi in 2015 and against Hampshire.
THE DELHI MARATHON
As said earlier, Amla playing a marathon innings is not something new. In Tests, there have been times when he has been the wall and among the most famous ones has to be the Delhi blockathon. In an attempt to save the Test match, Amla and de Villiers brought out a barrage of defence against the treacherous spin twins of India, Ravindra Jadeja and Ravichandran Ashwin.
In this match, Amla was involved in two partnerships that faced 200+ balls and had a run rate of less than 1.2. First, with Temba Bavuma, he batted 122 balls and the partnership witnessed 232 balls to score at a rate of 1.1. Later, for the third wicket, Amla batted another 122 balls and the partnership lasted for 253 balls at a run rate of 0.6. The third-wicket partnership run rate of 0.6 is the slowest for a partnership that has played 200+ balls.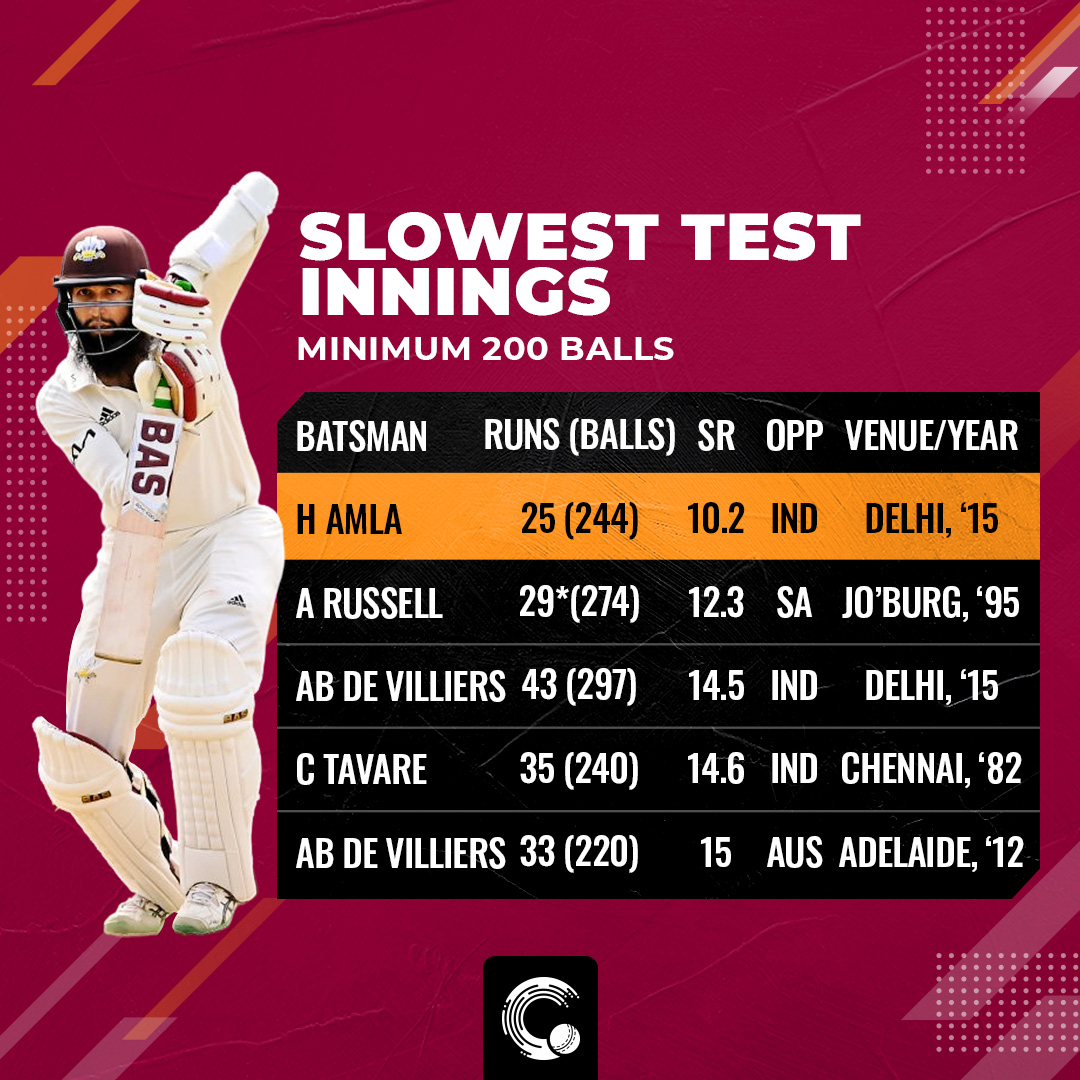 Coming back to Amla, in the 244 balls he faced, his strike rate of 10.2 in this innings is the lowest for a batsman who has faced 200+ balls in a Test innings. Astonishingly, AB de Villiers in this innings as well had a strike rate of less than 15 after facing close to 300 balls. Ironically, the latter holds the record for the fastest half-century, century and 150 in ODIs and the former has two centuries in T20s.