What have been the longest opening partnerships for India in the subcontinent (away from home) and outside the subcontinent? – V Rajendran on Twitter
Since the last decade, i.e. from 1 January 2010, Indian openers as a pair have managed to survive at least the first 100 balls of the innings on 27 occasions. The longest a pair has batted was in the Vizag Test match against South Africa in October 2019, when Mayank Agarwal and Rohit Sharma batting together for the first time as an opening pair put on 317 in 81.6 overs. On two other occasions, Indian openers have batted together for an excess of 50 overs. Once in the Fatullah Test against Bangladesh in June 2015 (details in the tables below) and the other occasion came against Australia at Mohali in March 2013, when Shikhar Dhawan (on debut) and M Vijay added 289 in 59.5 overs. The tables below provide details of India's longest opening stands in the subcontinent (away from home) and outside it. 
In the recent Centurion Test match, South Africa made 621 with two of their players making ducks. Is this the highest Test total with two ducks? – Ajay Kanwal on Twitter.
In the Centurion Test match, two South African players (Anrich Nortje and Lutho Sipamla) recorded ducks while their side reached 621 against Sri Lanka. The record for the maximum ducks in a large total is India's 627 against South Africa at Chennai in March 2008, when three Indian batsmen (Sachin Tendulkar, Harbhajan Singh and RP Singh) were dismissed without opening their respective accounts. The highest Test total with two ducks is 747 by West Indies against South Africa at St John's in Antigua in May 2005. On this occasion, Wavell Hinds and Courtney Brown made ducks! The table below has the details of the seven instances.
+ the only instance of 3 ducks in in a total of 600-plus
In his first 6 Tests, Kyle Jamieson has already scored 226 runs and taken 36 wickets. Is this some kind of record? - Amit Bansal on WhatsApp
Kiwi Kyle Jamieson's fantastic start to his Test career is the best by any player in the last 100 years of Test cricket. Only two other cricketers have marginally exceeded his efforts. Interestingly, both these cricketers' career ran parallel to each other but for opposite sides from 1911 to 1912. The table below has the details.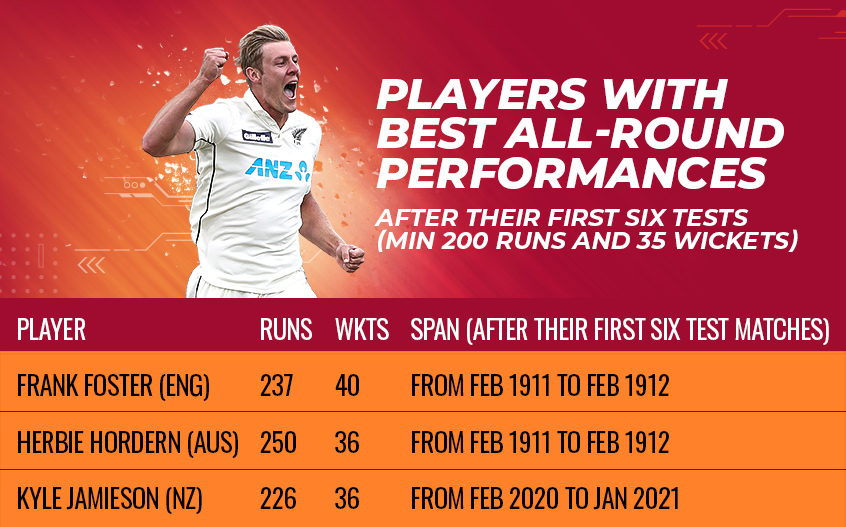 When is the last time Australia used two right-handed batsmen as openers? I don't seem to recall them using two right-handers. – Vijaysinh Rathod on Twitter
The last time Australians used two right-handed openers was in the Wellington Test match way back on 27 March 2000, when Michael Slater and Greg Blewett opened the batting the second innings against New Zealand while chasing the target of 174 runs. Then in the next Test at Hamilton on 31 March 2000, Michael Slater opened with Matthew Hayden. Since then, until the Sydney Test match, Australians in 228 Test matches (and 421 innings) has never had two right-handed openers. For the record, the results for Australia during this period have been - Won 135, Lost 57, Drawn 36 (%win 59.21). In all they have used 36 different opening pairs (David Warner and Will Pucovski being the latest at the SCG). The summary below has the details.
Note: The opening duo of Hayden and Langer was one of the most successful opening pairs in Test history after the West Indians Gordon Greenidge and Desmond Haynes. The Aussie pair in 113 innings while opening together aggregated 5655 runs at 51.88 per innings, with 14 hundred-plus stands. 
All records mentioned above are correct and updated as on 11 January 2021.
If you have any cricket-related questions, then ask them using the #AskMohan and #StatsBurst hashtags on our social media channels. Reputed statistician, Mohandas Menon will be answering the selected questions.