Cheteshwar Pujara suffered several blows to his body – fingers, ribs, helmet and midriff – on the final day of the fourth Test. That was a direct result of the inevitable variable bounce on a fifth-day pitch in Brisbane. There was another reason for that: Australia's preferred line of attack.
Pujara's technique of wearing down bowlers by leaving and blocking deliveries outside the off-stump isn't new. It's common to most openers in Tests to take the lacquer off a new ball. That forces even the most accurate bowlers to change their line to make Pujara play. That's where his strengths lie. In opting for a technique that often restricts his scoring zones, he has a low strike rate.
He faced 928 balls in the four Tests in Australia, most for any player in this series. He had a strike rate of 29.20, with 271 runs at an average of 33.87. There is an argument to be made that the value of his time at the crease was almost equal to or more than the runs he scored in that period. It allowed India's middle order to build on a solid start, with the ability to capitalise on a tired attack because Australia didn't alter their bowling combination, playing three fast bowlers and Nathan Lyon right through the series.
Pujara has faced more than 200 balls in a Test innings in Australia on six separate occasions. No other Indian batsman has achieved this. India have faced more than 100 overs in a fourth innings just four times since 1990. The Sydney Test was one of them. Pujara's batting style in that match allowed India to go into a decisive fourth Test at 1-1.
By facing 211 balls on the last day in Brisbane, he helped create a situation where India could push for a  win with wickets in hand. India lost only three wickets till tea was mainly because of Pujara's resilience. These are not coincidental events, it was built to a plan and executed to near perfection on the final day of a gruelling Test series away from home at a ground where Australia haven't lost since 1988.
Why then is so much made about strike rates and scoring quickly in five-day cricket? Kevin Pietersen spoke about his approach to scoring in Tests: thinking about four runs first, then three, then two, then one. That freedom, though, was afforded to him by Jonathan Trott's stoic batting style at No. 3. His train of thought would be fraught with risk against a moving ball and a fresher bowling line-up. In every team, players have assigned roles. Pujara's is to bat time. Despite Virat Kohli and coach Ravi Shastri's focus on "intent", India need Pujara more than we think.
Why is that so? The widely-followed rule of thumb in Tests is batting 100 overs in one innings will ensure a team stays in the game. With the advent of T20s and an increased focus on scoring runs, teams maintain a rate of three runs per over without hassle. The challenge, though, isn't in scoring at that rate but to bat 100 overs. In this Indian team, there is only Pujara in the top seven that approaches an innings with the view of playing at his own pace. More often than not, when Pujara faces 100 balls, India are well-positioned to reach that landmark.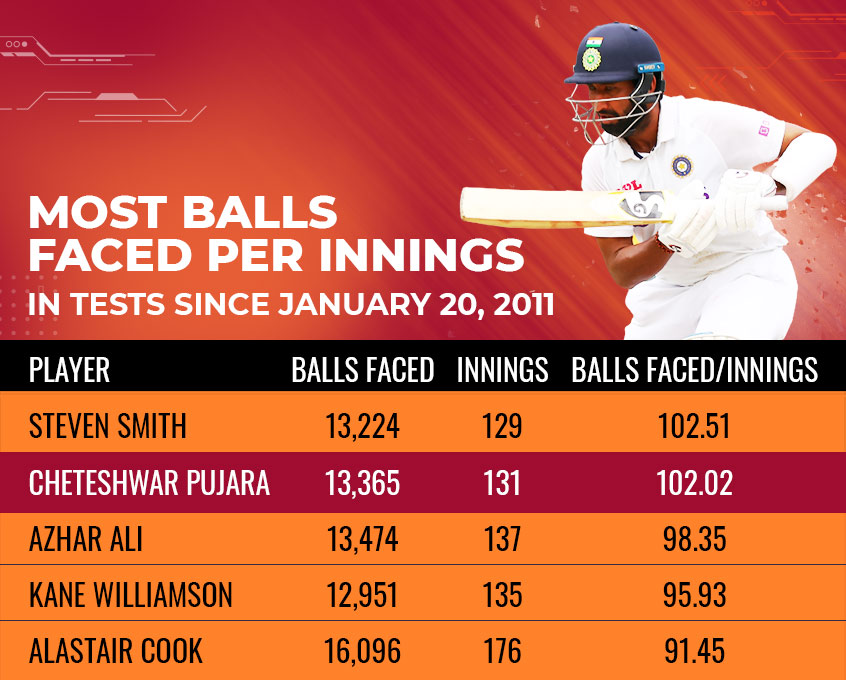 *The above table is an indicator of the most balls faced per innings in the last 10 calendar years (January 20, 2011, to January 20, 2021), with a minimum of 5000 Test runs scored. 
Pujara faced more balls than any other player in the series in 2018-19. The result? India won. Pujara faced the most balls in this series. The result was the same. In an unprecedented series, when India needed 20 players in a four-match series, Pujara's reliability was not just wanted, but a requisite.