With India set to tour Australia later in the year, Australia's Matthew Wade is excited at the prospect at the mouth-watering clash between the two top-ranked teams in Test cricket. In a video interview released by Cricket Australia, Wade also speaks on a range of issues. The full interview follows:
On playing in front of empty stands
It's just the atmosphere and the buzz it gives as players to play at Edgbaston. With that crowd going in the first Ashes Test is a lot different to playing in Bellerive (Oval) in front of not many people. As a player, it's the feeling, it's the energy you get off the crowd that's the biggest difference. The actual skill - bat vs ball - is pretty much exactly the same. I know when we played the one-day game against New Zealand it was a completely different feelings go to it - to a white-ball game in international cricket, there'll be no-one in the stands, there weren't even replays on the screen at that stage. We're doing little things to make the atmosphere a bit better for the players and the people watching on TV. I'm sure Cricket Australia and the international cricket board will be talking about things they can do to potentially make it a little bit more entertaining for the players and the people watching. But it was a different feeling. It's something we have to get used to. We are just happy to be on the cricket field when that came about in New Zealand - a really quick thing, we did not expect that to be happen too much, to be playing in front of no-one at that stage - it was unheard of. Over the last few months we've all got used to things that are changing and different things within the sport and within the society. It's not the change it was, but just the energy in the stadium.
Thoughts on facing the current Indian team
It's going to be amazing. We've managed to get back to the No. 1 spot in the world and they're No. 2. 1 vs 2 is always a great clash. I've been lucky enough to play India – I've never played them in Australia – I've played them twice in India, which is hard work for an Australian to go over there and play them. But they're a fierce team. They can be as hard as any team I've ever played against. They're in your face, they have alert fielders which probably India haven't been renowned for over a 20-year period. They're up and about all the time when you're out there batting. It's going to be a fierce clash. I've watched a little bit of it the last time they were out here. It was on a little bit there as well. They're a hard team to play against but something I am looking forward to doing in Australia. They have fast bowlers as well who have certainly come through in the last 3 or 4 years. So, it is going to be interesting playing India in Australia and probably, their pacers are their big weapon when they come over here whereas when you go to India, where I've played in the past, you'd be lucky if you faced 4 or 5 overs of fast bowling. I'm looking forward to it. It'll be a great challenge for our group and something we're looking forward to.
With something happening on the field in India-Australia clashes do you see yourself playing a role in maintaining the edge between the two sides?
I don't know, to be honest. I'll go out and play like the way I like to play. We don't go out chasing it (on-field chatter/aggression) if it comes our way, you kind of deal with it out on the field. They're a hard team, they use it to their advantage really well. Virat's (Kohli) very clever with the way uses his words or his body language. So, they use it to their advantage now. To be honest, you don't want to engage too much into that. I know that they thrive off that energy that comes between two players. They're probably as good at doing that as anyone in the world at the moment, something I'm going to stay away from this time.
On the India-Australia pink-ball Test
The pink-ball Test will be amazing. I know we've played a lot of them in Australia in the past but it's a different scenario. Fingers crossed, the crowds will be buzzing then. They always draw a big crowd. Everything going right, we can hopefully have big crowds, when that comes about. Their pace bowling is a real challenge. It's something they've developed. Over the last 4-5 years, they've developed a lot of fast bowlers and swing bowlers. They'll be a real handful under the lights. We know that that it's a really tough place to bat – Adelaide – pink ball can nip around quite a bit and swing under the lights. It will be challenge and we're looking forward to it. They are a great team and we are developing all the time as a team and starting to get a little bit more settled as a cricket team over the last 12 to 18 months. We're ready to take on the challenge as they are. It'll be a good contest.
Finally Australia's turn to get their hands on the T20 World Cup?
It'll be amazing to get the T20 World Cup. Coming to Australia, but there's a lot of water to go under the bridge. As a T20 team, we're developing all the time. We certainly not as settled as we are in Test cricket. There are some moving pieces there that'll happen before the World Cup. If I was lucky enough to get a seat at that table it will be an awesome experience. I haven't been involved in a World Cup before. I got called up late to the last World Cup in England but I was only there for a week. So, fingers crossed to get an opportunity to be involved in that tournament. Even if it is serving drinks, it's something that I will remember.
On not having replays in that one ODI against New Zealand played behind closed doors 
It was something different. Even in domestic cricket in Australia we're quite used to replays being on the screen and little things like that. There was no ground announcers at that game. Cricket Australia asked us so quickly, we just had to go out there so quickly, there was no thought put behind it. Other sports in Australia have started to think about ways to make it a little bit better for the players and the people watching. So, I'm sure there will be plenty of ideas. It was strange. I didn't play, I was running drinks. I spoke to the players and the players out there said walking out to play was certainly a weird feeling but once the ball was bowled, it just felt like a normal game of cricket, which we're used to playing. Guys are playing 100 first-class games in front of nobody. So, the players are used to that. It's just a little different going to the SCG against a different country and happening so quickly like it happened last time. 
What does pre-season entail for you?
I'm trying to do what I did last time. I worked for a long time couple of pre-seasons ago before I had that record year with Tassie (Tasmania). So, I'm trying to get a program together where I can do that a bit. For someone my age, it's not about volume now, but keeping my mind fresh and about really having a clear direction of where I want to be, come the first ball of the summer. I don't know how it looks too much. We don't know too much with the restrictions. We got plans for next week or two with Tassie cricket to kind of get in and out. I would love to do what I did few years ago – to take the focus so much of grinding  it out in pre-season skill-wise, probably restrict myself and make myself hungry to get into the nets and enjoy that rather than net session after net session for me and my age. 
What I found when I was working is if I can go to training and have real excitement to get in there to bat first ball or face our coaches throwing me balls whatever it was. As long as I was engaged really in a good place to be there not feel like I've got to hit another ball, that results came. A lot more quality rather than quantity for me. What really helped me in the pre-season is not really try and do that. It's hard to know where I'm going to be or where the next tours will be or whatever the situation is. I found that I've had a lot of success over the last two years doing that even before I went to England. I hit once or twice in the 14 days before I went to play that game. I flew over and played the game two days later. I was hungry and fresh and ready to go. It's about not doing too much for me but I suppose we'll see the programs comes through and I'm excited to get my first opportunity to get back around the boys, around the group's tomorrow. I'm ready to go. I've got the kit in the car ready to go already.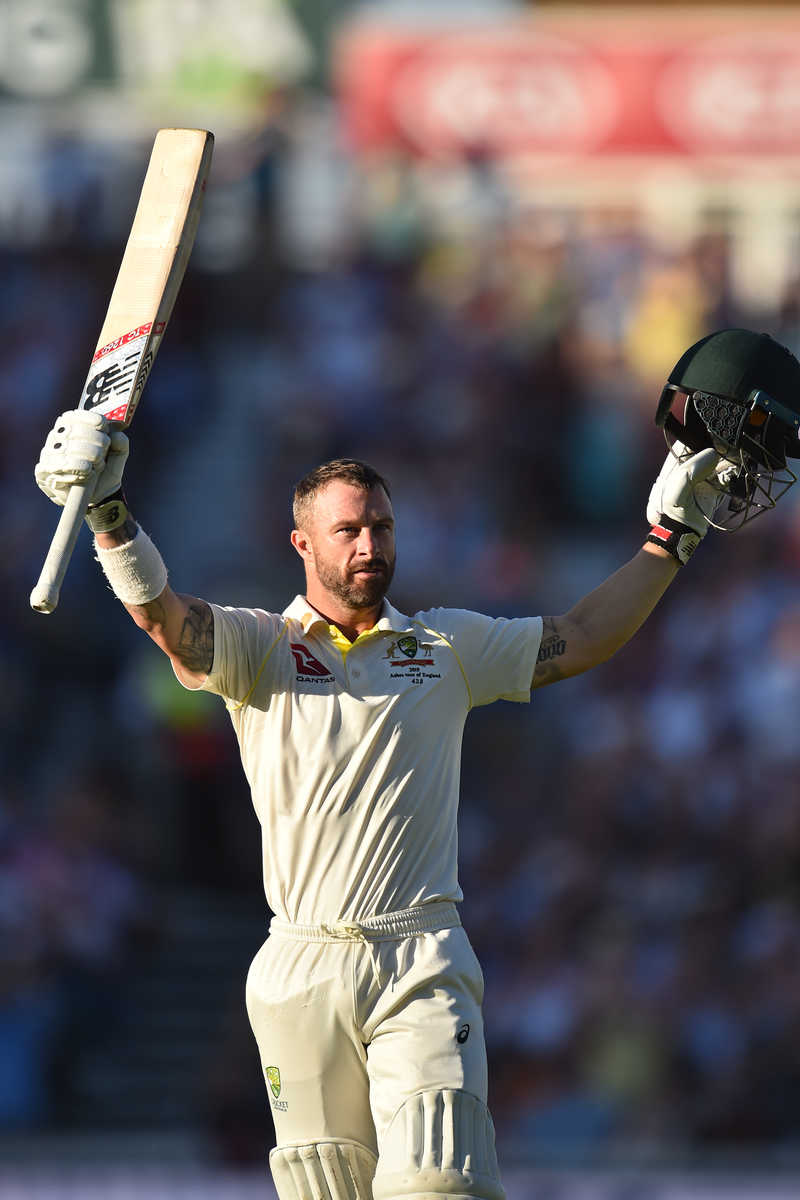 You've obviously played a lot of cricket with Peter Siddle. What kind of addition will he be for Tasmania?
It's huge. I am a bit shocked to be honest that we landed him in the end. When I heard that there were talks going, I wasn't too hopeful that we would get him down but credit to the people who put the work in and I think it will be massive for us more, more for Jackson (Bird). Jackson has put in a lot of overs year after year for Tassie (Tasmania). I am excited to have him down. We have started to get a nice squad together. We've got a really nice balance between youth and experience now. If we put the work in then who knows where we will be.
On the T20 World Cup. You played the last three games for Australia in South Africa. Does that make you keener to get on the tour to England if that goes ahead in September?
I'd love to get over to England again and play club cricket over there. Last summer when I was there, I really enjoyed it, so it will be great to get an opportunity. I played probably because Glenn Maxwell did not go on that tour in the end. Opening the batting a lot for the Hurricanes, I am quite versatile. I have batted in both positions in BBL, No. 6 and opening the batting quite a bit. I have done quite a bit of batting throughout the order so I am comfortable wherever it sits. In terms of playing in that team, I would say Glenn would come back into that team. He's one of the best players in the world of T20. I see myself as that spare batter, who can bat all positions, so that is probably what I am striving to maintain...a position within the squad that if something happens throughout the tournament that I can bat from 1-7. It gives the squad the versatility and fingers crossed if I can get in that position who knows what happens once you are in that squad. 
If Australia sees your role being more middle-order, would that change your thinking on where you bat for the Hurricanes?
I don't think so. If it was purely a middle-order role that I was looking at then maybe I would think about that. But I think the position is from 1 from all the way down to 7. If you are the backup batter, I could bat anywhere, so I don't think it matters too much. I have basically batted at 6 for three-four years for the Stars. I think I batted at 4 and opened the batting for Renegades and it is only the last two years that I have opened the batting the whole time so I don't really want to move. Me and D'Arcy (Short) have got a pretty good thing going down here and we want to win as many games as we can for Hobart, so I don't see shift in the order this time for me. 
There is a bit of confident talk from Cricket Tas about Jofra Archer coming back this time. It will be nice to have him on the same team after the Ashes duel?
That will be nice. It will be nice to have him back. Fingers crossed something happens there. We are not 100 percent sure of the landscape of international players for the BBl but if Jofra wanted to come back down we would love to have him. That was kind of the start of his international career and his leap to fame, I suppose, when he came down and started with us. It will be nice to have him back, the superstar that he is and fingers crossed that can happen down the line. 
Your thoughts on Somerset and the deal being wiped out due to Covid. Going forward is English County cricket on your radar?
Absolutely. I haven't had the opportunity to play a lot of County cricket, none at all. I suppose the thing with me is that I was pigeon-holed as a wicket-keeper so I probably did not get many opportunities to go to England, but now that I am a specialist batter the opportunities are coming a little bit more. I was excited to get over there and play a good chunk of cricket before we led into Bangladesh. My family love it in England, I would love to get the opportunity to go over there and have a chance to play a good stint of County cricket.
What kind of things would you like to see at the empty grounds when cricket resumes...stuff such as cardboard cut-out etc.
I am not too sure. Once you get out and play, it's okay. Apparently the crowd noise was quite good for NRL, little things like that. I suppose ground announcers, replays, and that kind of stuff will still add to it. But I am not 100 percent sure. Thankfully I don't have to think about that too much. I am sure they will think of something. It is a long long way away, the Australian summer, so fingers crossed that we keep doing the right things and we can get back to having crowds at some stage.
It must be quite encouraging to see these crowds come back?
My cousin, he is in Melbourne, plays AFL football. I have been speaking to him quite a bit. He is itching to get out there. It has been a tough time for everyone and I know when the Footy came on with no crowds, it was a bit strange. I am not sure everyone was into it but now everyone is itching to see Footy. I have booked dinner with a few of the boys and we will go and watch Footy at one of James Faulkner's pubs actually, down here in Tassie. We've booked a table there and we are very excited.
You are always one of the guys who is known as the ball-shiner. With no saliva, how difficult is that approach going to be?
It will be interesting to see the exact rules. I am not 100 percent across the rules. I heard sweat might have been okay to use, I might be right, I might be wrong. If that is the case, then that's better, to be honest. It wouldn't be very hard to change that at all. It would be more like the little things like people rubbing their hands with saliva. In terms of picking the ball up and shining it, that's not a problem at all, we will wait and see.